The Real Reason Chrissy Teigen And John Legend Are Partnering With McDonald's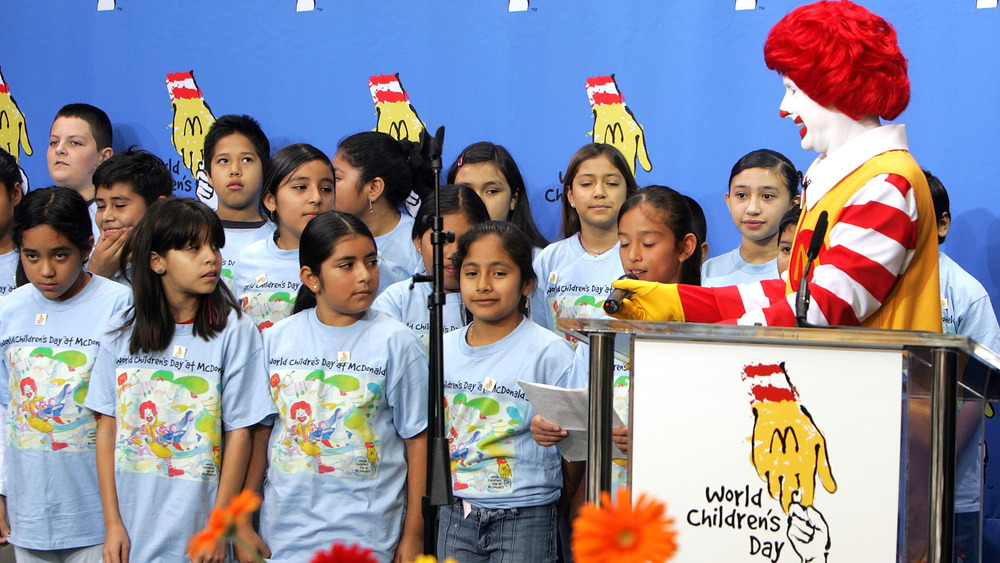 Kevin Winter/Getty Images
Early on November 24, McDonald's released a statement via PR Newswire announcing a new social challenge to raise money for Ronald McDonald House Charities (RMHC). Because the ongoing coronavirus pandemic has reduced the amount of money the charity typically receives at a special time of need, McDonald's will give $100 in your name, as a part of its $100 million commitment to RMHC in the next five years. To join, you need to post a photo or video of you making the RMHC heart symbol or some other supportive message to a social media account with the hashtag #HereforRMHC before December 31.
To make the RMHC heart symbol, you form a house with your fingers shaped in a diamond. Then you point your pinky into a chimney, and third, curve your pointers into a heart.
After founding their first house for parents to stay close to their hospitalized children in Philadelphia in 1974, the RMHC has expanded to over 375 locations. Other programs the RMHC initiated in the 46 years since include education programs so outpatients can keep up with their schooling, sibling services, and non-clinical support services.
"I've been so inspired by the way RMHC is there for families, day and in and day out, during the most difficult times in their lives — that's what being part of a community is all about," Chris Kempczinski, McDonald's President and CEO said in the statement. "That's why we're so proud to support this wonderful organization now and into the future." But helping McDonald's get the word out about the charity is none other than power couple Chrissy Teigen and John Legend.
Chrissy Teigen and John Legend are here for RMHC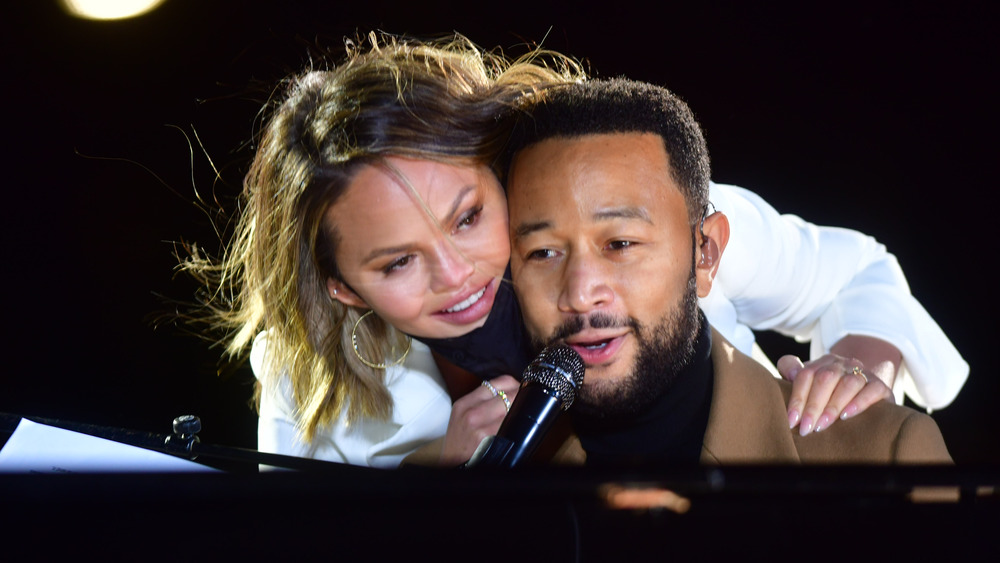 Mark Makela/Getty Images
The McDonald's press release also states that Chrissy Teigen and John Legend have joined the campaign to spread its message. In an interview with Good Morning America about recovering from the grief of their pregnancy loss, the Teigen and Legend explained that after what they had gone through, they wanted to help other families facing similar situations. "You know you've seen this year, with COVID especially, that people need their families close to them when they're going through an illness, and a lot of families can't afford to be there," Legend said.
In an exclusive snippet given to People, Chrissy Teigen expanded upon the subject: "Imagine how scary it is for a child to be alone at the hospital. I'm a grown adult, and I can't fathom John not being with me, and my mom." As COVID continues to loom over us, we are relearning just how important it is for us to be able to reach out to each other in times of sickness and need. 
Moreover, if the instructions from the previous section failed to convey the way to make the RMHC symbol, Teigen and Legend recorded a video for McDonald's in which Teigen explains to a rather excited Legend how to make the symbol. You can now watch it on YouTube. Happy posting.