Costco Shoppers Are Obsessed With This Sourdough Stuffing
Costco, darn it, you've done it again. This time, with a Thanksgiving-flavored sack of bread cubes. Those in the know will tell you that, if you're not up to the tedium of drying, cubing, and flavoring slices for the best part of the meal (and we all know it's stuffing), the next best thing is Boudin Sourdough's prepped Classic Herb stuffing (via Instagram). The stuffing mix has gained some attention online for its sourdough taste and parsley and thyme herb blend — as one Twitter user posted, "Try this stuff and you won't want anything else."
San Francisco company Boudin Sourdough is better known for their bread bowls and claim to be the "Original San Francisco Sourdough." The style of bread is known for its unique flavor, possibly derived from a strain of bacteria in its original starter that, legend has it, co-founder Louise Boudin even saved from a burning building in 1906 (via KQED). The outlet, however, found that the strain may not be all that unique after all and is found in many starters the world over.
What's the deal with this particular Costco stuffing mix?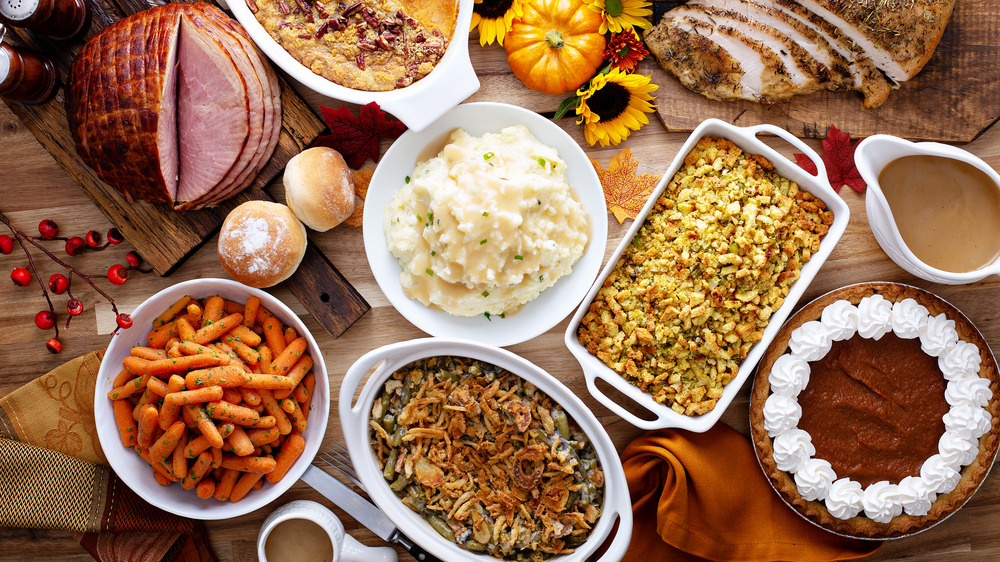 Shutterstock
When it comes to the stuffing itself, there isn't much to it. The packaged stuffing mix is no more than dried bread cubes with garlic, parsley, sage, thyme, and some oil and salt (via Costco Couple). Directions on the back leave the brunt of the work to the cook themselves, who are instructed to sauteé onion and celery, add some broth, lemon juice and parsley to the cubes, and throw it in the oven.
Fans on social media have more to say: One Twitter noted, "That flavor is the best! If you have it, add a little extra sage to the cooking onions before you mix with the crumbs." Also, an Instagram user lamented, "Wish I could have found it at my Costco in time." It's not always around, though, appearing on shelves just in time for the holidays. One Boudin enthusiast went so far as to tweet, "I drove 3 hours round trip to the nearest Costco that DID have it to make sure we got some," and offered this tip for hungry cooks: "Costco usually start(s) carrying it in early Nov. It's a seasonal stocked item, so out by Dec. Stick a reminder in your phone."