18% Of People Wish They Knew How To Make This Extremely Difficult Dish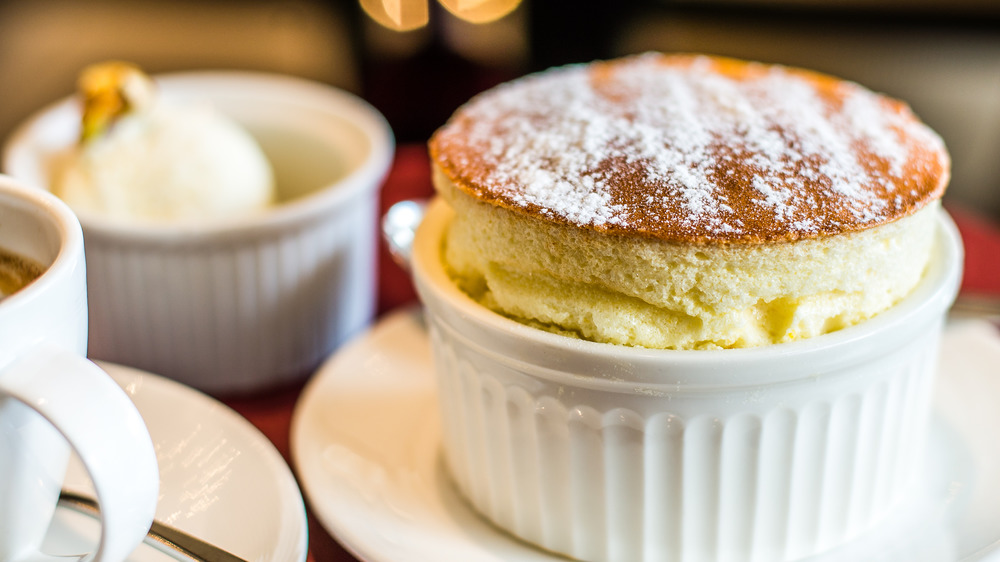 Shutterstock
We all have our recipe stand-bys — crowd-pleasing dishes that we can whip up, with very little effort, which will win us applause at the holiday dinner table or the picnic potluck. It could be an easy cake box hack, or that fabulous salad that just takes opening a can or two and tossing in some fresh veggies and Ranch. Then, there are culinary concoctions that are a bit more of a stretch, but are still within our wheelhouse. Many of us gained confidence in our kitchen skills thanks to the trend of quarantine baking, as we figured out how to create from-scratch sourdough bread and other types of comfort food we'd previously relegated to the experts.
But where do we draw the line, throw in the towel, and declare, "What am I, Rachael Ray?" In an exclusive Mashed survey of more than 500 U.S. respondents, close to 18 percent said a soufflé is a difficult dish they wish they could bake, but don't think they could pull it off without egg on their face. Michelin award winner Daniel Kleinhandler, a pastry chef whose life work has been soufflés and other complex French desserts, had nothing but empathy for those of us who are terrified of attempting this treat. "Chocolate soufflé is like the fanciest, French-est, scariest sounding dish you can do," Kleinhandler told us, adding, though, that this treat is within our reach if we follow the instructions carefully.
Nearly a quarter of us wish we could bake our own croissants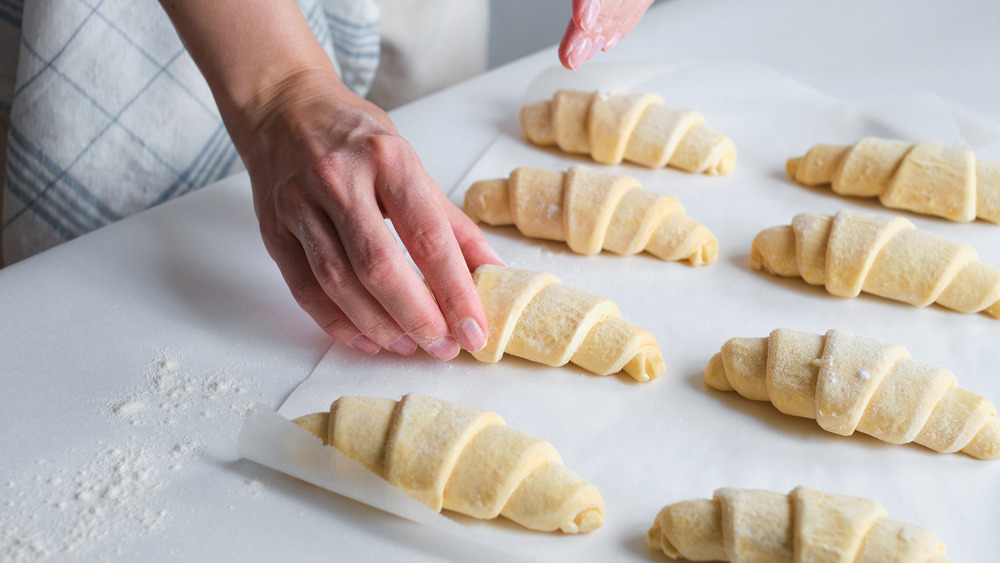 Shutterstock
With all due respect to Pillsbury ready-to-bake crescent rolls, you can't really compare these dinner rolls to a delicate, buttery croissant, the kind you'd treat yourself to while wandering along the Seine river, a cute little beret askew on your head. Almost a full quarter of the Mashed survey respondents were fully aware that croissants were among the most difficult foods to attempt from home – although, they certainly wished they had the culinary chops to whip up from-scratch batches of these flaky French favorites.
But why are they so tricky to make? Well, let's just say there's a reason why croissant baking gets its very own MasterClass course. "Making croissants is a labor of love and dedication — a lifelong baking project," explained instructor Dominique Ansel, a James Beard Award-winning pastry chef. You need to keep your eye on everything from your rolling pin technique to the temperature of the ingredients, and the perils of using too heavy a hand with the egg brush can destroy hours of painstaking attention to detail. Given how intimidated we are by soufflé and croissants, it's probably no surprise that another French baked good, the macaron, was considered too tricky for nearly 20 percent of respondents as well.
Savory dishes that scare away home cooks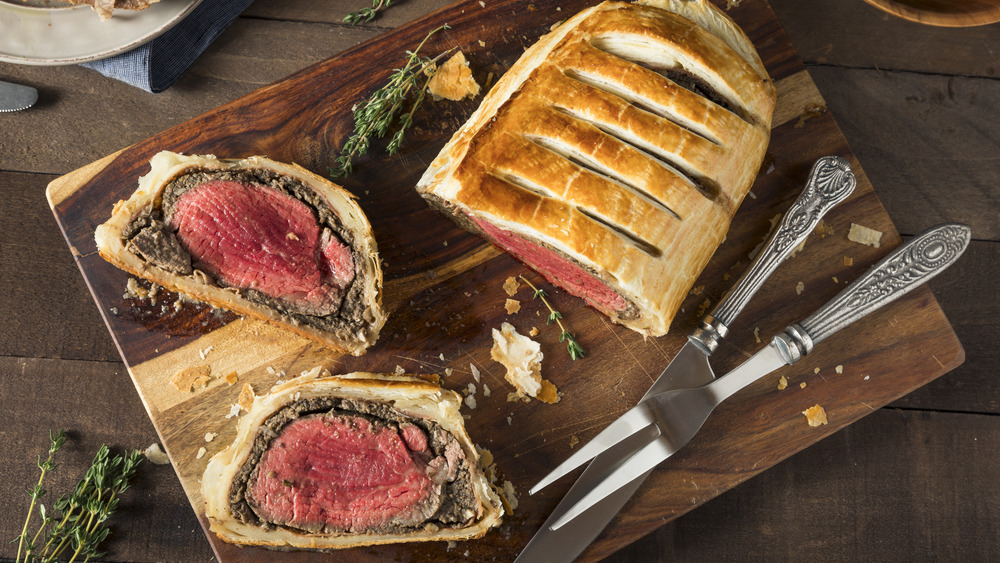 Shutterstock
The nice thing about a complicated French dessert is that no one will ever turn away a sweetly fragrant pink cake box from that tiny little bakery around the corner and demand why you didn't bake your soufflé from scratch. But if you're having a dinner party, you might feel some pressure to prepare your entree, rather than outsourcing it. And wouldn't it be nice if you could whip up Beef Wellington? This British delicacy ranked as the top dinner dish that home cooks were anxious about attempting. A full quarter of survey respondents decided that this beef tenderloin ensconced in puff pastry was wayyyy out of their league. The pitfalls of Beef Wellington are that it's very easy to undercook the pastry and overcook the beef — plus, its history as a meal served to royalty is a bit humbling, according to Taste. 
Another savory dish that causes home cooks to fly the coop is turducken, which is a sort of culinary hybrid between a turkey, chicken and duck. About six percent of respondents would like to serve this triple-poultry feast, but don't think they have the skills needed to cook up this bird-within-a-bird-within-a-bird entree.