Here's The Interesting Way Rachael Ray Celebrated Thanksgiving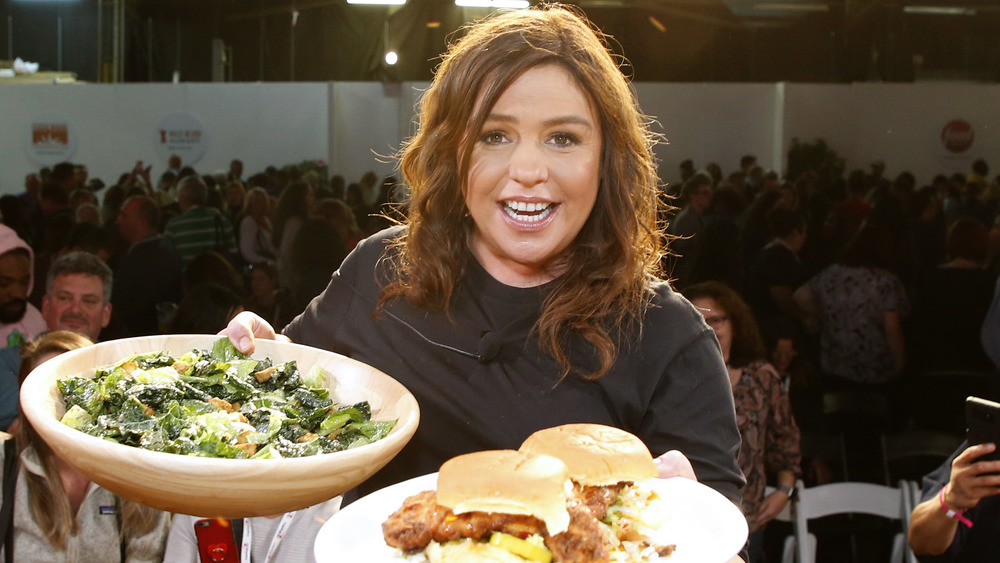 John Lamparski/Getty Images
Thanksgiving looked different for a lot of us this year, including Rachael Ray. The celebrity chef posted on her Instagram that, in order to make sure everything was COVID safe, she hosted the holiday on her porch. Her table featured beautiful fall decorations and twinkling lights. Ray also explained she packed up plastic containers and wiped down everything to keep it extra clean for guests, according to People. One attendee included her dog Bella who Ray said was the most thankful this year for carrots.
The television host also shared some interesting food items on her Instagram that she was planning on making for Thanksgiving, a day before the festive feast. The list included a baked butternut squash with yogurt and devils slashed chicken. Ray explained the chicken was, "bone-in chicken marinated in mustard, Worcestershire, hot sauce, and garlic and topped w chopped celery leaves, parsley, and scallions."
Ray held her Thanksgiving dinner at her guest home in Lake Luzerne, N.Y., because a fire burned down her main home in August, as reported by People.
Rachael Ray explained why she's remaining grateful despite the fire that burned down her home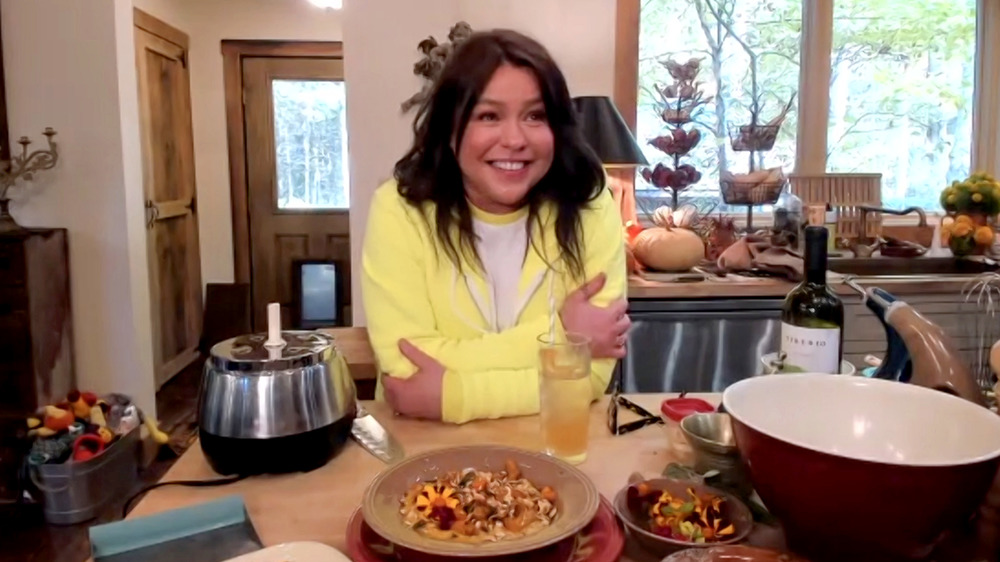 Getty Images/Getty Images
According to USA Today, fire officials said the cause of the fire in her New York house started in the chimney. Luckily no one was injured in the blaze. "Grateful that my mom, my husband, my dog... we're all okay," Ray tweeted at the time. "These are the days we all have to be grateful for what we have, not what we've lost." She went on to thank the local first responders for saving what they could of her home.
Ray and her husband are currently living in their guest house that's located on the property, per People. She explained it feels homey because it's almost an identical version of their former house that was damaged in the blaze. "Basically, I designed the house so you can see everything that's going on in the house from the kitchen," she said.
Despite everything that has happened, Ray said she's feeling more mindful about how lucky she truly is. However, that doesn't mean she's not ready for this year to officially end. "I can't say I'm not happy that 2020 is coming to an end," Ray admitted. "Maybe you feel a bit that way, too? What I can say is that I'm happy I'm here and that you are, too, and that 2021, I truly believe, could be our collective best year ever."