The Real Reason There May Be Another Meat Shortage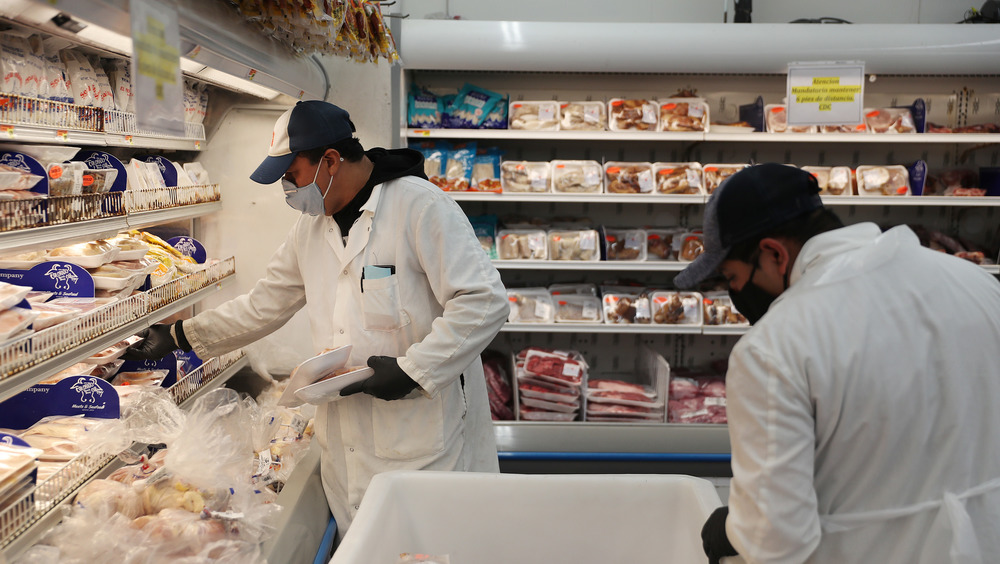 Joe Raedle/Getty Images
With Thanksgiving behind us, we're finally limping to the end of 2020, which will be a memorable year for many of us for all the wrong reasons. But before we get to the New Year and what will hopefully be some kind of a reset, we still having to live through what has now become what health experts say is the most dangerous health crisis since the 1918 flu pandemic (via CNN), and because of this, Christmas could well be like no holiday that few – or any of us – have ever lived through.
If it's any comfort, groceries around the country have been bracing themselves for a new wave of lockdowns since the end of summer. One grocer told the Wall Street Journal that: "We started talking about Thanksgiving in June. That's earlier than we ever have," while Associated Food Stores say that they had begun building what they called "pandemic pallets" made up of cleaning and sanitizing products. The company's vice president of retail operations, Darin Peirce, has also said they have put protocols in place to try and head off the panic buying that resulted in completely empty supermarket shelves. This means stores have higher stock levels of staples that include pasta sauce and toilet paper.
Producers say they're ready for demand, but shortages can happen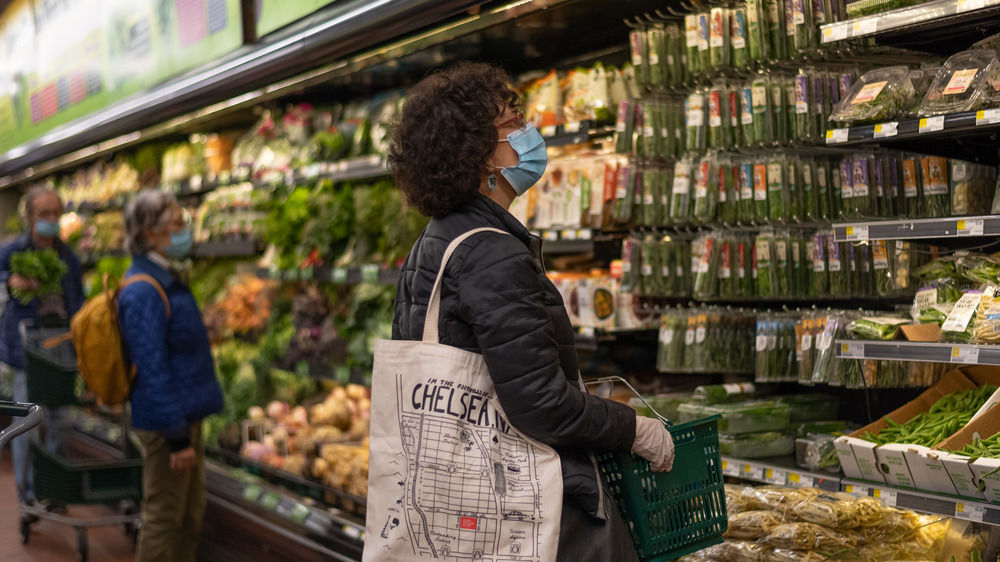 Alexi Rosenfeld/Getty Images
No matter how prepared our supermarkets are for increased demand triggered by a potential holiday upswing in coronavirus cases, supply chain experts are warning that shortages are still likely to happen. Producers are entering the holiday period with lower stocks than they have done in the past. Hormel Foods says the company had 24 percent less inventory at the beginning of fall compared to the previous year and that bacon, pepperoni, Skippy peanut butter, and SPAM stocks could fall further if workers get sick. General Mills, which makes Progresso soups, Betty Crocker cake mixes and Pillsbury refrigerated dough never managed to catch up after early pandemic demand depleted their stocks in March and April (via Wall Street Journal).
"The level of panic may not be as much as it was in the spring, but I think the consumer demand will be as high through the holidays," Northeastern University distinguished professor of supply chain management Nada R. Sanders tells the Boston Globe. "Once we are done with the holidays, we are going to start seeing a dip back to normalcy." 
Meat production can be disrupted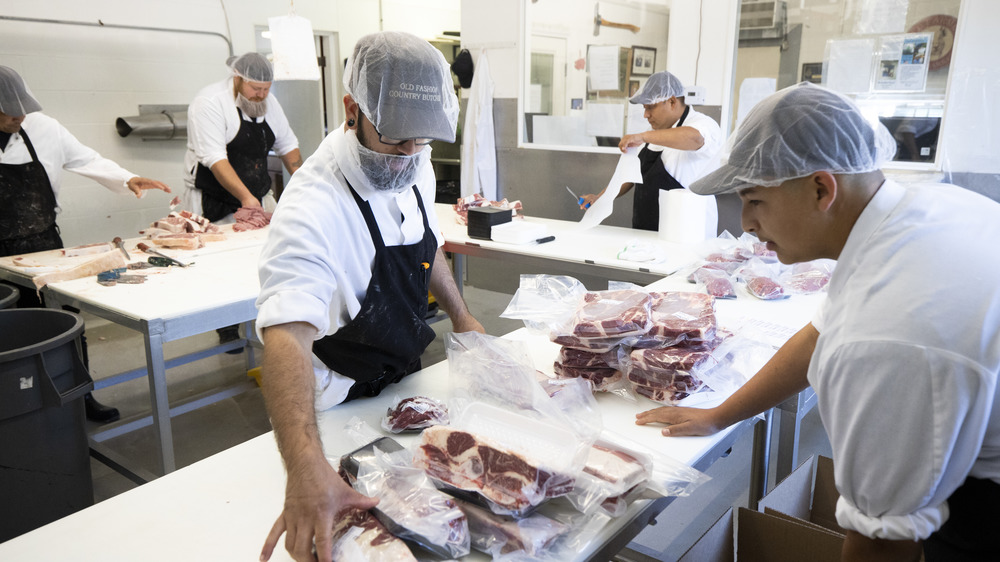 Brent Stirton/Getty Images
The big wild card: fresh foods. The meat shortages across the country didn't happen because we had run out of sources – they happened because large numbers of meat processing workers had gotten ill with the coronavirus. In one highly publicized case, the managers at one Tyson meat plant allegedly had a betting pool going, to see how many workers would end up with COVID. As Anna Nagurny, a University of Massachusetts Amherst academic put it to the Boston Globe, "Without people, we don't produce anything.
After that scandal and after several plants closed because workers tested positive for COVID-19, meat processors Tyson Foods is working to head off the same problems by investing in protective gear for its workers as well as hiring health personnel (via WDRB). We may be facing down the threat of another meat shortage. But at least this time around, suppliers and producers are determined not to get caught off guard.