The Cheesecake Factory Just Brought Back A Festive Fan Favorite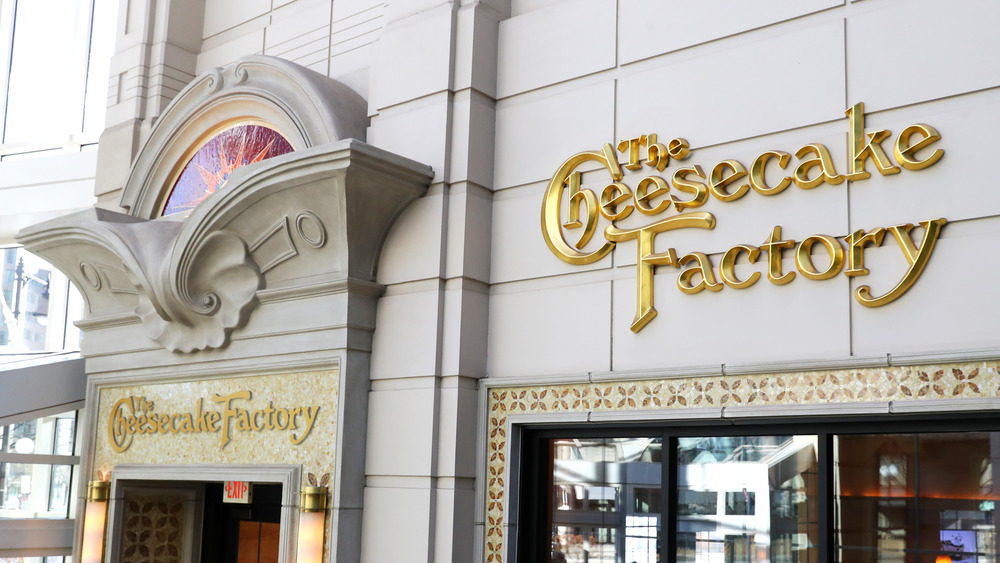 Maddie Meyer/Getty Images
There are a bunch of different Christmas flavors – fruitcake, eggnog, and gingerbread are just a few of the tastes that define the holiday season. One flavor, however, stands above the rest as probably the defining flavor of Christmas: peppermint. Now you can get your peppermint fix at The Cheesecake Factory with a return of the holiday favorite, the Peppermint Bark Cheesecake.
This white chocolate cheesecake is mixed with pieces of chocolate peppermint bark, frosted with white chocolate mousse, and garnished with flecks of chopped peppermint (via Delish). 
"Our Peppermint Bark Cheesecake is a fan favorite that is available just for the holidays and we are happy to welcome it back to our menu," The Cheesecake Factory's founder and CEO  David Overton announced in the company's December 1 press release. You can get the cake by the slice if you're looking for a personal treat, or you can order it as a full 10-inch cake to share with your family, roommates, or quarantine pod.
Breaking the news
How did The Cheesecake Factory first announce the return of this holiday favorite? Not in words — no, that would be far too simple. Instead, on November 29, the official Cheesecake Factory account tweeted, "🎵 🎶 It's the most wonderful cheesecake of the year," accompanied by a picture of the cake. The official Facebook account took a similarly carol-inspired approach, posting a different image of the cake with the caption, "🎵🎶 It's beginning to look a lot like cheesecake. 🎁🎄❄️☃️" 
Along with the Peppermint Bark Cheesecake, The Cheesecake Factory has also brought back another holiday offering, though this one's not edible: the Slice of Joy Gift Card Offer. For every $25 purchased in gift cards, physical or digital, between now and the end of the year, customers will get a Slice of Joy Card that entitles them to a free slice of cheesecake redeemable between January 1-March 31, 2021. Since the Peppermint Bark Cheesecake is only available until the end of the year, you won't be able to use your Slice of Joy Card to buy one, but hey — there are plenty of other tasty options.