This Ingredient Swap Makes Cream Of Mushroom Soup Vegan-Friendly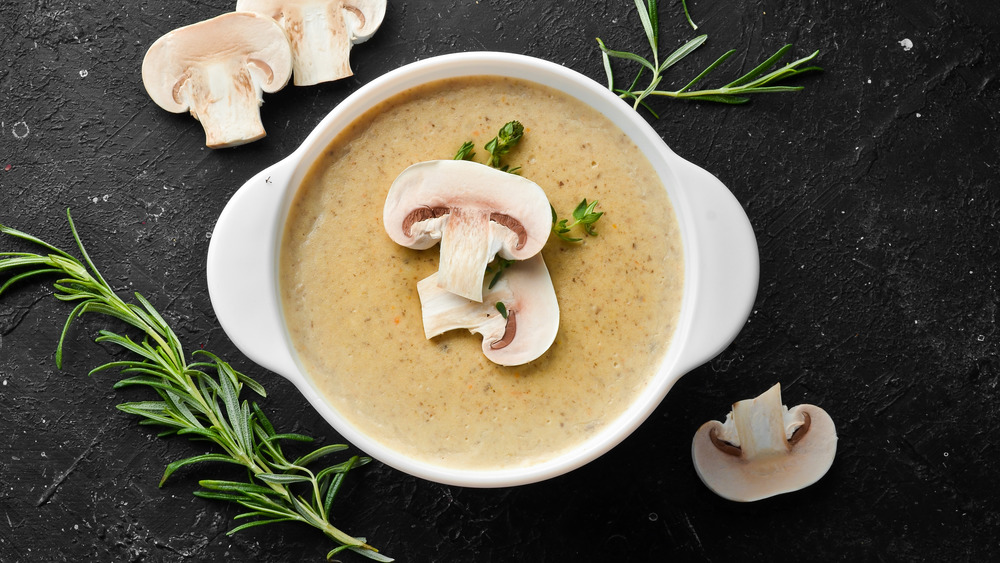 Shutterstock
The notion of a "creamy" soup may not immediately conjure up the idea of vegan cooking — but that's where you're mistaken. Rich, uber-creamy soup can be fully vegan and it can come together in under an hour! Enjoying a bowl of piping hot, smooth soup on a cold night is truly one of life's biggest pleasures, but if you have some dietary restrictions, certain soups may usually be off-limits. There's no need to remove cream of mushroom from your diet, though. As The Simple Veganista notes, their mushroom soup is super simple, requires mostly pantry staples, and only dirties one large pot! You can even buy the mushrooms pre-sliced for even further convenience.
No ifs, ands, or buts about it: mushrooms are wonderful. They add a deep, earthy flavor to dishes that is savored by both carnivores and vegans alike. There are also so many different varieties, and each has a totally unique flavor and texture. Although cooking mushrooms can sometimes be slightly challenging, this soup recipe is as easy as can be. A simple swap of plant-based milk in place of heavy cream can make this delicious soup entirely vegan.
How to make vegan cream of mushroom soup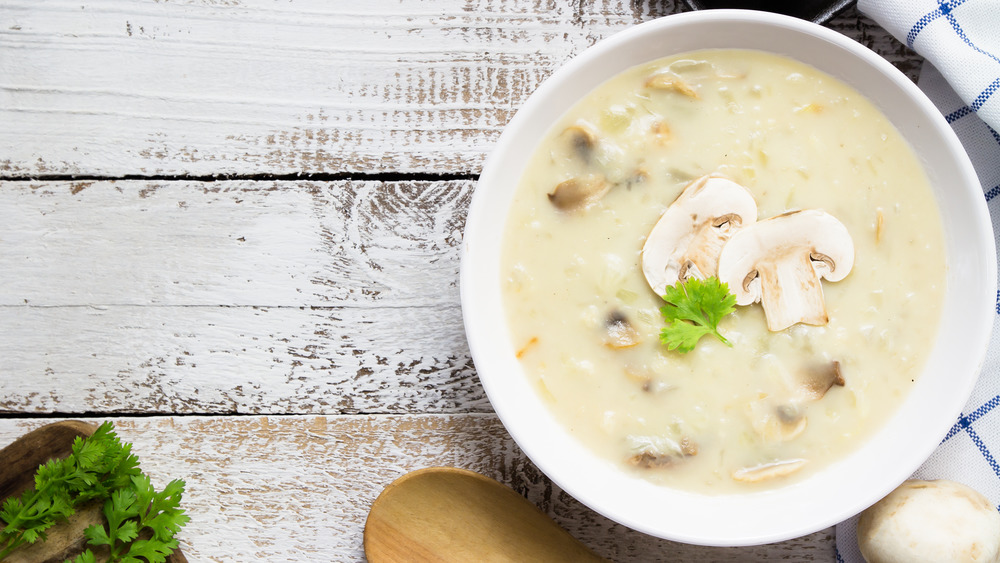 Shutterstock
For ingredients, The Simple Veganista says that you'll need mushrooms (duh), but the type is up to you: cremini, white button, shiitake, portobello, etc. Other ingredients required are vegan dry wine, stock or broth, garlic, onion, herbs (your choice!), salt and pepper, and coconut milk (you could also use any other plant milk). Cornstarch is also an additional, optional ingredient, in case you'd like a thicker soup. The method couldn't be simpler: sauté the onion and garlic until soft, add mushrooms and wine, and cook for about 5 minutes. Next, add broth and simmer for 15 minutes, and then add coconut milk within the last 5 minutes of cooking. If you're using the cornstarch, now is when you'd make a slurry (a mixture of a liquid and cornstarch which helps to eliminate lumps in the final dish), stir it into the soup until it thickens, and finally stir in your chopped herbs.
At this point, you can enjoy the soup as is or you can puree it — again, it's totally up to you! The Simple Veganista also notes that the soup can be served with bread, grains, salad, or additional veggies if you're craving a more hearty meal. Leftovers can be stored in the refrigerator for around four days or the freezer for up to three months, and reheat beautifully! This winter, when you're looking for a cozy meal that is warming, healthy, and absolutely delicious, look no further than a big bowl of this creamy — and vegan — mushroom soup.