What People Are Saying About Aldi's Cookie Dough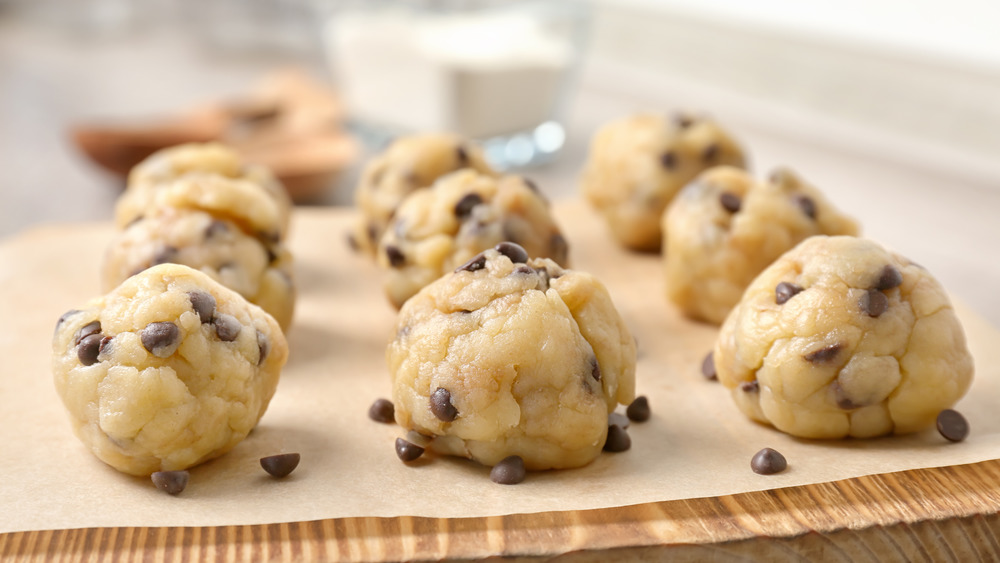 Shutterstock
Where would we be in life without refrigerated, pre-made cookie dough? Probably over-stressed after having to start from scratch every time we want fresh-baked cookies. Or, for those of us who simply wouldn't bother, unsatisfied with the lack of cookies in our house. Even The Pioneer Woman makes use of a little store-bought cookie dough now and then, according to at least one of her recipes on Food Network.
For all the convenience pre-made cookie dough brings to our lives, it's hard to believe there could be bad versions of it out there. But, it seems that's exactly what some people are saying about the refrigerated cookie dough from Aldi. We know, we know. Aldi is usually the shining star of the grocery store world – some of their store brand products are even better than the originals. Still, other Aldi products wind up at the bottom of the barrel with some pretty horrible reviews online and their cookie dough has definitely made that list. Here's what folks have to say about it.
Reviews say Aldi's cookie dough is a bad value with bad results
It's a hard day when you learn not everything Aldi touches turns to gold. Yet, here we are. The not-so-sweet reputation of Aldi's pre-packaged cookie dough starts with the value. Aldi is well-known for their super-low prices but Living Well Spending Less says you can probably find a better deal elsewhere on cookie dough. They say you can often find coupons for brand name versions and the discounted price would likely come in lower than what Aldi charges. Plus, Aldi's cookie dough apparently doesn't taste that great. Wise Bread reports Aldi's cookie dough turned out burnt and artificial-tasting, despite their having followed the package's baking instructions.
Aisle of Shame had a similar experience with the Sea Salt Caramel Chocolate Chunk version of Aldi's cookie dough. Granted, they said the cookies tasted good. But, because they made the simple mistake of using wax paper instead of the recommended parchment paper, the caramel-y cookies stuck to the pan to the point where the only cookie bits they got to eat were the pieces that could be scraped off the baking sheet. Uggghh, is there anything more frustrating? Perhaps not having cookies at all? Well, to save you from that peril, we've ranked store-bought cookie dough from worst to first and it turns out, Nestle Toll House is the very best. So, the next time you're craving cookies, save yourself the less-than-stellar results from Aldi and stick with a tried and true classic instead.