These Mini Cinnamon Rolls At Costco Are Turning Heads
Nothing makes a snowy day indoors feel as cozy as a tray of fresh, warm cinnamon rolls. According to Scandi Kitchen, the classic breakfast treat originated in Scandinavia in the 1920s and has since made its way across the globe, gracing the breakfast tables of anyone looking for a sweet way to start their morning. If you can't get enough of these rolls, we have good news for you — according to Delish, Costco has rolled out brand new packs of El Camino Real Petite Cinnamon Rolls that weigh in at over two pounds with a measly price tag of $7.79. With such a low price for so much cinnamon goodness, everyone has started to take notice.
According to Instagrammer @costcobuys, they found their pack of petite cinnamon rolls for $7.59 and exclaimed "I'm such a fan of cinnamon rolls, so I'm hoping these are good!" The post has garnered over 1,000 likes, and replies have ranged from "They are sooooooo good," to "Warm them up and they're delicious!" One commenter even found some extra festive inspiration in them, commenting "They are super good... My family and I would make Santa hats with these all the time." For anyone wanting to grab a pack of these treats, make sure to move quickly, as they might get snatched up before the holidays end.
Cinnamon rolls for the holiday season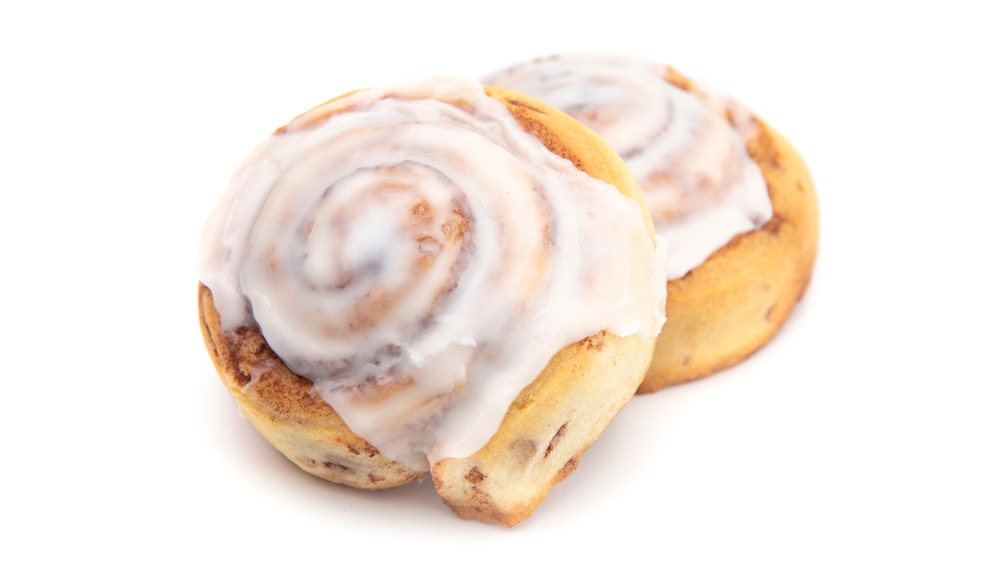 Shutterstock
These little cinnamon rolls can feed an army. According to Costco, each package contains approximately 35 rolls, making it a must-buy for anyone who wants to stock up on breakfast pastries. Make sure to grab them while you can, as product availability and pricing can change in an instant and you don't want to let this opportunity slip by. They appear to come and go with the season, as one commenter posted: "They are awesome just never know when they will have them," implying they have been sited at stores during previous seasons.
If you can't get enough cinnamon rolls in your life and want to take the warm, gooey rolls home, make sure to visit your local Costco while supplies last. Who knows if this product makes it to the spring,? And once it's gone, it might take a whole year for us to see the return of these crowd-pleasing treats. So if you're curious, take the opportunity to find out for yourself about the product that has Costco fans taking notice.