TikTok Is Losing It Over This Gross Subway Prank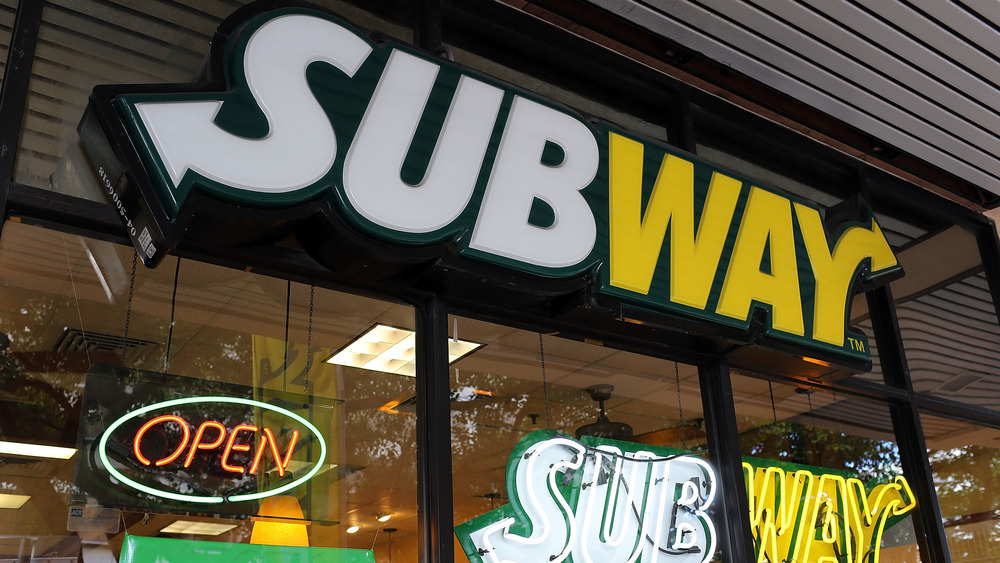 Joe Raedle/Getty Images
Subway is known for making fast sandwiches that typically include meat, cheese, lettuce, and some type of sauce. The chain is also pretty easy to find, since it has about 24,000 stores in the U.S. alone, per CNN. So when TikTok user Jimmy Darts was asked by a fan to prank Subway, it was easy for him to accept the challenge. Yahoo! News reported that a TikTok follower asked Darts to "go to Subway and say no to everything but get every sauce." 
In the now-viral clip that was published in November 2020, Darts goes into a Subway and the employee asks if he wants meat, cheese, or his bread toasted. Darts replies, "No thank you," to every question and leaves the Subway worker looking confused. The employee then asks Darts what he would like on his sandwich and Darts replies, "All the sauces."
The video shows the sandwich maker putting 15 different sauces on the bread. According to Subway's list of sauces, that would include toppings like chipotle southwest, vinegar, mustard, oil and ranch, just to name a few.
Fans have mixed reactions to the bizarre sauce request at Subway
In the now-famous TikTok clip, after the Subway employee has added all of the unusual mix of sauces, he wraps up the sandwich. Jimmy Darts then asks the worker, "Would you ever eat something like that?" The employee who is now seemingly in on the joke replies, "Yeah, something like that." The video then cuts to Darts in his car taking a bite of the sandwich with its unique sauce mix, and as you can imagine, it doesn't taste good. Darts bites into the bread and immediately starts gagging and starts yelling, "It's gross!"
TikTok followers were quick to react, with one writing, "Omgg why did you take such a big bite." Another seemed skeptical of his reaction and commented, "Was it really that bad or were you being dramatic?" Another user added that this was her worst nightmare and she wished she didn't watch it until the end.
Whether fans loved or hated the clip, they seemed to be watching either way. The Subway prank has now been viewed over 414,000 times.