Costco's Festive New Cinnamon Cake Weighs 4 Pounds
As we move closer and closer to the holidays, finding the perfect casual present to send friends and loved ones seems daunting. The time-tested holiday fruitcake has stood out as the pinnacle of the ultimate cake to bring someone looking to celebrate the season, but so many of us have grown tired of this boring, brick-like dessert. According to Thrillist, people have been poking fun at stodgy, old-fashioned holiday fruitcakes since the '60s, and at this point, we need a fun, flavorful cake that can step in and become a holiday classic. Thanks to Costco, our new favorite cake has finally arrived in the form of a whopping 4-pound cinnamon cake.
According to Delish, Costco has rolled out a massive cinnamon cake for $11.99 that can serve as a great dessert or sweet breakfast. The cake comes decorated with a festive red-and-green bow and wrapped in crispy cellophane, making it perfect to take directly from the store to your celebration. According to She Knows, the cakes get baked by Jean's Posh Pantry in Poway, California, meaning you'll get an exquisite bakery experience when you pick up this cake at your local Costco. If you want to partake in this massive confection that's perfect for any sweet snack or holiday present, make sure to grab one while you can.
What do people think about Costco's massive cinnamon cake?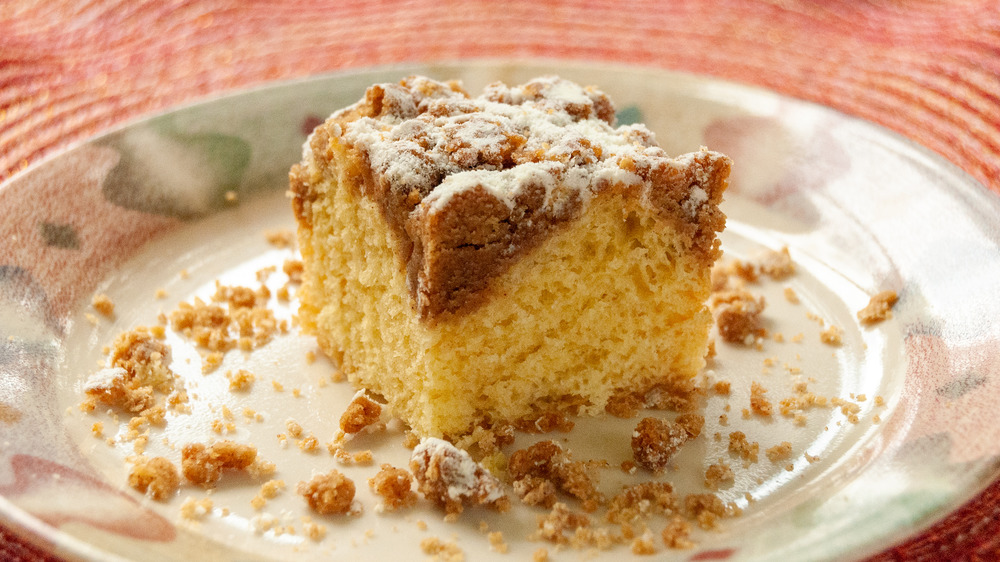 Shutterstock
Anyone who has set eyes on the cake can't get enough of the size of the dessert and how good it looks. Instagrammer @costco_empties posted a picture of the cinnamon cake with the caption, "Another perfect gift — this cinnamon swirl butter cake is wrapped up and ready to go," with replies ranging from, "I'd love to get this as a gift!" to "Looks good with coffee!" As the positive reviews continue to roll in, make sure to visit Costco soon and pick one up yourself — you won't want to miss a taste of this cake!
Next time you need to grab a quick baked good for a friend that embodies the holiday spirit, don't feel like you have to settle for a plain fruitcake. Start a new tradition this year and let your taste buds indulge in this huge, 4-pound cinnamon cake that can keep an entire family's sweet tooth under control for days. Anytime you need to indulge in some holiday cheer, Costco has you covered, and after one bite, you'll know you need to make more than one trip back to grab another cinnamon cake.