These Harry & David Pears At Trader Joe's Are A Total Steal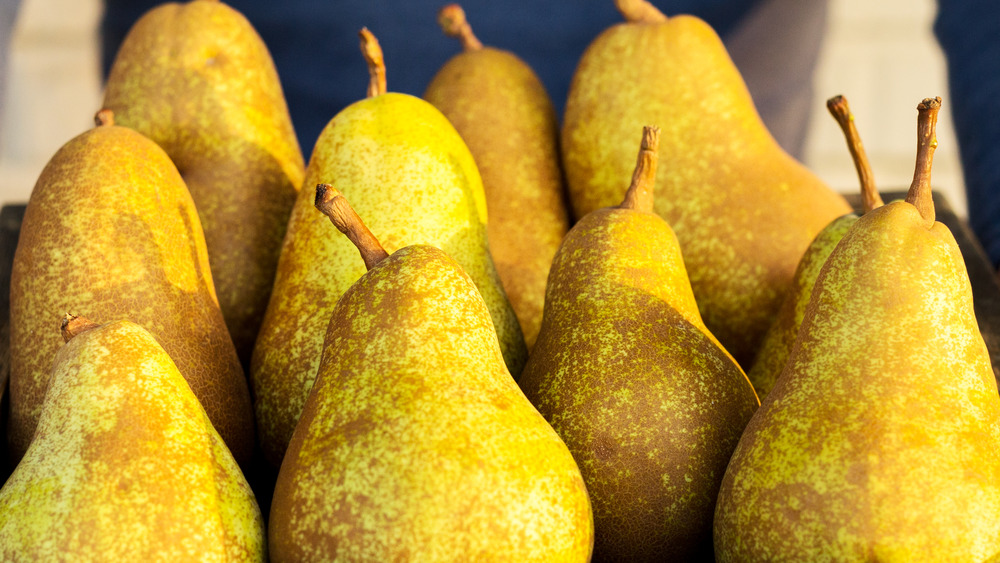 Shutterstock
It's Instagram official. Harry & David's Premium Comice Pears have been spotted in Trader Joe's across the country, including in Kentucky, Washington, Connecticut, Nebraska, California, and Florida. "Got em yesterday morning and will get them EVERY DAY until they are gone!! YUM!!!," wrote one excited Trader Joe's shopper. Which pretty much sums up everybody else's feelings. Because Comice pears are special. Dr. Stefano Musacchi, associate professor of horticulture at Washington State University, once explained to Eater that Comice is "a French variety, and one of the finest pears on the market that you can eat ... the flesh is wonderful because it's melting and is aromatic, and very sweet." 
If they're pricier than your average pear, they're definitely (undeniably, undisputedly, decidedly) worth it. Musacchi explains, "These varieties have a skin that is so delicate ... the people that harvest these pears need to wear gloves and [use of a typical mechanized fruit packing line] is not the best way because it's really sensitive to bruising." The fact that they're wrapped in gold foil doesn't hurt anybody, either.
What followers of Harry & David's pears have to say
Harry & David promises "juicy delicious" interiors, and they're not kidding. "They are absolutely the most flavorful and delicious pears we have ever eaten," writes a reviewer on the company's website. "Our family loves these pears. And we usually don't like pears," raves another one. A third describes them as "peerless," writing "when they ripen up, they are incredibly sweet and tasty. Love 'em!" While this year's price wasn't indicated, as of 2019, Trader Joe's was giving shoppers a great deal by selling a box of five premium pears for $7.99.
If you don't want to eat them fresh (and we might suggest that not doing so is sacrilege), why not bake them into a beautiful pear tart for the holiday season? Or, make them into a pear and cinnamon coffee cake. Or, eat them as part of a pear, arugula, walnut, and blue cheese salad. Or, you know, just let them sit there on your mantelpiece, and stare at them longingly. Because, in this case, to buy or not to buy is not really a question.