Everything You Need To Know About Beef Bourguignon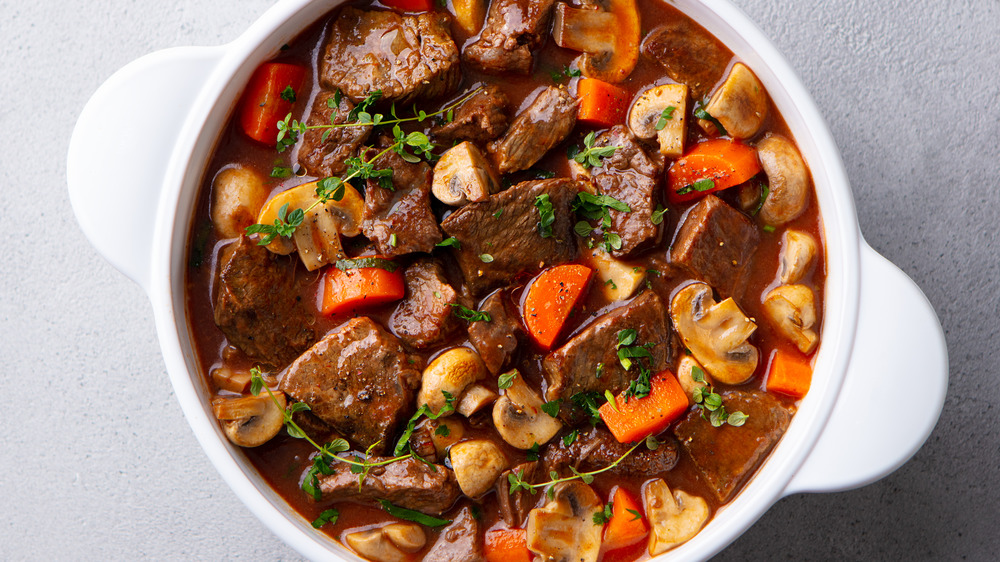 Shutterstock
Beef bourguignon is a traditional French stew, and one of the most popular dishes in France according to National Geographic, beating out snails and frog's legs in a 2017 survey to name the country's top national dish. The French comfort food hails from Burgundy, which is best known for its wine and the prized cows that the beef in beef bourguignon comes from. The hearty meal combines beef, wine, and vegetables together to make a cozy entrée sure to warm you up on a cold winter's night. When properly prepared, beef bourguignon can be levels above traditional American beef stew, because the meat is cooked for hours in red wine until it falls apart in the pot and has had a chance to soak up tons of flavor. While mushrooms, carrots, and onions are traditional vegetables to include in the dish, some modern cooks have begun to add in potatoes and bacon lardons as well (via French Waterways).
How to make beef bourguignon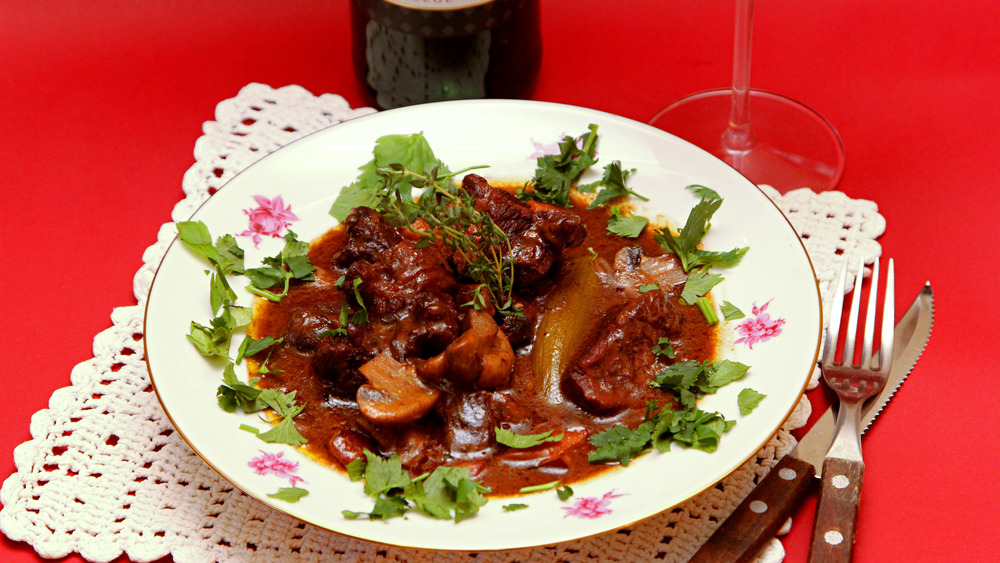 Shutterstock
Historically, beef bourguignon was made with one large hunk of meat, but then came Julia Child, who helped to create the version of the dish many people enjoy today. According to French Waterways, Child is the one credited with cutting the beef for beef bourguignon into chunks, which made it more popular and approachable to home cooks worldwide. The full recipe that brought the traditional French stew to an American audience can be found in Child's revolutionary cookbook, Mastering the Art of French Cooking (via Epicurious).
If making Child's original recipe looks a little daunting, there's an easier way to make beef bourguignon with your trusty slow cooker. This recipe from Taste of Home uses all of the same ingredients in their slow cooker version as you'd find in traditional beef bourguignon, but with the "set it and forget it" mentality once you put on the lid. For those who have a little extra time, but still want to use the slow cooker method for the dish, Cafe Delites suggests you consider browning the beef chunks in a hot cast iron skillet first.