National Cupcake Day 2020: Where To Get The Best Freebies And Deals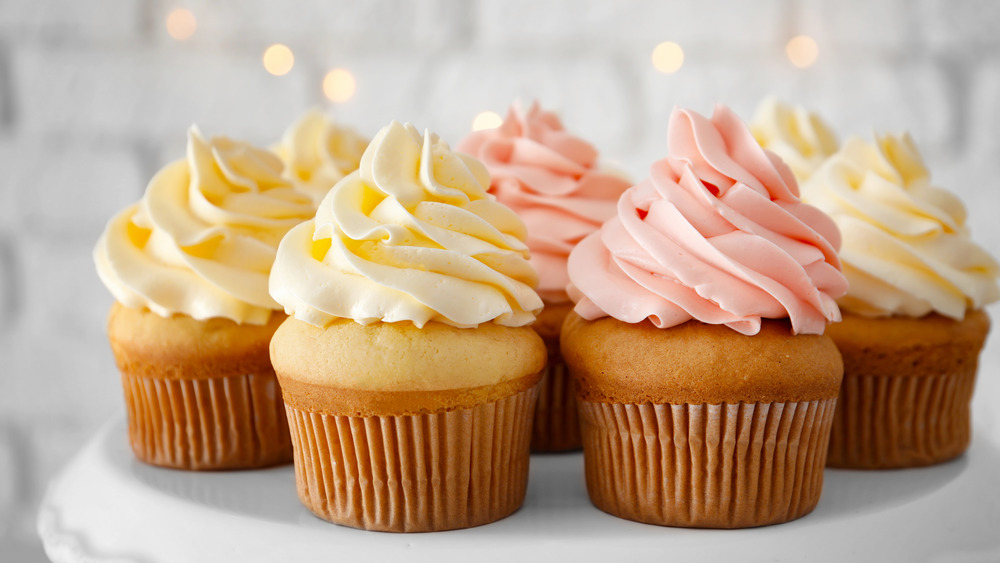 Shutterstock
National Cupcake Day has finally arrived. Naturally, this is an entire day dedicated to enjoying your favorite miniature cakes topped with icing or other sweet treats. This year, the day, which takes place on December 15th each year, falls on a Tuesday. That means you have a perfect excuse to indulge toward the beginning of the week. In celebration of that special day, let's look at some fascinating facts about cupcakes and some deals that will help you enjoy them.
In the grand scheme of desserts, cupcakes are a relatively new treat, but they have been around for a few hundred years. The small, individual cakes have actually been widely enjoyed in the United States since the 19th century, but their history extends further back than that. Cupcakes appeared in the 17th and 18th centuries as a version of English Fairy Cakes (via Holidays Calendar). 
The first mention of cupcakes occurred around 1796 in American Cookery, a cookbook by Amelia Simmons. Even then, they were called "small cakes." But in 1828, the treat was actually called a "cupcake" in Eliza Leslie's book, Seventy-Five Receipts for Pastry, Cakes, and Sweetmeats. This reference is also considered the earliest one to cupcakes themselves.
Fortunately, you don't need a cookbook to enjoy a cupcake these days. In fact, you can get a sweet treat that's an absolute steal on National Cupcake Day from some of the most popular brands out there.
Shop these brands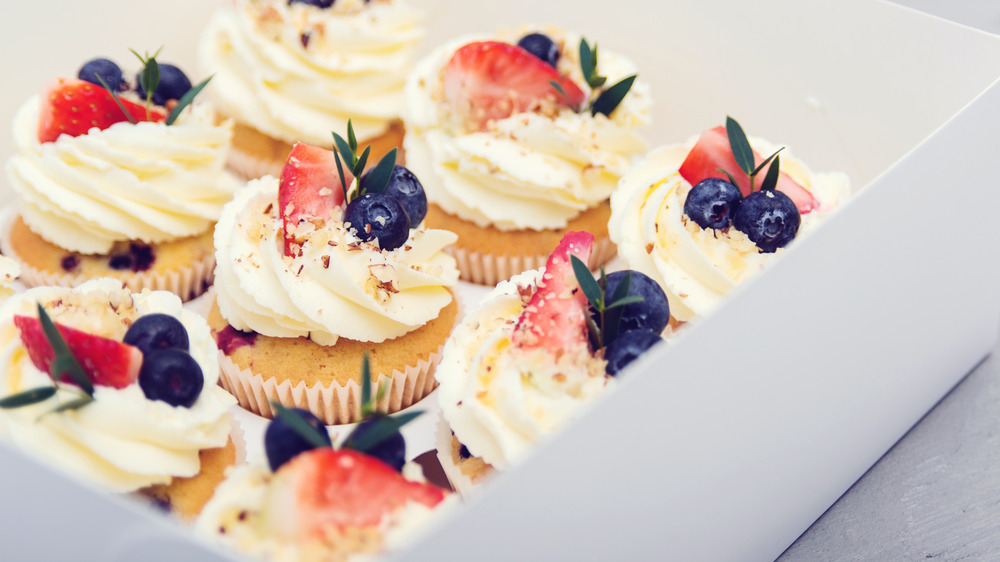 Shutterstock
There are several brands you'll want to shop on the 15th and throughout the whole week in some cases. Magnolia Bakery, for example, is offering its seasonal eggnog flavor of cupcake the entire week. It's a delicately spiced cake with meringue icing that tastes just like the wintry drink. Another brand to check is Gigi's Cupcakes. They have a rewards program that's free to join and that can get you freebies like a single free cupcake or an entire 12-pack for free. Just sign up or sign in to find the best Gigi's deals (via Delish).
Sprinkles, one of the best-known and among the most popular cupcake brands in the United States, has the deal of a lifetime. Though the instructions haven't been announced yet, you can check their Instagram account on the 15th to find out how you can win free cupcakes for a whole year.
Finally, Baked by Melissa is offering a ton of deals through January 5th so you can celebrate the national day all the way into the new year, according to a press release received by Mashed. The first is a free 50-pack gift box with a purchase of 50 cupcakes. Just use code FREEBOX2020. Another deal uses the code 10PERCENT2020 to get 10 percent off of purchases worth $35 or more. The next deal is $20 off $100 or more with code 20BUCKS2020. Lastly, you can get $20 off a holiday party 100-pack using the code 100FORHOLIDAY. So, find your favorites and enjoy a cupcake or two.