This Chef's Knife At Macy's Is A Total Steal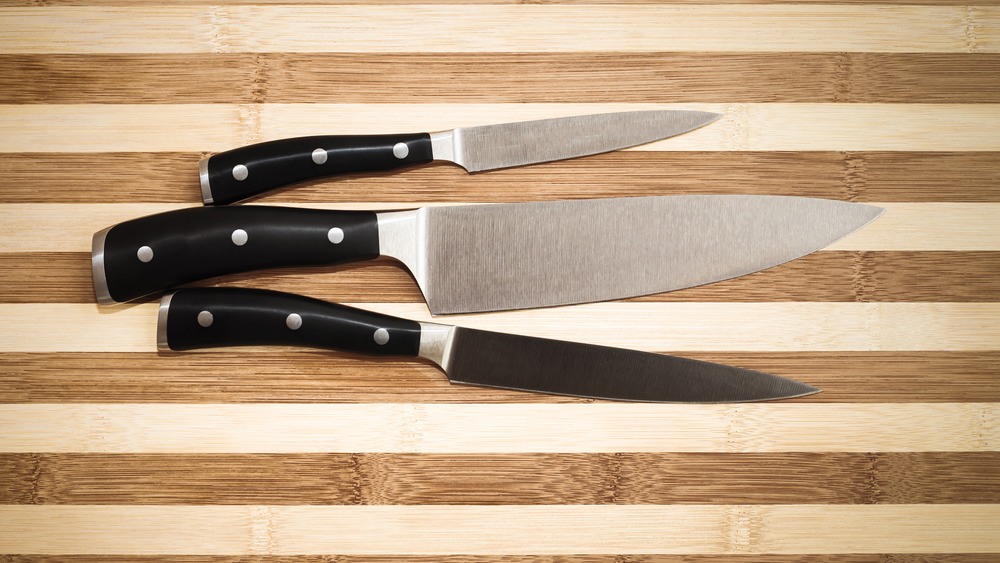 Shutterstock
When it comes to cooking, knives are some of the most important tools you can have in your kitchen. They can make jobs so much easier, but it can be pretty intimidating to actually shop for and buy good kitchen knives. Not to mention, high-quality knives can get very expensive very quickly. That's why this amazing deal from Macy's is one you should act on quickly.
There are a few things to keep in mind when shopping for new kitchen knives such as the tang, how the blade is made, and what the blade is made of. The tang, or how far the blade's metal fits into the handle, determines how well balanced and comfortable the knife is to use. A full tang gives you more stability and is heavier, which is good when you're chopping away. You should also look for forged knives, which are individually made blades that have been hardened. These tend to be of higher quality and will last longer. Lastly, stainless steel is a very popular blend of metals for knives that is durable, stain-resistant, and can be easily re-sharpened (via The Spruce Eats). 
Luckily, the J.A. Henckels Zwilling Pro seven-inch chef's knife is made up of all of those things. Though the knife is usually priced at $225 from Macy's, it's on sale for just $60 right now. That's one incredible deal on a knife. Plus, it has a five-star rating from nearly 400 people.
These accessories are also on sale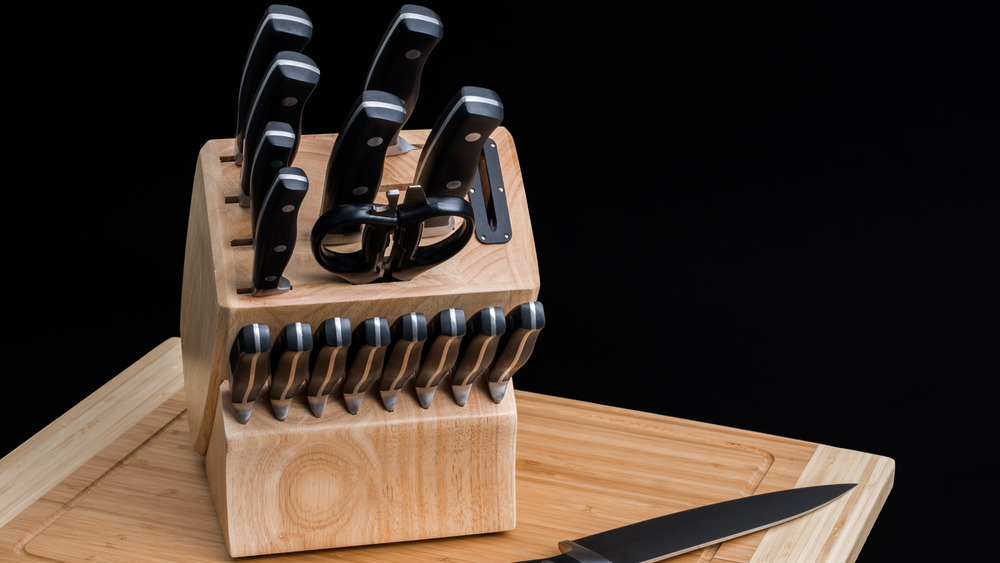 Shutterstock
As if that isn't enough, Macy's promotion also includes a Zwilling V-edge sharpener for $50. That's marked down from $135, making it a great deal too. While you only really need a chef's knife, a paring knife, and a serrated knife to start out with according to The Spruce Eats, there's also a set of knives in this promotion you might want to consider. It's a self-sharpening seven-piece Zwilling cutlery set that includes a four-inch paring knife, a five-inch serrated utility knife, a five and a half-inch prep knife, an eight-inch chef's knife, an eight-inch bread knife, a pair of kitchen shears, and the self-sharpening block. The entire set is usually $644, but it's on sale for just $200 right now. 
Whether you choose to buy an individual knife or a whole set, the new tools will help you cut better and faster in the kitchen. Make sure to read up on knife cutting techniques, though. You definitely should know the best and safest way to cut items like bagels and avocados, which are prone to send people to the hospital with injuries, according to Insider. So, shop at Macy's now and enjoy your new tool safely.