The Big Mistake You're Making With Chicken Francaise From Scratch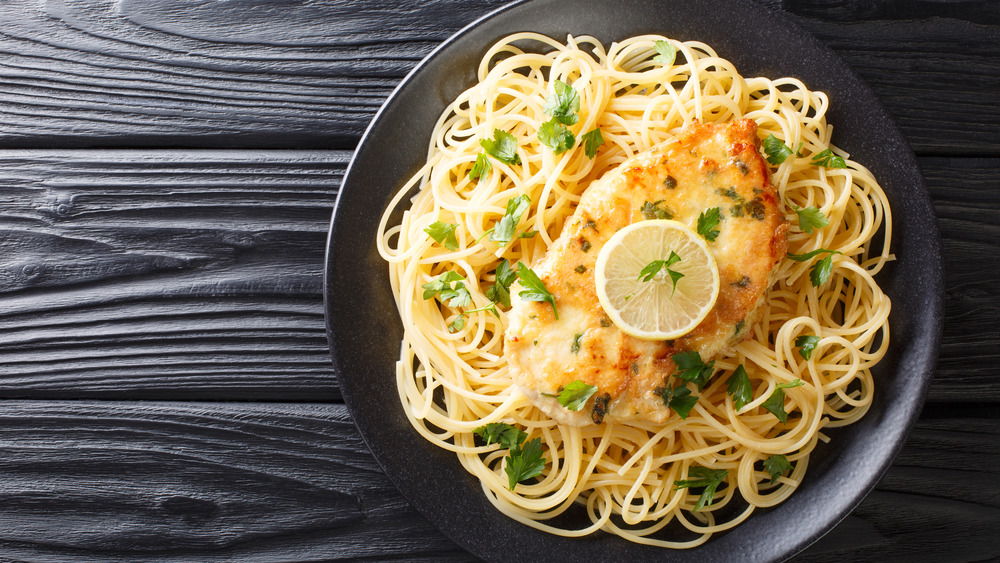 Shutterstock
Known as chicken francese, chicken francaise, and even sometimes chicken French, this dish, featuring a sauce redolent of lemon and butter, has become an easily recognizable chicken preparation for many. Regardless of the spelling — it's delicious. Albeit its oddly French name, the dish is an Italian-American classic that is as common at your local Italian eatery as it is at weddings and catered events galore. If you're making the dish at home, you may run into common pitfalls that make a passable dinner, but not the delicious, rich dish you're used to when eating out. Look no further — we'll run through all of the necessities and tips to ensure the most flavorful, delicious chicken francese you've ever had. 
According to The Spruce Eats, the "recipe came to New York City with the first wave of Italian-American immigrants" and was originally made with veal. Democrat & Chronicle states that the veal-based dish then traveled to Rochester, where it was adapted by James Cianciola. Soon after, the dish was modified to chicken instead of veal due to anti-veal activists, and the rest is history. It became a Rochester staple soon after, and then became nationally known.
The Food Network recommends some chicken francese necessities are: chicken (of course), flour, salt & pepper, stock/broth, eggs, olive oil, lemon, white wine, and butter. Optional inclusions are garlic, bread crumbs, milk, grated cheese, and parsley. Some recipes even include capers — but those dishes then typically veer into more of the chicken piccata universe.
To make a delicious chicken francaise avoid seasoning mistakes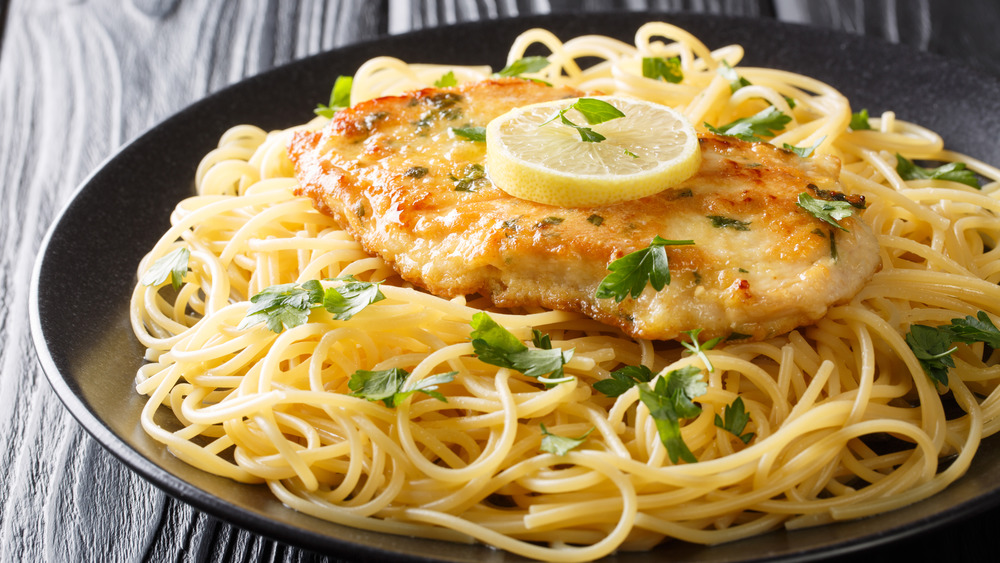 Shutterstock
The Food Network's preparation is simple: dredge pounded-out, thin chicken breast cutlets in seasoned egg-wash and a light coating of flour, then cook in butter and olive oil until cooked through and lightly browned. Remove the chicken from the pan, melt some more butter, add lemon, wine, and stock, and cook down until a smooth, slightly thickened sauce has come together. Season well, add parsley, and serve! This dish is delicious paired with any pasta, but it also works beautifully with rice, mashed potatoes, and/or and roasted veggies.
Some things to note: be sure to season both your flour and egg dip with lots of salt and freshly ground black pepper, make sure you keep your cooked chicken warm in an oven that is set to a low temperature, and be sure to taste as you go. The sauce can be adjusted if need be — more butter, more salt, more stock, etc. — so don't be shy to taste and alter as you cook. As mentioned earlier, you can also add the garlic to the pan once you've removed the chicken, you can also dredge the chicken in bread crumbs (possibly even mixed with some grated cheese), or you can add a touch of milk to the egg wash dip. Finally, be sure to pound the chicken out thinly. You can also check these recipes for a more detailed walk-through.
No matter how your chicken francaise is prepared, though, your family is sure to be thrilled as soon as they take their first bite.