This Ugly Sweater From Popeyes Is Perfect For The Holidays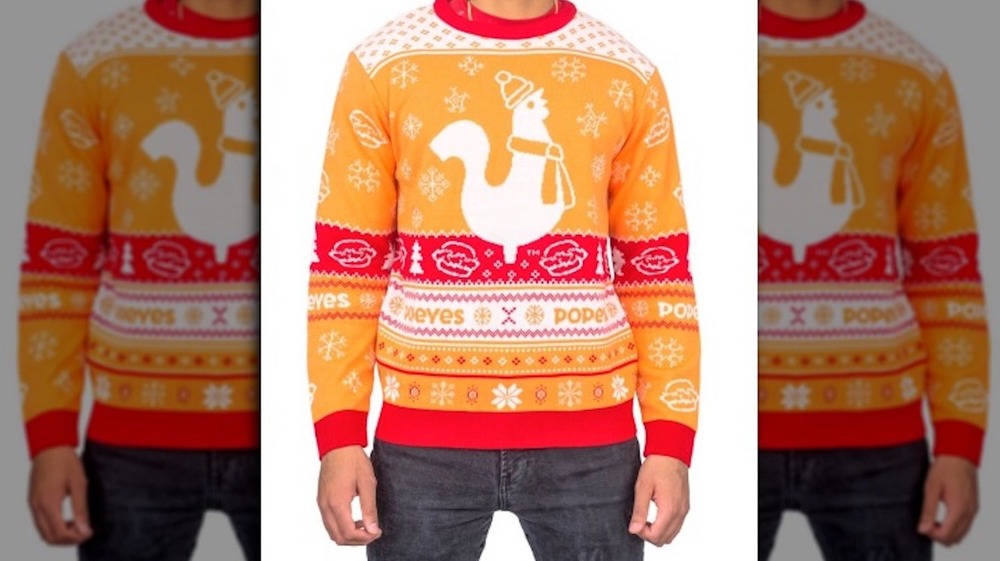 Uglychristmassweater.com
With canceled parties, postponed travel, and smaller, socially-distanced gatherings becoming the norm, there's no doubt that the 2020 holiday season has been different than what most people had planned. But that's no reason to let a classic holiday tradition like the ugly Christmas sweater die. While there won't be any ugly sweater parties at the office this holiday season, that doesn't mean that you still can't get into the festive ugly sweater spirit, and Popeyes has just the thing to liven up your Zoom calls from now into the New Year. They've just announced the release of their chicken-themed ugly holiday sweater, which will be available for purchase beginning on December 17th (via Thrillist).
The bright orange and red sweater features a giant chicken decked out in a hat and scarf and is decorated with small trees, snowflakes, and chicken sandwiches. It definitely lives up to its name, which makes sense, considering this isn't the first time the chicken chain has dabbled in the ugly sweater game.
All the profits from the sweater will be donated to the Popeyes Foundation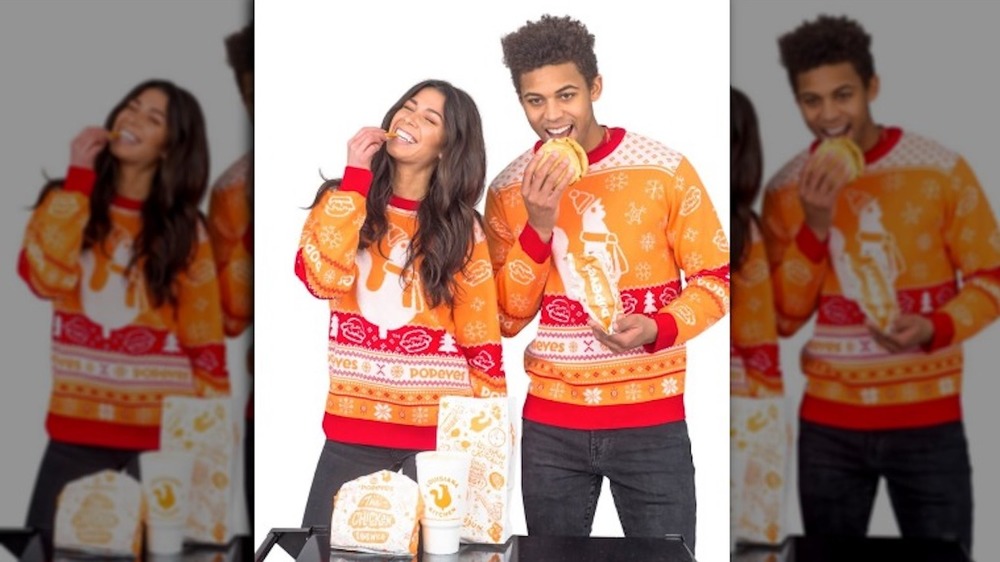 Uglychristmassweater.com
In 2019, Popeyes released a chicken-themed ugly sweater, which bore the fast-food chain's name and was adorned with chicken sandwiches, trees, and snowflakes (via Thrillist). Last year's sweater sold out, so ugly sweater aficionados and Popeyes fans should be sure to place this year's order soon, while supplies last.
The sweater can be purchased at Uglychristmassweater.com for $44.95. The sweater will automatically receive 2-day shipping, so if you order now, you can get it in time to rock it for your socially-distanced Christmas Eve Dinner. But that's not even the best part. According to Uglychristmassweater.com, 100 percent of the profits will go to the Popeyes Foundation to support families and children in need.
A Popeyes rep explained to Thrillist: "In true 2020 fashion, most of us will be attending or hosting traditional holiday parties through Zoom this year. But that doesn't mean that you can't be the most festive one on the screen: and this year, for a good cause."