The Disgusting Place One Illegal Winery Was Found In Alabama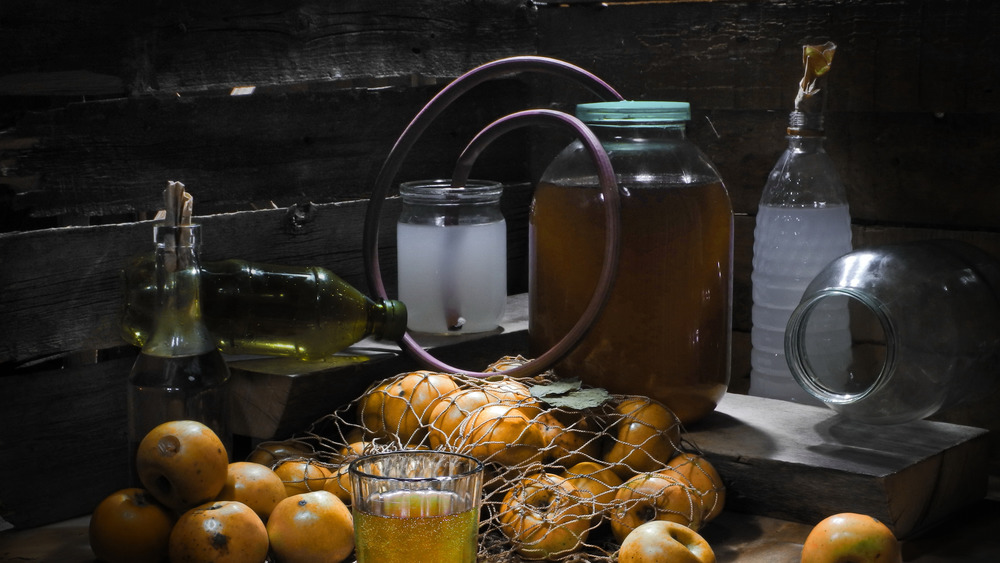 Shutterstock
Moonshining, or the act of illegally producing and transporting alcohol for consumption, has a long history. According to Mentalfloss, the term dates back to 15th century England, but grew to prominence in America during 1791 when Pennsylvanian home brewers began producing untaxed alcohol at home in defiance of the newly mandated "whiskey tax." The practice has ebbed and flowed over the years, but with the onset of COVID-19, the practice's popularity has once again spiked (via Forbes). In order to avoid detection from authorities, many moonshiners have to hide their distilleries in hard-to-find locations, but one illegal winery in Alabama might have taken things a little too far.
According to Food and Wine, authorities recently uncovered an illegal winemaking operation based out of a wastewater treatment plant in Rainesville, Ala. Police found the setup in a corner of the facility that doesn't receive much foot traffic, along with dozens of bottles of homemade wine and a wealth of supplies, suggesting that the operation had been in use for a considerable amount of time. The wastewater plant's supervisor, Allen Maurice Stiefel, was charged with unlawful possession of an illegally manufactured alcoholic beverage and use of official position for personal gain and has since been suspended without pay as the investigation continues, per WHNT.
Not the strangest place to find moonshine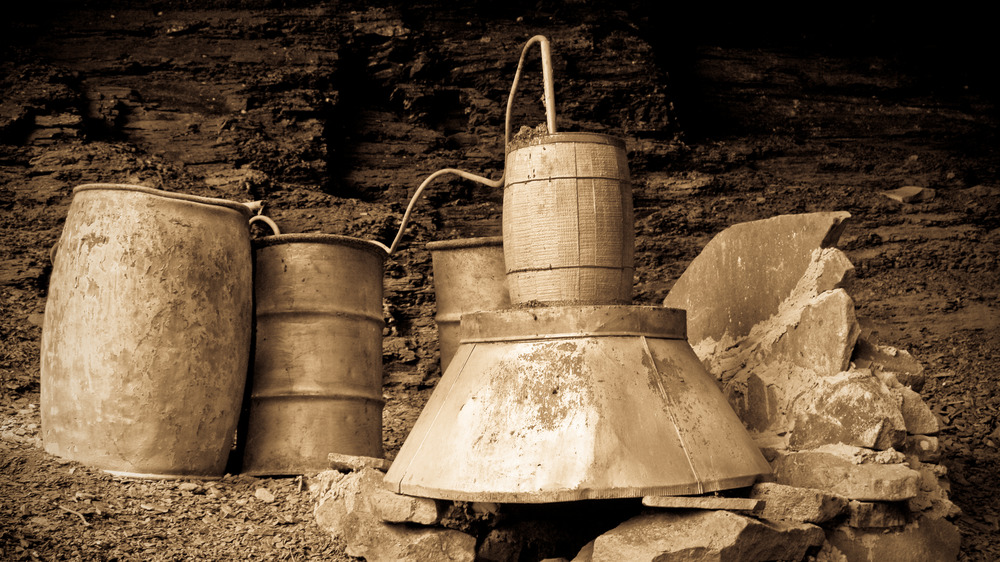 Shutterstock
Illegal alcohol has a long history of popping up in unlikely locations. According to All That's Interesting, moonshiners have hidden their stills in secret rooms under their backyards and deep in caves and forests, while storing their products in hidden compartments in their cars, burying it outside in pits, among every other place imaginable. All things considered, no one would suspect illegal wine being made at a wastewater treatment plant, and luckily, the alcohol produced did not contain any sewage water from the facility (via Food and Wine).
Upon the shutdown of the Rainville illegal winery, DeKalb County Sheriff Nick Welden gave a press statement regarding the arrest and shutdown of the still. "This is definitely one of the biggest operations we've seen in our county and possibly our state," Welden said. "A big thanks to the public and their tips against ALL illegal activities. Once again, it doesn't matter who you are, no one is above the law. We won't tolerate anyone using their position to hide their illegal actions at the taxpayer's expense."