Hugh Jackman And Ryan Reynold's Sam's Club Feud Has Finally Come To An End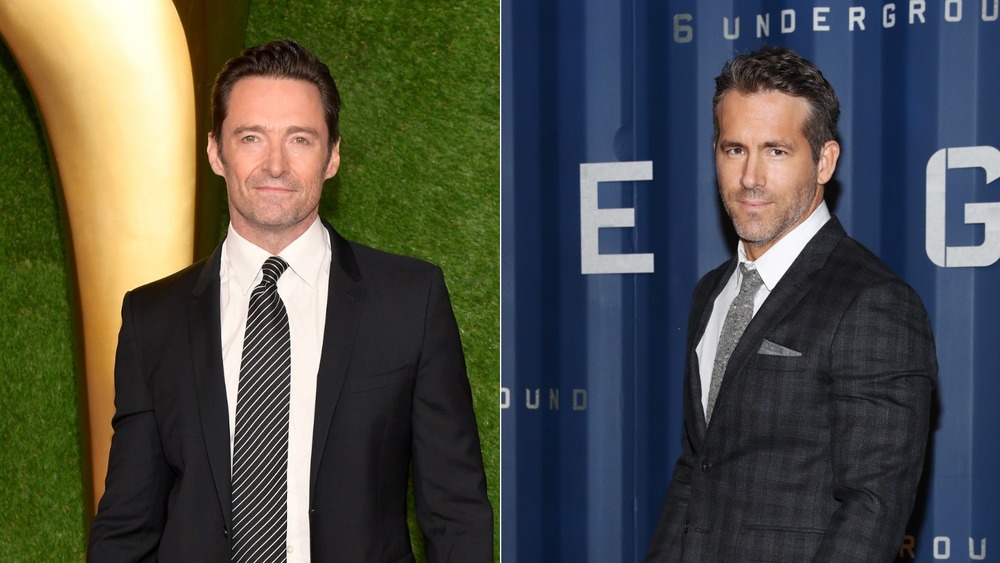 Matt Winkelmeyer, Cindy Ord/Getty Images
We have no idea what Ryan Reynolds has planned for the holiday season, but whatever it is, he may be needing more of his Aviation Gin than he expected. And for that, he has Hugh Jackman to thank. For those of you coming in at the tail end of this one, here are the CliffNotes. On Nov. 10, 2020, Reynolds and Jackman brought their well-documented feud to Sam's Club, where they announced that their respective products (in Reynolds case, Aviation Gin, and in Jackman's case, Laughing Man Coffee) would be going head to head in a sales war.
While the Hollywood stars' competition is over, their initial Instagram announcement is still worth watching. "This holiday season you can side with me and not only affirm that Ryan is the canned cranberry sauce of human beings," Jackman challenges, to which Reynolds replies, "or you can side with me to send a message that like mistletoe, Hugh just makes things awkward." 
The competition wasn't just about ego though. Proceeds from Laughing Man Coffee sales benefited Jackman's Laughing Man Foundation, which supports "coffee farming communities by investing in programs that clear the way to health, growth, and success for coffee farmers and their families." Proceeds from Aviation Gin sales, on the other hand, went to benefit the Sick Kids Foundation, which "extend our excellent standards of care to more [sick] children around the world." 
Hugh Jackman now gets to do some serious gloating
Things started looking grim for Ryan Reynolds in late November when even his mom sided with Hugh Jackman (via Twitter). But on Monday, Dec. 21, it became official. Sam's Club called up Jackman to congratulate him on his victory, and Jackman called up Reynolds. "I won everyone hates you, bye," Jackman gloats in an Instagram clip. In a subsequent tweet, Jackman rubs his victory in further. "Let the record show. I won. He lost," the X-Men star celebrated. To which Reynold's Aviation Gin snarked: "Christmas miracles come in all forms apparently." Reynold's, for his part, shared Jackman's victory on his own Twitter page, pouting, "Quite literally, I have a legal obligation to post this."
While Reynolds is now, officially "the canned cranberry sauce of human beings," we're told there are worse things to be. Besides, as the Deadpool star points out in a subsequent concession tweet, the real winners of this feud are the charities that benefited from it. And, to be fair, Jackman may have had an upper hand in this particular battle. A bag of his Laughing Man Coffee retails at $15.00 a pop, while a bottle of Reynold's Aviation Gin will set you back at least $48.