Costco Customers Are Divided On This Coconut Shrimp
If you're still scrambling to find a last-minute appetizer to round out your holiday dinner, Costco has good news for you. From now until Christmas Eve, they are placing their Royal Asia coconut shrimp with Thai dipping sauce on sale at almost 25 percent off. The Instagram page @ costcodeals posted the news on their page, announcing: "Appetizer for Christmas dinner! @royalasiafoods #coconutshrimp right now on sale $3.70 off now only $10.89! #deal ends 12/24."
Many followers were excited to hear the news, like @disney_lover805, who posted: "Oh yum! Must get some on my next run!" Instagram user @boopbleepboop32 agreed, saying: "Made them last night in the air fryer. They are amazing!!" User @coleykm remarked: "delicious. Nice and crispy from the oven. My kids love them," while @heyyjanina posted simply "These are sooo good." However, not everyone shares the same sentiment. These coconut shrimp did not hit a home run with every consumer, and many people felt the shrimp tasted less like an appetizer and more like a dessert.
Some Costco customers were dissatisfied with the shrimp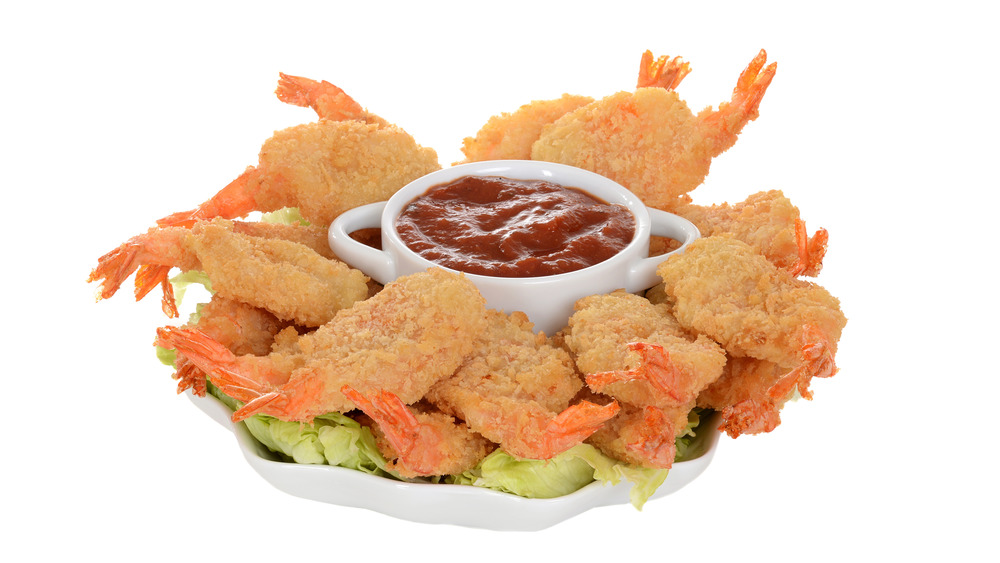 Shutterstock
Instagram user @kennethdilig voiced this sentiment by posting: "The Panko and tempura shrimps are better. Tbh this one taste like a fried dessert. I would choose tempura > panko > this," and @miax0193 agreed, saying: "it's okay....the shrimp smell a little like cinnamon...the sauce id give a 2 out of 5." She wasn't the only one unsatisfied with the flavor.
User @shelmcmond was also disappointed with her purchase, complaining: "Tried it. Not all that great. Too much coconut batter, can't find shrimp." @happily_chacha found the flavor okay, but thought the shrimp were too oily. "I put these in my air fryer. Come out crispy but I find I have to dab the grease off of it. Greasy," she said.
While it all comes down to matters of personal taste, it's safe to say these coconut shrimp are not a favorite with all Costco customers. So if you are planning on hosting a particularly discerning group for your holiday dinner, it might be best to avoid these shrimp entirely. If you're looking for a surefire crowd-pleaser, it's probably wise to choose a different dish from Costco's appetizer selection.