What Hell's Kitchen Winner La Tasha McCutchen Is Doing Now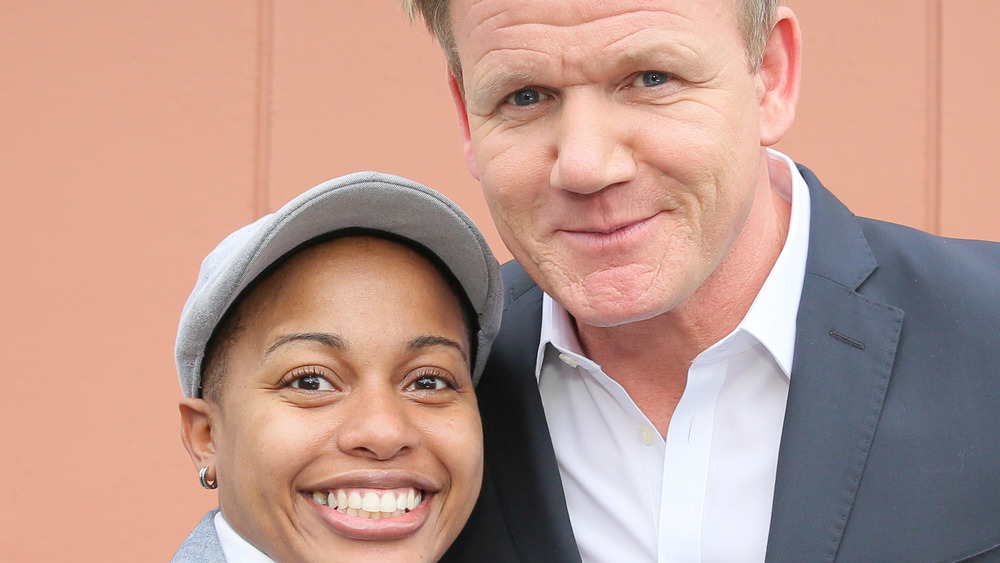 Chelsea Lauren/Getty Images
A quick throwback to Hell's Kitchen Season 13 is enough to remember its strongest contender and winner, La Tasha McCutchen. According to Reality TV Revisited, the chef worked as a kitchen supervisor in Winter Haven, Florida, and dazzled the judges with her solid cooking skills, leadership talent, and her commitment to cooking. Complimenting the chef a few minutes before she was announced as the winner, celebrity chef Gordon Ramsay said, "La Tasha, you were rock solid, and it was no surprise that you were the only person not put up for elimination. You belong in the kitchen" (via The Washington Informer).
McCutchen prepared a delectable meal that helped her win on the show. The dishes included prime filet mignon tartare with shallots, mustard, capers, chive, cornichons, lemon zest, eggs, waffle potato crisps, spiced bread pudding with ice cream, and a lot more. In case you're wondering what the talented chef has been doing these days, read on.
She has come a long way
As per Reality TV Revisited, the chef first worked at Gordon Ramsay's Caesars restaurant in Atlantic City as a head chef. After one year, she decided to take on the role of a private chef and simultaneously be a part of cooking demonstrations and food events. McCutchen is also very active on Instagram and often posts cooking updates for her excited fans, giving them a glimpse into the kind of delectable dishes she's making on a regular basis. 
Some of the meals she's made recently include crispy duck breast Shepherd's pie, citrus herb-roasted chicken, steakhouse burgers, and more. On her 41st birthday in September, the chef expressed gratitude for everything she has and wrote on Instagram, "Truly blessed for this new chapter of my career/life ... Approaching 41 on Monday with a true appreciation for my gift of cooking and the joy it brings to others."