These Festive Aldi Breads Are Perfect For French Toast
If you love French toast, you aren't alone. According to Tastewise, this breakfast staple was ranked as one of the best breakfast foods of 2020 and rose in popularity by 20 percent in comparison to its 2019 stats. If you count yourself as a French toast fanatic, you have most likely tried a variety of recipes made from different kinds of seasonal breads. If you want to keep expanding your French toast game or just want a fun new way to enjoy breakfast, Aldi has a special new product you need to pick up on your next grocery run.
According to Instagram user @theamazingaldi, you can now grab a loaf of gingerbread breakfast bread and cranberry orange breakfast bread to make your morning dishes extra fun. The post, featuring a picture of both new types of breads, has since garnered almost 1000 likes and fans can't get enough of the new baked good, chiming in with comments that range from "obsessed with the gingerbread one," to "I need the cranberry orange." Some inventive commenters pinpointed the perfect use of the bread, recommending "Use for french toast...Over the top delicious!" and "Cranberry Orange toasted with butter and Cinnamon Toast Cinna-dust from Sam's."
These new items aren't the only Aldi breads that make for great French toast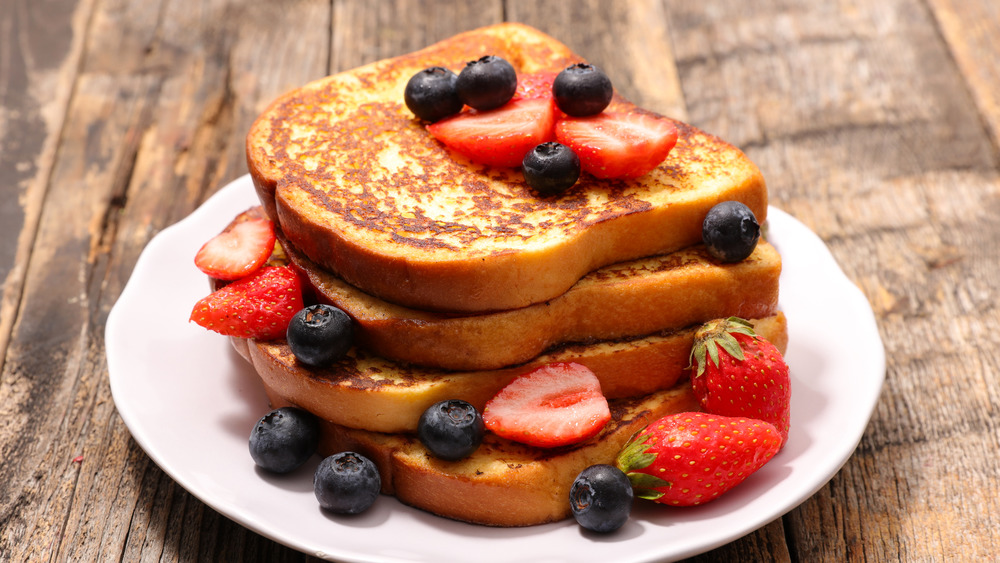 Shutterstock
If you've already experienced the flavors of these festive loaves, you might feel a slight tinge of concern if you have fallen in love about how long they'll stick around. While we just have to wait and see what the fate of these breads are, their popularity has already won crowds over. According to Delish, Aldi released two similar styles of bread this spring — blueberry breakfast bread and lemon creme breakfast bread. Folks online couldn't get enough of these flavors, and given the trend, we hope to see even more fun flavors that can help us build the ultimate stack of French toast at home. 
When the craving strikes for a  sweet slice of artisanal toast, these new breads from L'Oven can be the perfect solution to amping up a boring breakfast. We'll just keep our fingers crossed that they aren't a fleeting seasonal surprise.