Costco Fans Are Unimpressed With This BBQ Tool Set
Barbecue has a long history in America. The first instances of this cooking technique appeared when Cristopher Columbus encountered the native population, indirectly roasting meat by using green wood to keep the meat from burning, per the Smithsonian. Spanish colonists dubbed this cooking technique barbacoa and the tradition of BBQ in the New World was born. Fast forward to modern day America and we still can't get enough of the unique flavors that slow roasting meat over a smokey fire can deliver. According to Global News Wire, almost two-thirds of the U.S. population owns a smoker or grill, with many owners using their grills and smokers year-round. Even with so much momentum behind backyard barbecuing, not every product that taps into this food love affair finds its footing.
Instagrammer costcodeals, found this out the hard way in one of its recent posts that has almost hit 3,000 likes. It posted a picture of Costco's new Schmidt Brothers grill set containing a pair of tongs, spatula, basting brush and fork with the caption: "4 piece #bbq #toolset only $59.99! Found at Hillsboro OR." On the surface, the deal looks great, but commenters had some major complaints, with replies ranging from, "That seems really expensive. It looks like dollar tree stuff," to "Quality is terrible. Returning my set."
Costco missed the mark with this BBQ product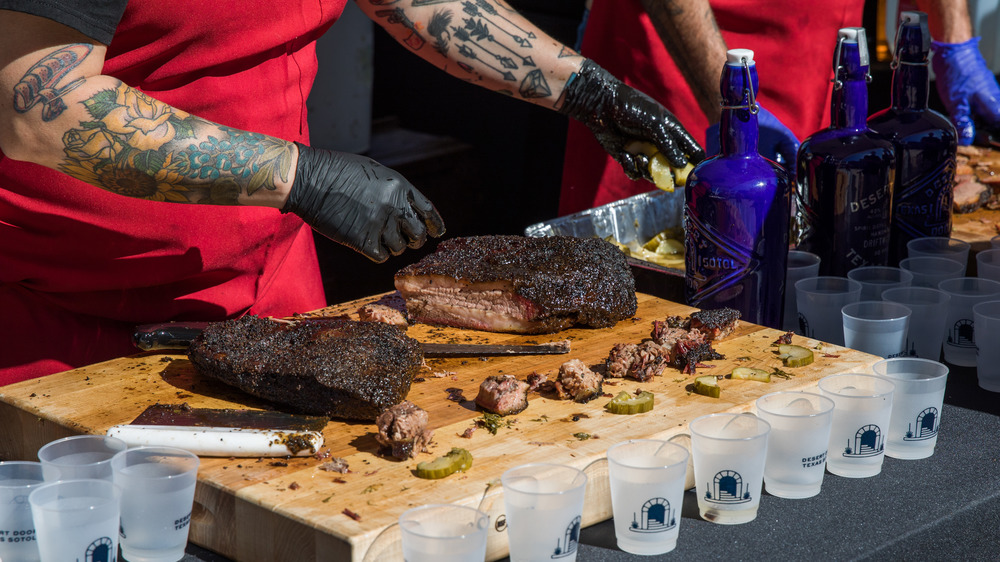 Rick Kern/Getty Images
If the price tag of the Schmidt Brothers barbecue set came in a bit too high for most grillers, imagine their reaction if they saw that the same set normally retails for $99.99 (via Costco). While this particular utensil set didn't wow Costco shoppers, the brand has some other great deals that can inspire you to grab your own smoker and slow cook a hog. According to Costco, the brand carries a wide range of supplies any home barbecue fanatic can't wait to get their hands on, like a highly rated barbecue knife kit that contains a two-pronged fork and knife set that earned a 4.5 star rating from over 800 users. 
If you can't get enough of roasting and smoking meat in your backyard or just have a passing interest in using your barbecue at home, don't get discouraged. While you may want to pass over this utensil set based on shoppers' negative commentary, Costco still offers up a wide variety of goods that help make barbecuing easier than ever. Just keep your eyes open for more great deals from the big box giant and get ready to snatch up the perfect accessory to make your BBQ dreams a reality.