Dunkin's New Supercharged Coffee Is Turning Heads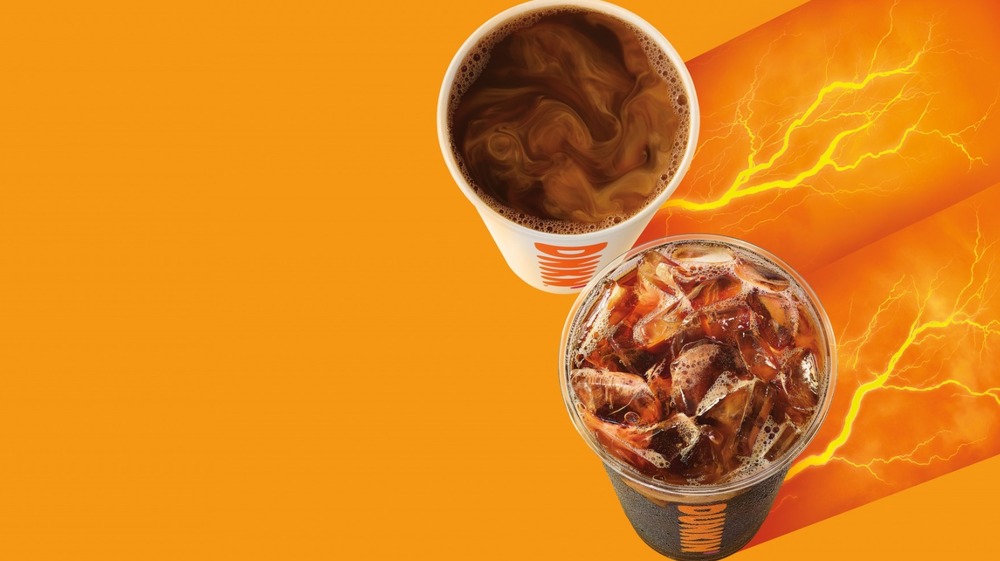 Dunkin' Donuts
We know what you've probably been doing all week because we're guilty of doing the same — you've been busy wondering how on god's green earth you're going to wake up on January 1, 2021, after spending a hard-earned night gloriously putting an end to 2020. Just like when Renée Zellweger-as-Bridget Jones finally (finally!) breaks things off with Hugh Grant-as-Daniel in Bridget Jones's Diary, enough is most definitely enough! Or to quote Gloria Gaynor, "Go on now, go, walk out the door, just turn around now, 'cause you're not welcome anymore."
Suffice to say, on the first day of 2021, regular coffee likely isn't going to cut it. Step aside, Starbucks, because this time Dunkin' Donuts has you roasted (pun, very, very, very much intended). Per a statement shared with Mashed, as of December 30, 2020, you'll be able to purchase their all new Extra Charged Coffee from participating Dunkin' restaurants nationwide. We haven't been this excited about a new Dunkin' drink since we tried the Snicker's coffee off the Dunkin' secret menu back in 2019.
Everything we know about Dunkin's new Extra Charged Coffee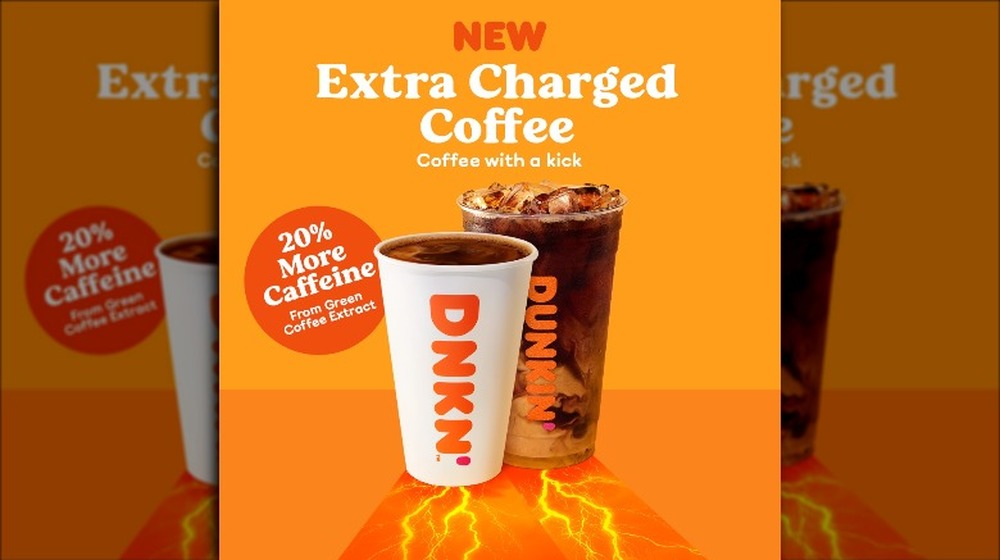 Dunkin' Donuts
How much of a supercharge does Dunkin' Donuts Extra Charged Coffee have? We're glad you asked. Dunkin' Donuts swears that it packs "20 percent more caffeine than Dunkin's classic Hot and Iced Coffee, while delivering the same great taste." The coffee chain achieves the much-needed supercharge by adding green coffee extract to its cups, and that's good news. Green coffee extract not only contains caffeine, it's also, says Medical News Today, rich in antioxidants. Some studies even suggest that it might help your blood pressure and cholesterol levels, which means that in addition to a much-needed pick-me-up, you have a few more reasons to try Dunkin's new coffee. Did we hear you say that for some mystifying reason you need more of an incentive?  Well from December 30, 2020 to January 26, 2021, you'll be able to pick up a medium Extra Charged Coffee for just $2!
As if we could take any more excitement, Dunkin's Extra Charged Coffee isn't the only new product coming to Dunkin'. You'll soon be able to enjoy the chain's new Midnight blend (its darkest roast ever). If medium roast is more your jam, sample Dunkin's smoky Explorer Batch. "Now, for the first time in our history, we're offering the boldest and most diverse assortment of blends and customization options to fuel a new era of coffee at Dunkin'," Jill Nelson, Vice President, Marketing & Culinary at Dunkin' said in a statement. To which we respond, Amen.