Sommelier Reveals His Favorite Grocery Store Bottles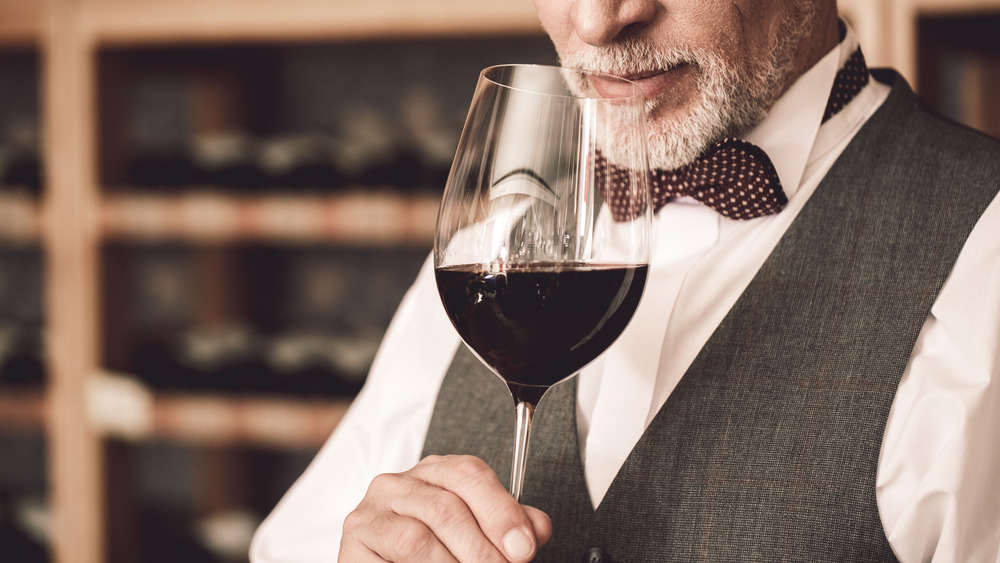 Shutterstock
Wine is widely available for adults to enjoy both on-the-go or at home. As many of us are leveling up our concept of a "night in," however, it's easy to miss that expert guidance we've all enjoyed from experienced wine vendors and sommeliers as we stare at growing grocery store selections. Understanding that price isn't always the best way to choose a delicious bottle and that labels can be deceiving, what are the best bottles to choose for home?
Fortunately, we have experts like Jason Smith, MGM Resorts' Executive Director of Wine, to ask about these important wine questions. At the Bellagio alone, Smith and his team know and understand the more than 90,000 bottles; 4,000 selections; and 250 wines by the glass under a single roof (via Bellagio). And while nothing can quite compare to a delightful in-person wine tasting with these experts, Smith does have some recommendations for home drinkers. Check out his favorite grocery store bottles that are widely accessible and available. 
This grocery wine has the 'power to impress your friends'
Jason Smith's first suggestion to Mashed involves a lovely red from Grounded Wine Company in the form of the Cabernet Sauvignon "Collusion" Columbia Valley. Says Smith, "This Washington State Cabernet has become a favorite of mine. I'm perfectly willing to open a bottle (or two!) on a random Tuesday night, but it also has the richness and power to impress your friends. The wine pairs beautifully with grilled rib-eye or lamb yet the well-balanced flavors allow it to be enjoyed on its own as well."
Grounded winemakers say the name refers to the time of prohibition and is a nod to those who kept the winemaking industry alive during this time (via Grounded Wine Co.). The grapes themselves are from a nonstandard year and a unique growing season. As for the wine itself, winemakers describe "intense fruit in the form of sweet, ripe black plums and black cherry pie" and that "complex notes of clove and vanilla intertwine." For those who like to keep track, the blend is 75% Cabernet Sauvignon, 24% Malbec, 1% Merlot.
You can order "Collusion" online for $22 a bottle directly from the Grounded website, but it is widely available at wine retailers, such as Total Wine and More, as well as through grocery stores and services like InstaCart.
You have 'Gott' to try this Sauvignon Blanc
Don't worry if you're not a red drinker, because Jason Smith also has a recommendation for a readily available white wine for you. He suggests trying the Joel Gott Sauvignon Blanc from California. He describes the wine, "This is a light bodied, refreshing Sauvignon Blanc that over delivers for its price point. It fits in perfectly for an easy drinking, everyday white wine and also works well for lighter seafood and poultry dishes."
This wine was described by Wine Spectator in 2018 (via Empire Wine) as "Juicy pear, peach and citrus flavors are bright and smooth, with a touch of dried chamomile and lemon verbena lingering on the finish. Impressive for the focus and aromatic detail. Drink now." The winemakers themselves speak of "aromas of pineapple, mango, and peach with citrus notes" on their website. The wine is a 100% Sauvignon Blanc.
Perhaps even better is the fact that this bottle is highly affordable. Order this from the winemakers themselves for $12 a bottle, or at many standard wine-sellers like RiteAid or Target.