This Is Why Huy Fong Sriracha Was Created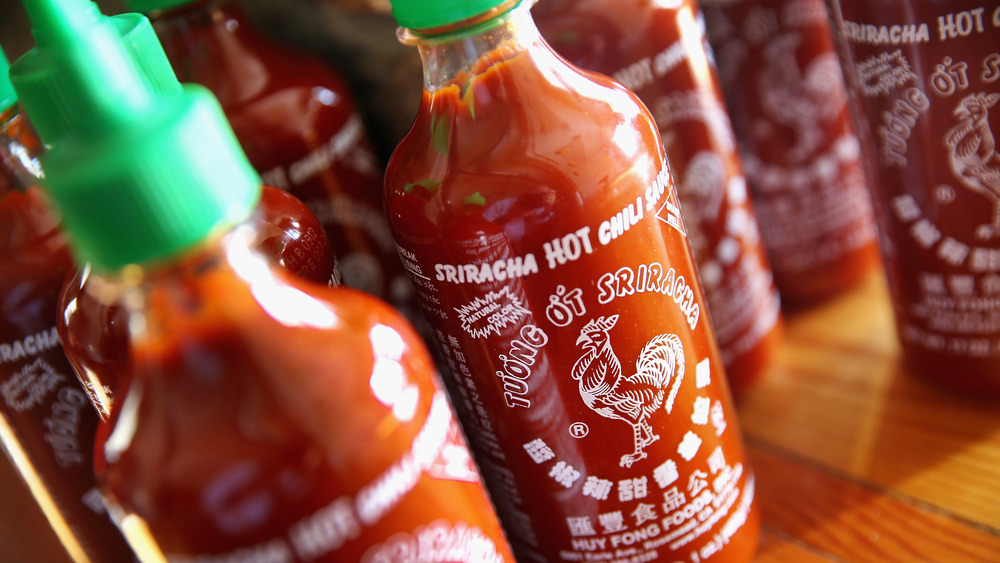 Scott Olson/Getty Images
Like any great origin story, Huy Fong Sriracha's tale begins with an immigrant and a dream. When David Tran emigrated from Vietnam in 1980, he found the hot sauce scene in Los Angeles, California to be missing a certain something. Specifically, a Thai-style chili sauce that might add a little zing to a bowl of pho. Enter the rooster. Tran started whipping up South Asian sauces quicker than you can learn to pronounce "Sriracha" properly, and selling them to local restaurants and marketplaces. Before you know it, that green-capped bottle of red hot sauce that you see everywhere was...well, everywhere (via Huy Fong Foods).
In communist Vietnam, Tran had been bottling homemade hot sauce in recycled glass baby food jars, delivering it by bicycle to family and friends nearby. But after boarding a Taiwanese freighter bound for the U.S., gaining refugee status, and settling in Los Angeles, it wasn't long before Tran discovered his skills translated easily to his new surroundings. The baby food jars became clear plastic bottles with a rooster insignia, and the bike became a blue Chevy van. "Family and friends" turned into Chinatown, Asian restaurants, and then the greater Los Angeles area, as Huy Fong Foods grew at an explosive rate.
Fresh chilis make all the difference in Huy Fong Sriracha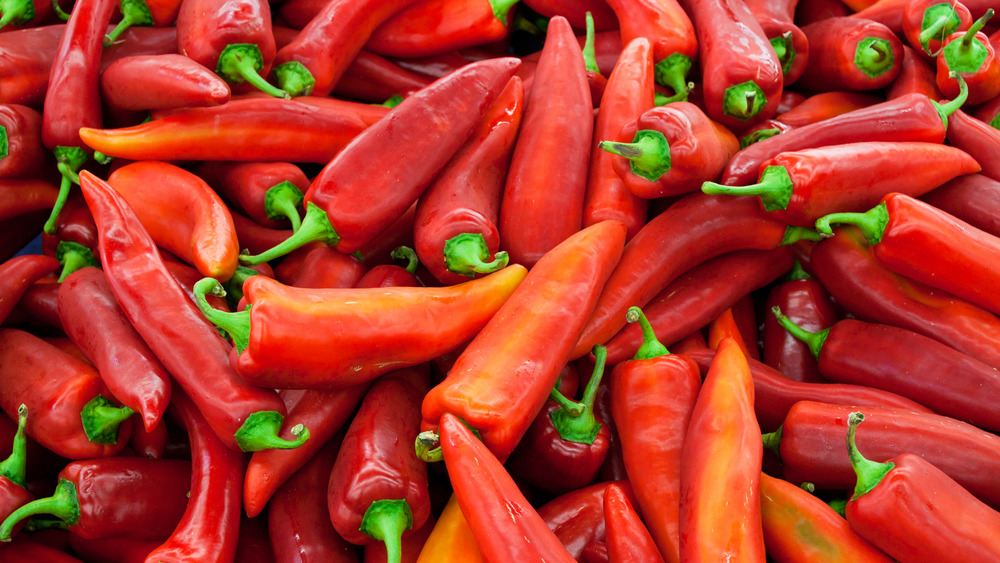 Shutterstock
The sauce itself — a sweet and spicy mix of salt, sugar, vinegar, garlic, and red and orange jalapeño-hybrid chili peppers — draws its inspiration from a Thai pepper sauce, born in the seaside city of Si Racha, according to NPR. But the Huy Fong version is as homegrown as it gets: the company uses only fresh chilis, which are harvested on Underwood Family Farms (northwest of Los Angeles), and sent to one of two plants just a few miles away, to ensure they can be processed within 24 hours.
"I started the business with my eyes closed," Tran told Quartz. "There were no expectations at all." According to the article, Tran is well known for being not-so-well-known; he shuns publicity, doesn't advertise, and seems to have favored product over profit consistently throughout his career. He hasn't raised the wholesale price of his sauce once in over forty years, and he doesn't employ a single salesperson. Has that affected the popularity of his iconic bottles of hot sauce? Try to find a place that doesn't have Huy Fong Sriracha, and then you tell us.