Georgia Is Cracking Down On Free Food For Voters. Here's Why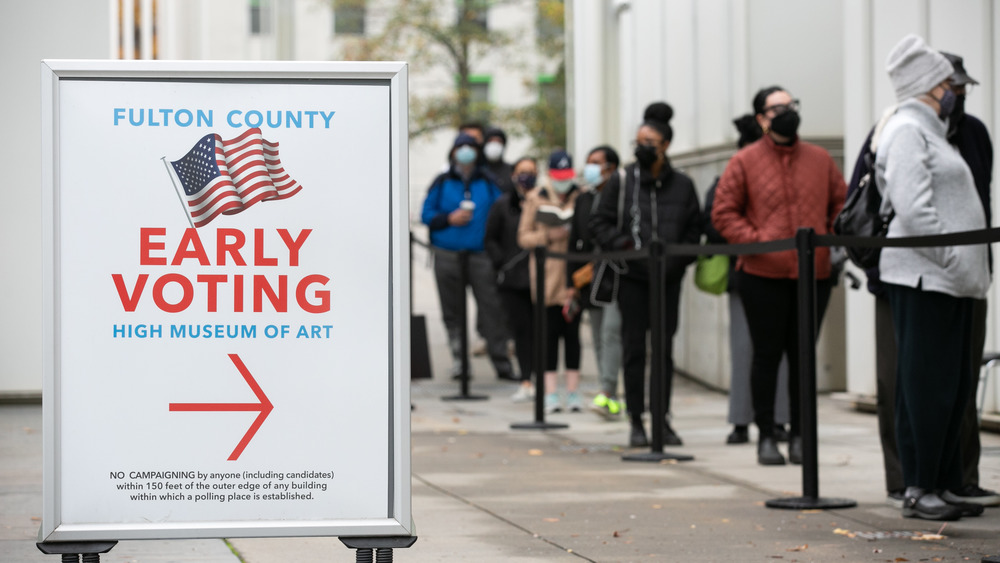 Jessica Mcgowan/Getty Images
While people line up to vote in the state of Georgia's two senate runoffs, an issue concerning the legality of giving food and drinks to those waiting to enter the polling sites has arisen. As Food & Wine reports, Brad Raffensperger, Georgia's Secretary of State, declared that he would "crack down on political organizations and advocacy groups that use 'line warming' as a loophole to conduct political activity in violation of state law." The objection is that by giving voters food, organizations may win over last-minute votes to their cause, which goes against the state's laws that prohibit voter solicitation within 150 feet of a polling station or 25 feet of a voter waiting to cast their ballot.
In his press release, Raffensperger specifically points to the law he would apply to food vendors: "Any person who gives or receives, offers to give or receive, or participates in the giving or receiving of money or gifts for the purpose of registering as a voter, voting, or voting for a particular candidate in any primary or election shall be guilty of a felony." Essentially, food charities like Feed the Polls could be rubbing against the legal boundary of bribery.
Is giving food and water to voters waiting in long lines against the law?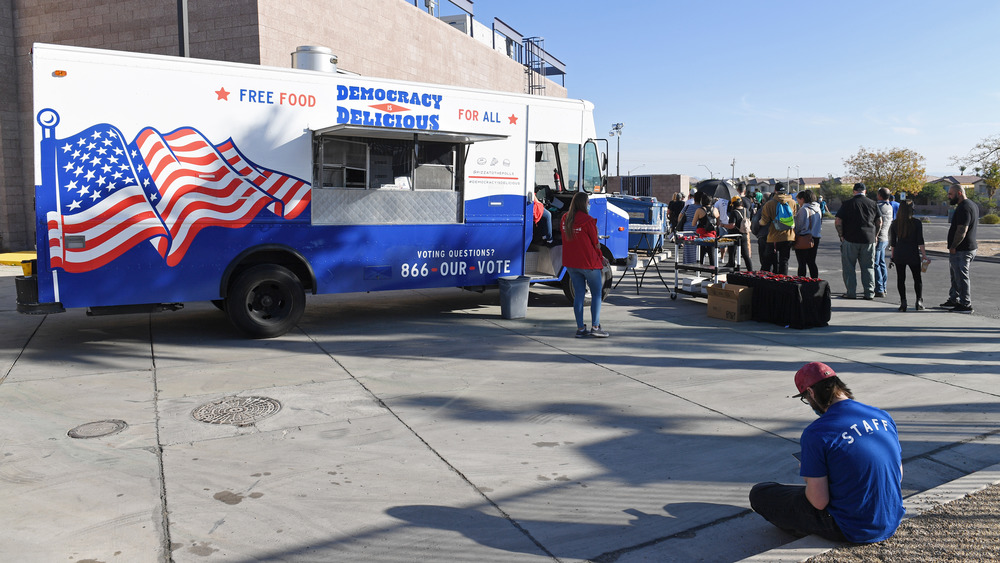 Ethan Miller/Getty Images
There appears to be a loophole in the law, however. As the Atlanta Journal-Constitution pointed out during the Presidential election — when some voters waited in line upwards of five hours to cast their ballots — as long as the food distributed is also available for anyone, including passersby, then the food could not be seen as a bribe or reward for voting in a certain way. Attorney Dara Lindenbaum, counsel for the nonprofit voting rights group Fair Fight Action, told the Atlanta Journal-Constitution, "In the real world, election officials tolerate volunteers giving out food and drinks at polling places as long as there is no partisan influence." 
So is offering pizza and bottled water to voters standing in long lines truly against the law? As Food & Wine notes, as heated as this election season has been, it will probably be up to the courts to decide.