These Vegan Salad Dressings At Aldi Have Shoppers Excited
When you want to eat as ethically as possible, it might seem like you have limited options. Creamy salad dressings like ranch or Caesar dressing serve up some great flavors, but if you want to cut animal products out of your salad, store-bought varieties of these salad toppers don't leave you with many options. Luckily in recent years, companies have caught on to the demand for dairy and egg-free dressings, and thanks to the help of ingredients like coconut cream and soy bacon, a ton of dressing exists that can take your salad to the next level (via PETA). If you love the idea of indulging in some dressing with no animal products but haven't been able to find many good options in your area, Aldi has something extra special that can make anyone excited to eat more ethically.
Instagrammer @theamazingaldi recently posted their latest discovery — bottles of Earth Grown vegan Caesar and ranch salad dressing available at Aldi. These gluten and dairy-free dressings have gotten salad fans riled up. The post has so far collected over 700 likes and drawn in responses like "Oh I need to find these!!!!" and "The ranch is good!!"
If you can't wait to try out these new flavors of vegan dressings, hold your horses — they might not have arrived in your area.
Great vegan dressings for anyone who can find them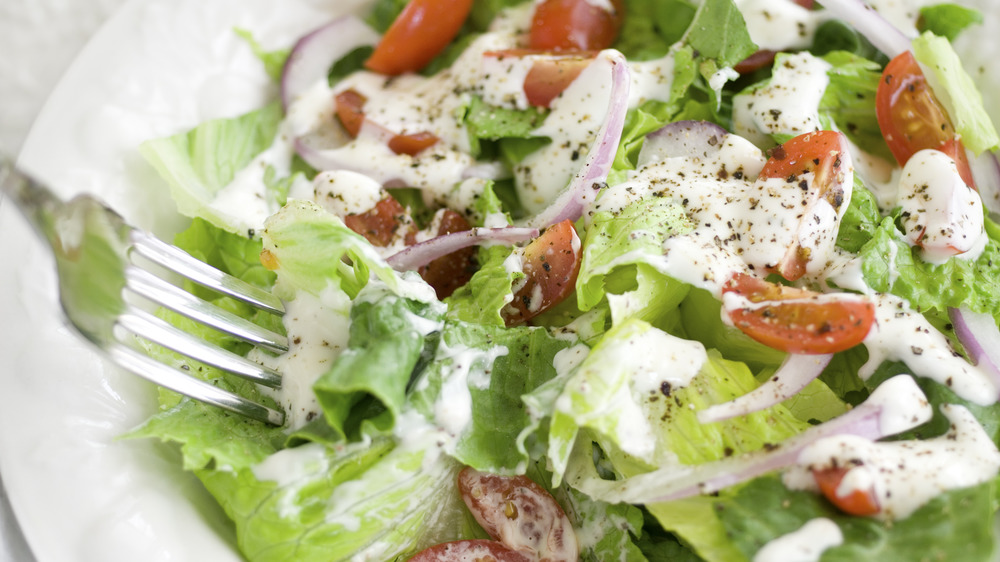 Shutterstock
We have some news that might put a damper on your excitement — according to Aldi, these dressings only get stocked in select locations, so you might need to scour a few areas in order to grab one of these bottles. If you do manage to locate a store that sells either the ranch or Caesar dressing, you can pick up either flavor for $3.99 for an 11.5 oz. bottle. The quantities of each dressing come in a limited stock, so make sure to swipe up one or three bottles while you can.
If you love the idea of incorporating more elements of a plant-based or vegan diet into your lifestyle, these latest products from Aldi not only get you started down a healthier lifestyle path but they also make the transition so much tastier! Next time you go out for a grocery run, take a peek at the condiment and dressing aisle at your local Aldi and see if you can grab a bottle of these vegan dressings that have the internet buzzing — you won't be disappointed!