The Truth About Cody Candelario From Hell's Kitchen Season 19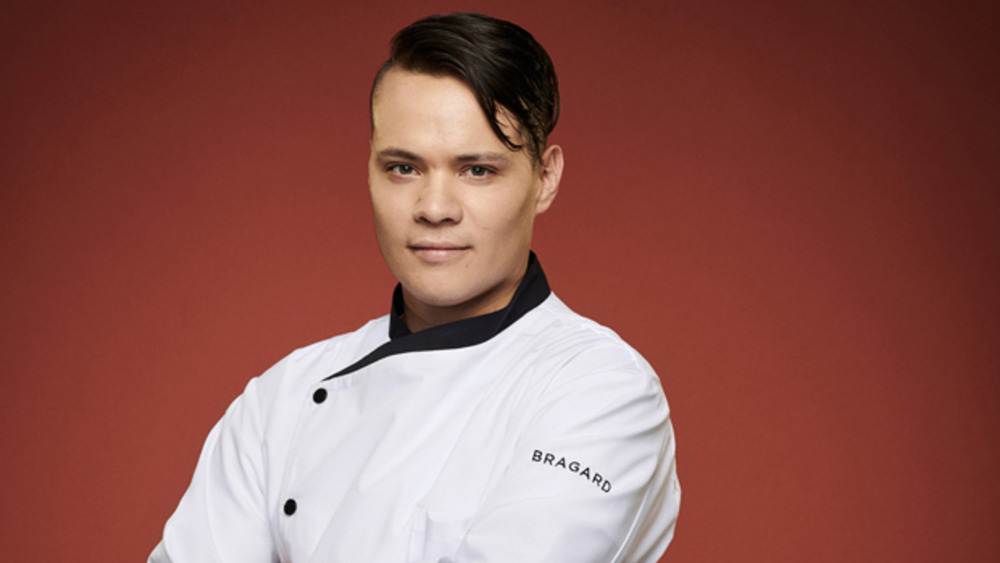 Fox
Once again, the time for Gordon Ramsay to rain doom on contestants, who have been unlucky enough to provoke his ire, is here. Hell's Kitchen season 19 takes the action to Las Vegas, Nev., and the city acts as the battleground for arguably the most heated season of the popular reality cooking contest yet — after all, the winner's grand prize is the position as head chef for Ramsay's Hell's Kitchen restaurant in Lake Tahoe.
Per Gold Derby, Hell's Kitchen season 19 features 18 all-new contestants, set to wage war with various culinary arts until the winner emerges. Looking at the makeups of the show's Red Team and Blue Team, it seems that plenty of people have the potential to rise to the highest peak and make their way into the prestigious club of Hell's Kitchen winners. Will private chef Lauren Lawless from San Diego prevail? Could the hard-working San Antonian Mary Lou Davis take away the win, or perhaps the magnificently bearded Milwaukee contestant Adam Pawlak?
Of course, one must not forget Cody Candelario. He may not have won too many points from Chef Ramsay in the series premiere due to his aesthetically unpleasant dish and overly cocky attitude, but the young Sherman Oaks, Calif. chef did manage to beat his opponent Syann Williams, and he practically radiates potential. But what is Candelario's background, and could he be the one to shine in the upcoming episodes?
Here's the truth about Cody Candelario from Hell's Kitchen season 19.
Cody Candelario is a talented young chef with a tragic secret
In a January 2021 interview with Aspen Daily News, the 28-year-old private chef — who's been cooking since he was 8 years old — stated the competition's grueling schedules and borderline military-style early awakenings were sometimes difficult to endure. "It was one of the hardest things I've ever done," he said. "It's crazy. They try to break you." He survived by taping energy drink cans under his bed for a quick morning energy boost, and found the experience of constantly having to stay on your A-game rewarding. 
Impressively, Candelario competes while virtually unable to taste or smell anything. While working in Germany roughly four years ago, an unspecified illness wrecked said two senses to a point that he's only recently regained a modicum of his sense of smell. The loss was devastating, but Candelario eventually picked himself back up.
To get around what logic dictates should be an unscalable hurdle for a chef, he completely reworked his approach to the craft, relying on his extant skills and reshaping the way he thought about food. "I see things on a mechanical level," he revealed. "I'm planning stuff out now that I didn't think about before. Before, it was about achieving flavor. But now, instead of achieving flavor as one part of an end goal, it's understanding the mechanics of how to get there."
It'll be interesting to see whether Candelario can overcome this drawback to win Hell's Kitchen season 19.