Jeni's Is Releasing A Joe Biden Ice Cream, Here's What It Will Taste Like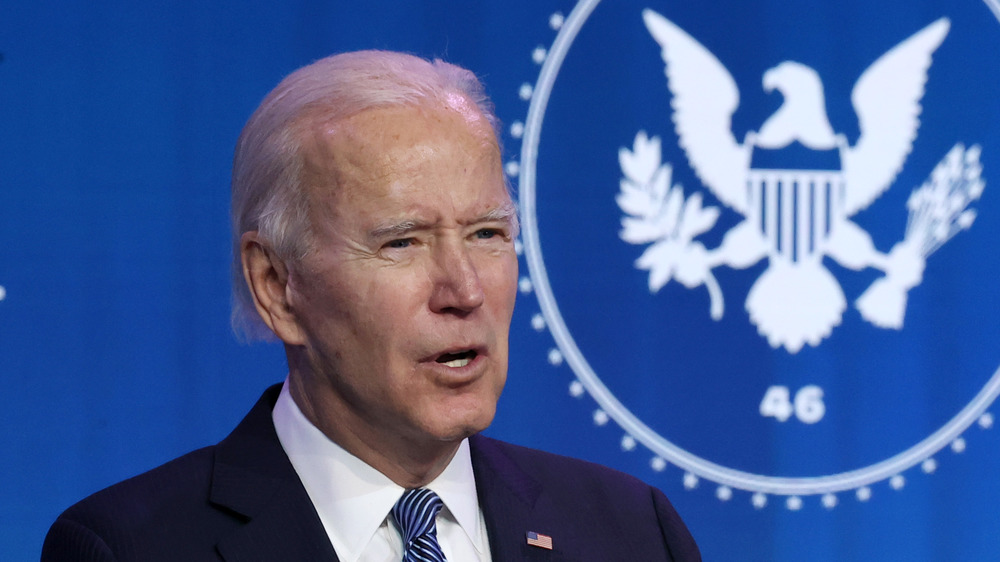 Chip Somodevilla/Getty Images
President-elect Joe Biden loves his ice cream. He loves it so much his grandchildren say he sneaks it in whenever he can. Granddaughter Naomi revealed, "He likes ice cream in hidden ways." "Eating it in the freezer so my grandma doesn't see. He hides it," Biden's other granddaughter Natalie said (via Harper's Bazaar). When he accepted the Democratic nomination for president, his grandchildren allowed him the privilege of eating out of the carton (via Twitter). And before one debate, he even gave ice cream (Jeni's to be exact) a social media shoutout, calling the pint a "performance enhancer" (via Instagram).
So it's only fitting that Jeni's Splendid Ice Creams is coming up with a new flavor as a way of marking Biden's inauguration on January 20. The flavor, called "White House Chocolate Chip," incorporates crunch chocolate flakes and chocolate-covered waffle cone pieces in a creamy vanilla ice cream and is meant to be a tribute to Joe Biden's go-to order: double chocolate chip in a waffle cone (via People). 
This is the second time Biden has had an ice cream named after him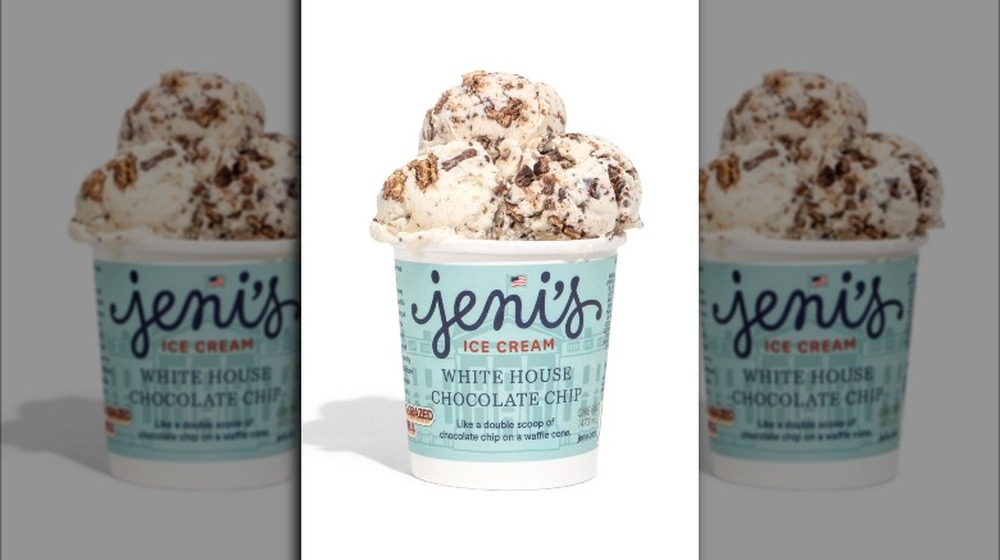 Jeni's
Biden might love his Jeni's but this isn't the first time he's been gifted with his own ice cream flavor. In 2017, Cornell Dairy discovered that the then former Vice President had never had a flavor named after him, even though his love of ice cream is legendary. The result: a Cornell Dairy flavor which it named "Big Red, White & Biden," the company's take on Biden's favorite ice cream flavor, old fashioned chocolate chip, and which featured "chunks of chocolate that are sure to be your vice after just one bite" (via Cornell Chronicle). 
The Jeni's flavor was originally meant to be released on January 8 (via The Kitchn), but that has been delayed. Jeni's previously said once the ice cream's ready to go on sale, the flavor will be made available both online and in the brand's scoop shops.