The Untold Truth Of Rachael Ray's Yum-O!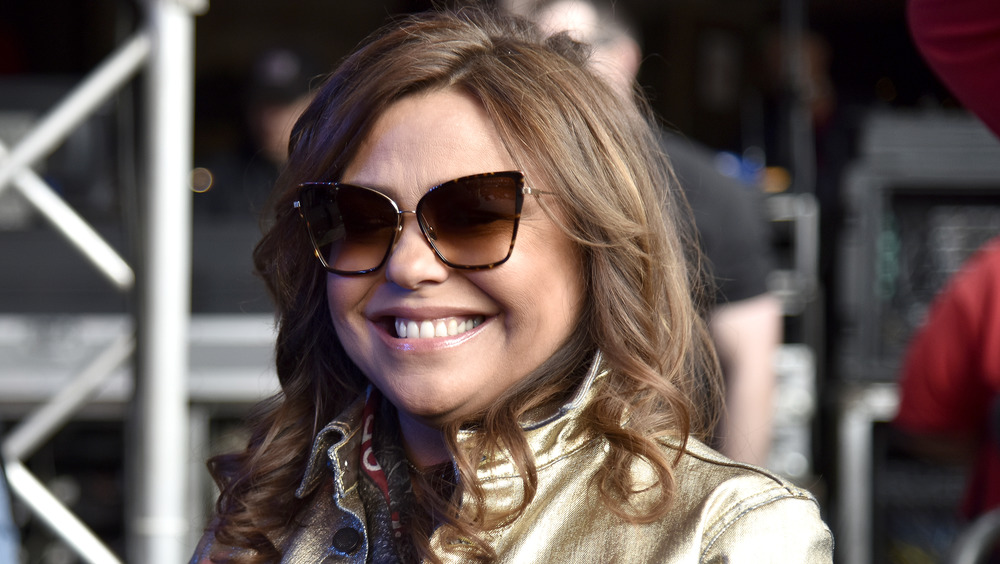 Tim Mosenfelder/Getty Images
For whatever reason, the internet tends to diss Rachael Ray – whether it's her cooking, her peppy mannerisms, or her highly controversial dog food line, Rachael Ray is no doubt one of those take-it-or-leave-it personalities that people either love or hate.
But whether or not you believe Ray's supposed "30-minute meal" bluff (via Pickens County Progress), one thing about the chef is unmistakable: She's certainly paying it forward to her community, especially thanks to her long-standing Yum-o! foundation.
Yum-o! launched back in 2006 with huge plans: to connect kids and families with healthy food, and with one another. Everything Rachael Ray reports that the initial working name was CAKE – what it stood for is still unclear. Instead, the non-profit was named after one of Ray's most groaned-about catchphrases. According to the Yum-o! website, the expression "Yum-o" – a bizarre combination of "yummy" and "oh wow" – is the kind of thing "you can't help but smile when you say."
And that's just the kind of energy that Ray puts into this organization. Even if you're not a fan of Ray, it's hard not to smile once you read about some of the stuff Yum-o! has pulled off over the years!
Rachael Ray's Yum-o! has three main aims
According to Yum-o!'s official website, the organization supports families "through three main initiatives: Cook, Feed, and Fund." The "Cook" aspect is arguably the most fun – hello, have you seen her Pizza Frittata? (via Rachael Ray magazine). But we're going to start off by breaking down just how Yum-o! helps "Feed" and "Fund."
With a vast lineup of partners like Feeding America and No Kid Hungry, Yum-o! has prioritized tackling childhood hunger. The non-profit's 2015 #9MillionMeals campaign was one of its most successful fundraisers yet. Yum-o! proudly reported that it and its generous partners ultimately raised enough money to surpass the original goal and cover 11 million entire meals for those in need.
Yum-o! regularly aids in launching programs to help low-income, high-need students get access to breakfast and lunch, even over the summer. Ray partnered with Change.org back in 2016 to support a petition for free public school lunches for all New York students, notes Yum-o!.
Students seeking a career in hospitality may get more than just their school lunch paid for, too – Yum-o! offers multiple scholarships for students entering community colleges. Between 2007 and 2020, Yum-o! awarded over 250 students with scholarships totaling close to $1 million. Ray hasn't forgotten about the kids still in high school, either; In partnership with the National Restaurant Association Educational Foundation, Yum-o! has presented several culinary technical schools with substantial grants to support students' needs (via Globe Newswire).
Yum-o! launched a free virtual cooking camp for kids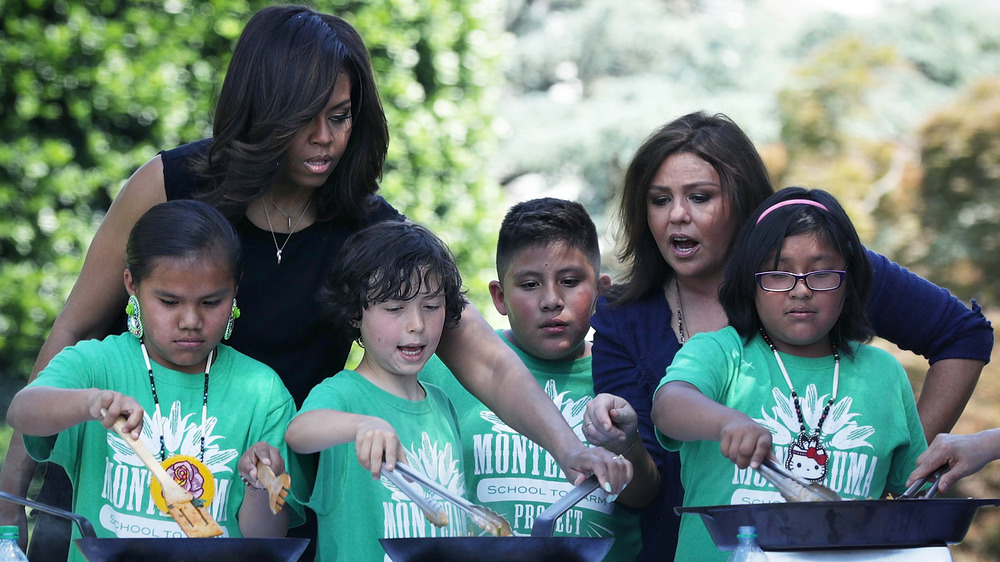 Alex Wong/Getty Images
For Yum-o!, to "cook" is to do more than just a chore at the end of the day – it's a whole melting pot of possibility, wrapped into one word. It's an experience a family can have together, a way to add some healthy fuel to a kid's growing brain, or a learning opportunity for an aspiring chef.
The non-profit channels this mentality through a variety of different events centered around teaching kids how to cook. The organization participated as a partner in former First Lady Michelle Obama's Healthy Lunchtime Challenge in 2016, which welcomed the young winners to serve up their dishes at the White House's Kids' State Dinner (via a Yum-o!).
But Yum-o! doesn't rely solely on finding and highlighting top, soon-to-be chefs; it creates them, too. In 2020, Yum-o! had to pivot their mission when schools across America shut down due to the COVID-19 pandemic, and home kitchens burst at the seams thanks to kids stuck at home. Yum-o! and the Rachael Ray Foundation announced a free virtual summer camp for children ages 8-15, PR Newswire reports. Over the course of two weeks, celebrity guests like Buddy Valastro and Giada De Laurentiis taught Zoom cooking lessons to kids and their families tuning in from home.
If you missed out on the event and you're just dying to know Duff Goldman's fudge recipe, then don't sweat it: Yum-o! has made every lesson available to watch and follow along with on their site!