Easy Roasted Cauliflower Recipe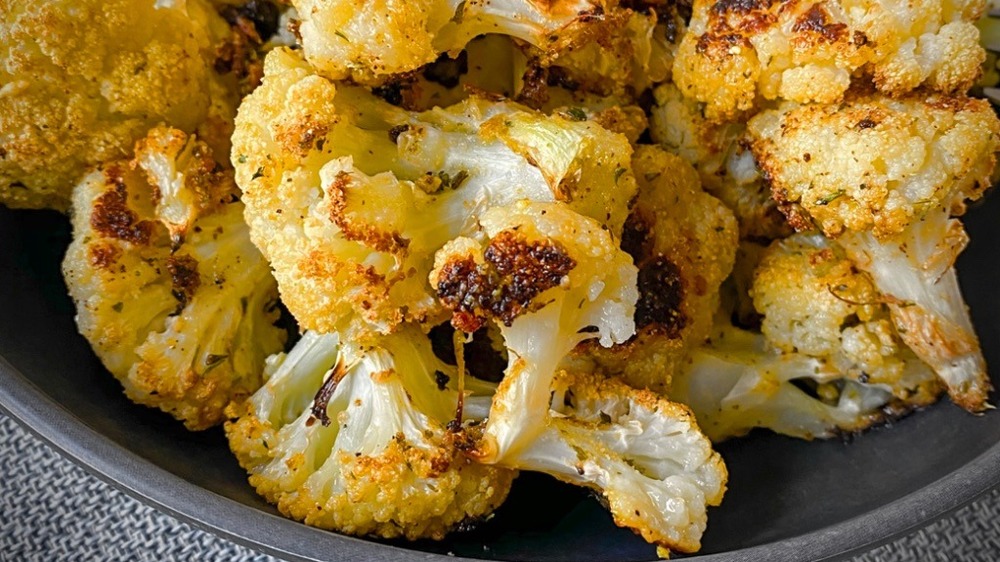 Ashley Schuering/Mashed
Roasted cauliflower is one of the finest sides you can eat for three reasons. One, it's delicious. Two, it's healthy. And three, it's an easy side to make. What's not to love? The salt, pepper, and butter make this cauliflower mouth-watering.
But the real secret here? Johnny's Garlic Spread & Seasoning.
What is Johnny's Garlic Spread & Seasoning, anyway? According to chef and food writer Ashley Schuering of Confessions of a Grocery Addict: "It's a spread and seasoning mix that I happen to love. They sell it at Costco, and you can also get it on Amazon, and [it's] awesome for making quick garlic bread, for seasoning plain pasta, or for any roasted veggies. It has a mix of garlic, salt, parmesan, parsley, and other spices."
A ringing endorsement, to be sure, "but if you can't find it," no worries, says Schuering. "Any garlic salt should work fine, preferably one that has some parsley in the mix." And you can always add your own dried parsley, too. The only other stuff you need to make this delightfully easy and delicious dish are olive oil, butter, and salt and pepper. Oh, and some cauliflower. Yep, a few ingredients, about five minutes of prep, and just over a half hour in the oven is all it takes.
Gather your ingredients for this roasted cauliflower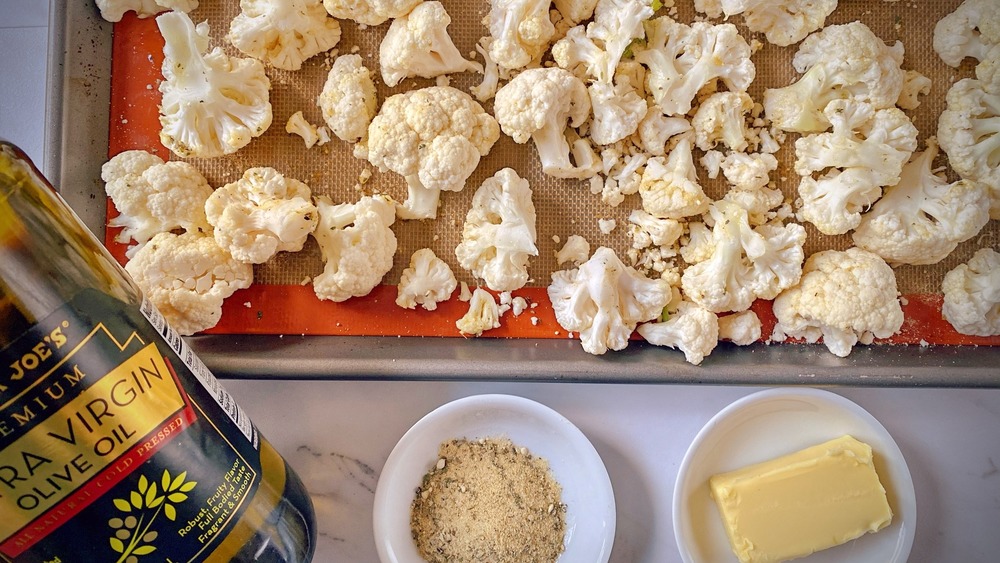 Ashley Schuering/Mashed
The ingredients for this roasted cauliflower are few and basic, provided you get your hands on some Johnny's Garlic Spread & Seasoning and don't need to make the stuff from scratch. We'll assume so (and know you can handle it if not), so here's what you'll need: two pounds of cauliflower florets (which is roughly one large head), two tablespoons of olive oil, two to three tablespoons of Johnny's Garlic Spread & Seasoning, divided, three tablespoons of butter, melted, and salt and pepper to taste.
See? Not an exhaustive list. And the prep? Not likely to exhaust you either.
Prep the roasted cauliflower florets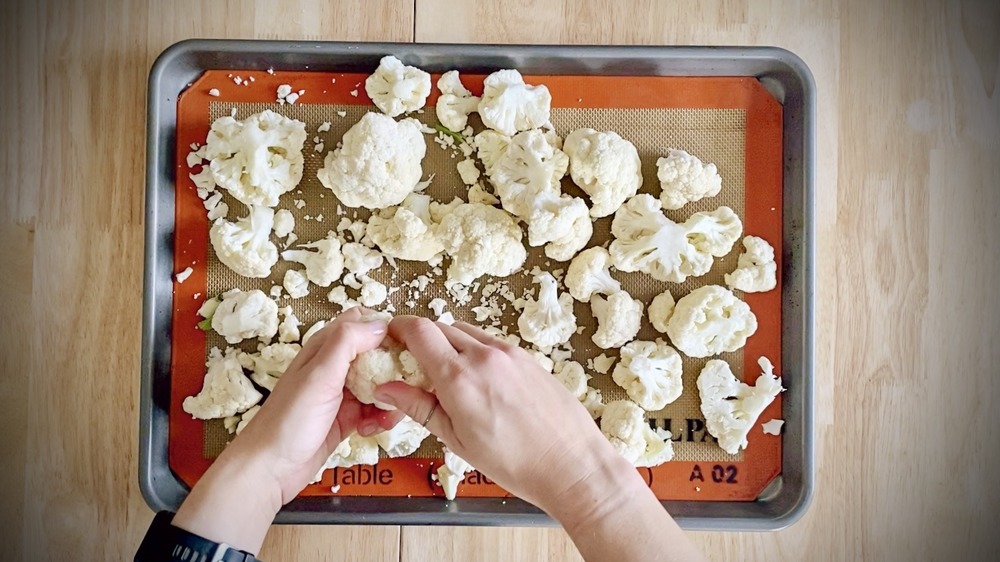 Ashley Schuering/Mashed
Critical for making a great roasted cauliflower dish is getting the cauliflower at the right size. "I like the florets to be relatively bite-sized, or two bites at max," says Schuering. Generally speaking, it's good to try to get the pieces even for even roasting. You can definitely use a knife, but if you buy a bag of pre-cut florets, you don't have to." 
"If you use a head of cauliflower, you can just discard the leaves, but keep the white stem pieces," Schuering adds. "Cut them into small bits about the size of the florets. If the skin feels tough, just peel it from the stem before using."
Once all your cauliflower is sized how you like, spread it out evenly on a prepared baking sheet (with parchment paper or mat for easier cleanup). Now is a good time to pre-heat the oven to 450 degrees Fahrenheit, by the way.
Season your roasted cauliflower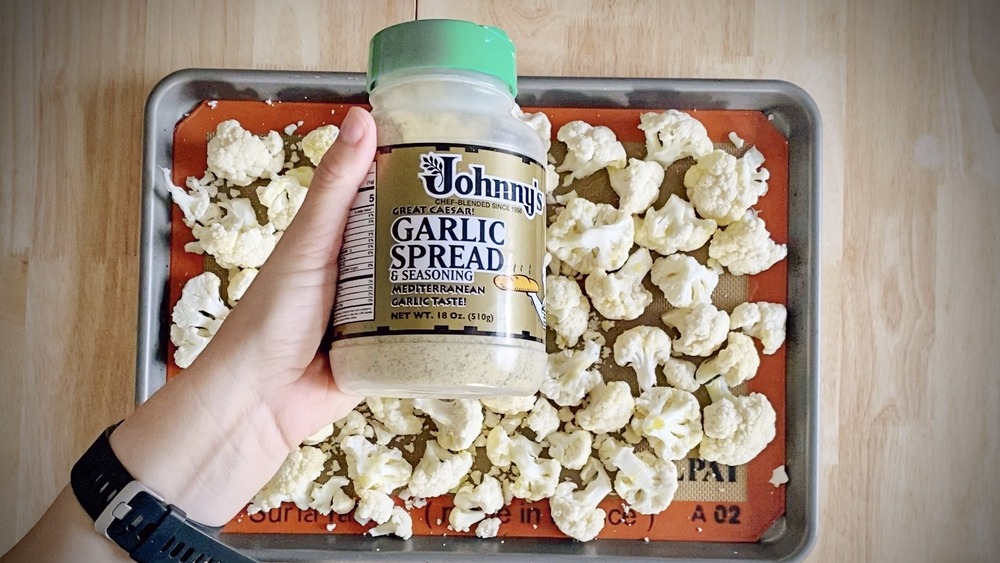 Ashley Schuering/Mashed
Drizzle the evenly spread cauliflower with olive oil, then sprinkle on half of the garlic seasoning mix. Mix thoroughly with your hands or, alternately, toss the veggies, oil, and half the seasoning in a bowl, then spread it all out.
Now roast this goodness at 450 degrees for about 35 minutes, shaking and stirring once halfway through the mix. Make sure the florets have some good roasted brown spots when done. If they don't, leave them in a bit longer.
Finally, remove the pan and immediately drizzle on the butter. Feel free to add extra seasonings at this point if the cauliflower isn't flavorful enough for your taste. Serve your roasted cauliflower ASAP and enjoy.
Easy Roasted Cauliflower Recipe
This roasted cauliflower recipe couldn't be easier to make, with barely any hands-on work. Plus, it's so tasty, even kids are likely to love it.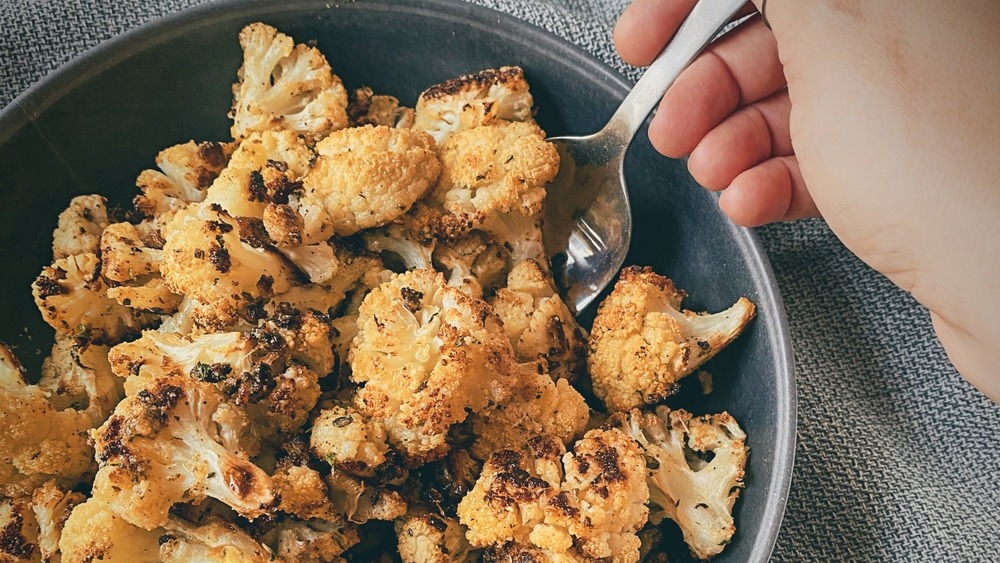 Ingredients
2 pounds cauliflower florets (roughly 1 large head)
2 tablespoons olive oil
2 to 3 tablespoon's Johnny's Garlic Spread and Seasoning, divided
3 tablespoons butter, melted
kosher salt and pepper to taste
Directions
Break up florets into bite-sized pieces on a parchment or Silpat-lined sheet pan.
Drizzle with olive oil, then sprinkle with half garlic seasoning mix. Mix thoroughly with your hands.
Roast at 450 degrees Fahrenheit for about 35 minutes, shaking once halfway through.
Remove from oven, then drizzle with butter and remaining seasoning to taste. (Alternatively, feel free to toss in butter and Frank's Red Hot mixture or Kung Pao sauce instead.) Enjoy!
Nutrition
| | |
| --- | --- |
| Calories per Serving | 135 |
| Total Fat | 10.8 g |
| Saturated Fat | 4.5 g |
| Trans Fat | 0.2 g |
| Cholesterol | 15.3 mg |
| | |
| --- | --- |
| Total Carbohydrates | 9.0 g |
| Dietary Fiber | 3.4 g |
| Total Sugars | 2.9 g |
| Sodium | 384.0 mg |
| Protein | 3.2 g |