The Surprising Way Sweetgreen Is Trying To Enter The Chicken Sandwich Wars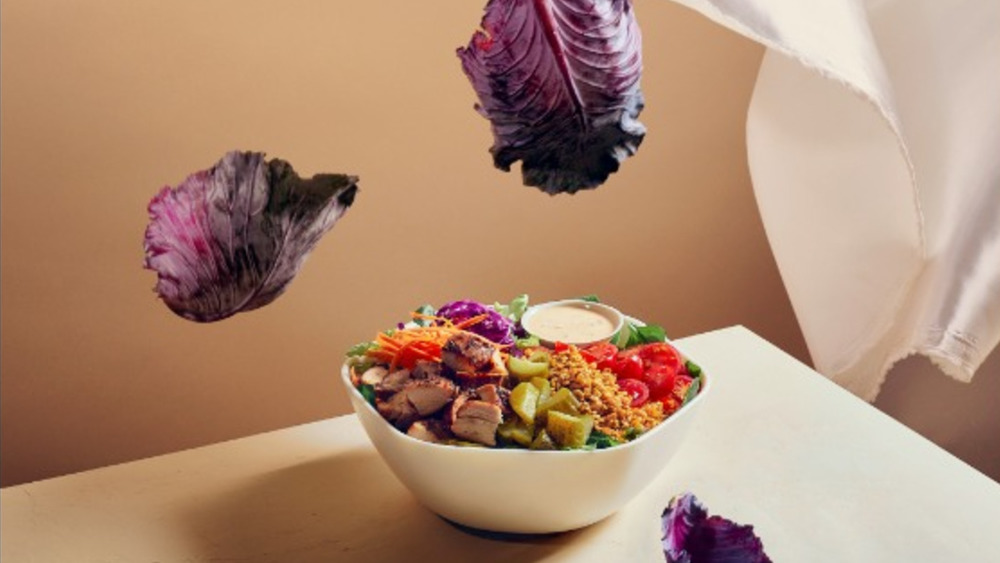 Sweetgreen
The chicken sandwich wars have long been dominated by fried chicken chains like KFC and Popeyes, although recently burger joints McDonald's and Shake Shack have gotten themselves into the mix, per Mebane Enterprise. However, the healthy chain Sweetgreen is no longer content to let fast food joints have all the fun. Sweetgreen is now throwing their hat into the ring by adding a new Crispy Chicken Salad to their menu.
According to a press release send to Mashed, Sweetgreen's new menu item presents a healthier alternative to the classic fast food sandwich. It has all the delicious flavor of chicken, without the extra carbs and calories that come from the sandwich buns. Their new salad features blackened chicken and crispy rice, topped with local pickles and a tangy housemade remoulade. The Crispy Chicken Salad will join Sweetgeen's other crispy salad options, like the Crispy Kale Caesar and the Crispy Fish Taco bowls (via Sweetgreen).
To make the release of this new salad even sweeter, the brand is also offering all customers the chance to win a full year of Sweetgreen on the house. Customers are invited to compete for the most creative method of mixing their bowls, so don't be afraid to get a little weird. Shake up your salad on a moving ski lift or show off your salsa moves using your Sweetgreen bowl as a dance partner. Share your funkiest mixing moves on TikTok for a chance to win.
Sweetgreen is partnering with motivational content creators to drop three exclusive collections
The contest begins on January 14, and three of the most creative mixers and shakers will take home free Sweetgreen for a year. But if that's not enough hype, everyone's favorite motivational Instagram influencers and YouTube streamers will be getting involved in the fun, too. Influencer, Peloton instructor, and TEDx speaker Ally Love, the YouTube streaming sensation Valkyrae, and viral Houston Ballet Soloist Harper Watters will be partnering with Sweetgreen for the launch of their new Crispy Collections menu. These collections will be available exclusively on the Sweetgreen app.
Love's Go Avo Custom creation, Watters' No Picks Please, and Valkyrae's Extra Crispy Custom will all be available on the app. "From virtual workouts, to gaming, to dancing, these content creators inspire people to live a balanced life, just as Sweetgreen does by connecting its guests to real, delicious food each day," Sweetgreen explained in the press release.
The first collection, Valkyrae's Extra Crispy Custom, dropped on January 14; So don't forget to download the app and get your creative juices flowing, because January 14 will be an exciting day for Crispy Chicken lovers everywhere.