Trader Joe's Fans Are Psyched For The Return Of Sumo Oranges
Sumo oranges are a tasty, good-for-you snack that can bring a welcome citrus kick to the dreary winter months. They are a unique cross between a mandarin and a California navel orange, according to Women's Health. While their official name is the dekopon orange, the fruit's nickname comes from its large, round body and distinctive "topknot."
The orange's refreshing sweetness and its loose, easy-to-peel skin have made it a huge hit with consumers. But they are not only delicious — they are packed full of nutritional benefits. Each orange is loaded with vitamin C, fiber, and antioxidants that can help lower cholesterol and guard against cancer and high blood pressure, according to Sound Body Life.
However, due to their demanding growing process, they are often more expensive than other orange varieties (via Delish). But the good news is, Trader Joe's has just announced this fruit is back on their shelves, and at just $1.69 per fruit, their prices are hard to beat.
Trader Joe's sells the popular Sumo Oranges for a steal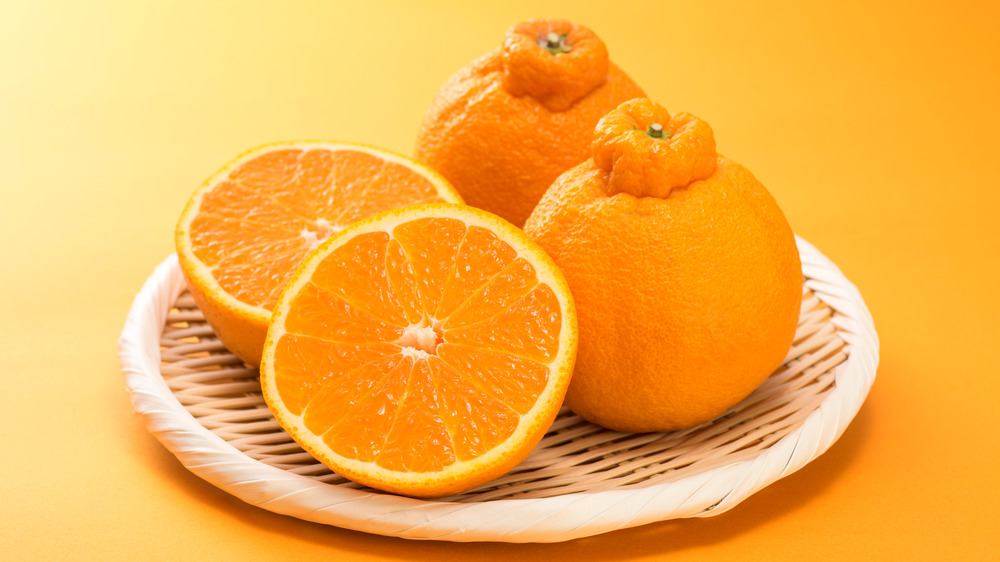 Shutterstock
The popular Instagram account @traderjoeslist posted excitedly about their return, announcing: "IT'S BACK SUMO ORANGES ...These are my favorite oranges EVER. They have thick skin and are SO SO easy to peel. No mess under nails, the rind just peels off so easy. NO SEEDS. They also taste unreal. Better than any orange you've ever had!! The price Trader Joe's offers is half of what you'll see at other grocers! Have you...tried a Sumo orange before?" Followers were equally excited to hear about their return. One follower, @shamran, said: "I wait all year for these!"
User @eustella wasn't willing to wait to get her Sumo fix, but was glad she'll now be able to save some coin while satisfying her orange craving, writing: "Yessssss so glad these are back and at TJs prices — I paid $8 for 2 at WF but they were worth it." While these popular oranges are sure to fly off the shelves at these prices, there is another reason you shouldn't wait to stock up on this healthy winter snack. Per Sumo Citrus, they are only in season from January until April, so make sure to grab your sweet, citrusy treat while you can.