Aldi Shoppers Are Psyched About These Spicy Pickles
If you're the kind of person who still gets cravings for summer BBQ foods like burgers, hot dogs, and pickle chips even in the middle of winter, then Aldi has good news for you. The supermarket is now selling 32-ounce plastic tubs of fresh deli pickles that are sure to satisfy that hankering for a refreshing, crunchy, vinegary treat. They are great for topping burgers, sandwiches, and hot dogs, or even just as a side to snack on.
Aldi is carrying three different flavors to suit a variety of taste preferences: Bread and Butter, Sweet Horseradish, and Atomic Spicy, which packs some additional heat into each bite. According to Delish, these extra-spicy pickles are soaked in a red chile pepper brine, which adds an extra spicy kick for the more adventurous Aldi shoppers.
Aldi shoppers couldn't stop raving about these exotic pickles on social media. The Aldi fan account @adventuresinaldi reported to their followers: "My favorite atomic pickles are back & I couldn't be happier!! These spicy little guys are soooo good! And I'm sure the bread & butter & the sweet horseradish ones are delish as well. Found them all in the special buy fridges for $3.79! Which one are you grabbing?!"
The special flavored pickles were a hit with Aldi shoppers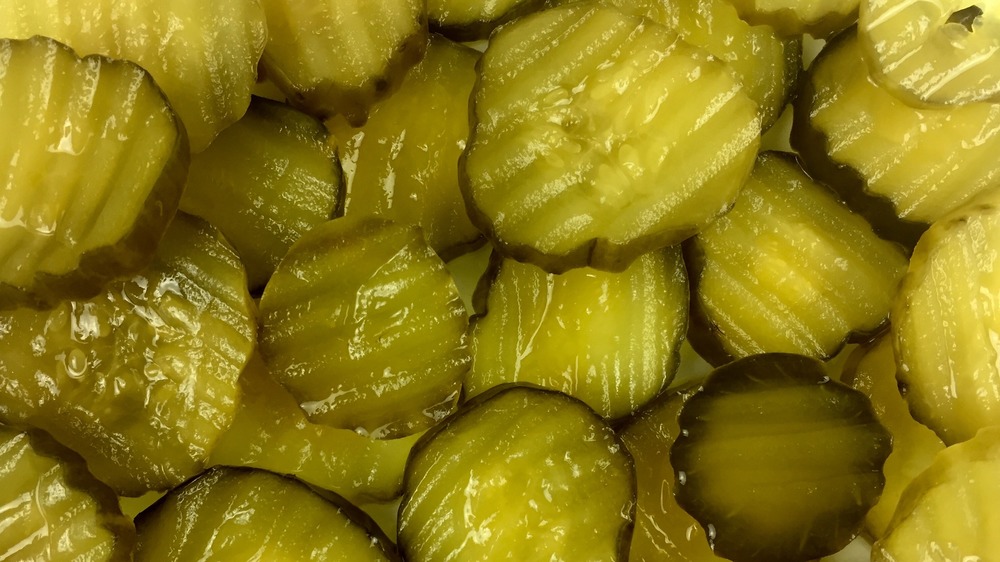 Shutterstock
Aldi fans on Instagram seemed fairly evenly split between the three different varieties. "We love the sweet horseradish ones!" follower @goldman5933 posted. However, @fortuitous_lisa much preferred the Atomic variety, writing: "Atomic all the way! I've been waiting for these and bought a whole 6 tubs." 
Regardless of personal preferences, there doesn't seem to be a loser among these three Park Street Deli pickle flavors. Many shoppers were fans of all varieties, like @chybomb, who posted: "Just got some and they are awesome!! Decent ingredients too!" 
While some people love eating spicy foods just for the fun of it, eating foods high in capsaicin, such as spicy pickles, has also been proven to have numerous health benefits. Spicy foods have been shown to improve heart health, boost metabolism, aid in weight loss, and even help relieve pain, according to Penn Medicine. So if you're craving a spicy pick-me-up with a health-boosting kick to get you through the midwinter months, look no further than Aldi's special buys fridge. Just be quick: Aisle of Shame notes that these spicy pickles can come and go quickly.