What You'll Never See In A Five Guys Kitchen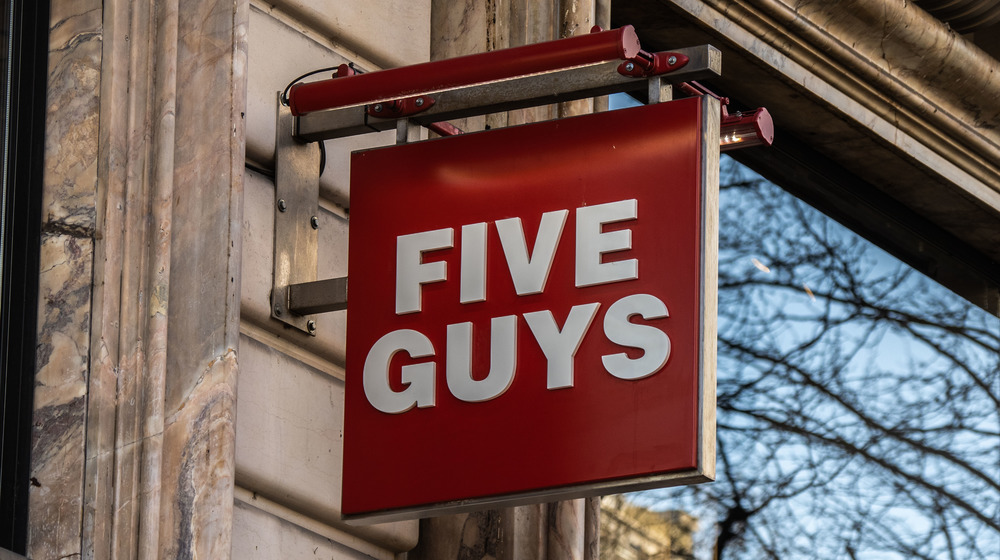 Edward Berthelot/Getty Images
Judging by the way their burgers tend to rank in the highest echelons whenever best fast food hamburgers are listed, Five Guys is a true burger aficionado's joint. Size-wise, the company might lose out to burger juggernauts like McDonald's, Burger King, and Wendy's, but when it comes to sheer flavor, it's a rare franchise that can match – let alone surpass – an expertly constructed Five Guys bacon cheeseburger, piled with as many toppings as you dare. 
For anyone who has attempted to grill a burger and ended up with a puck of charcoal-tasting disappointment wedged between two slices of bread, it would be incredibly depressing if the five guys of Five Guys had just randomly decided to start a franchise one day, piled up a bunch of condiments, and started grilling away. Fortunately, that's not the case. Like any successful franchise, Five Guys is quite meticulous about things that take place in their kitchen. Of course, the opposite is also true, and there are some very specific things that are conspicuously absent from their cooking facilities. Here's what you'll never see in a Five Guys kitchen.
You won't ever see freezers in a Five Guys kitchen
The reason Five Guys' burgers are so delicious is ultimately fairly simple: They keep things fresh. According to Eat This, Not That, Five Guys locations are so utterly against giving you pre-made food that they simply ... won't do it. If you're wondering just how they can pull this off, the answer is the same as with any great plan: preparation, preparation, preparation. Since everything you can get from your local Five Guys is prepped the same day you get to delightedly shove it in your mouth, they budget a whopping three hours of arduous kitchen work before they open for business ... every single day.
Five Guys is so committed to avoiding all that "frozen ingredients" jazz some restaurants dabble in that they reportedly outright refuse to even have freezers. Yep, the owners of Five Guys have such a vendetta against frozen goods that the locations only have coolers in the kitchen.