The Secret Method The Pioneer Woman Uses For Perfect Brisket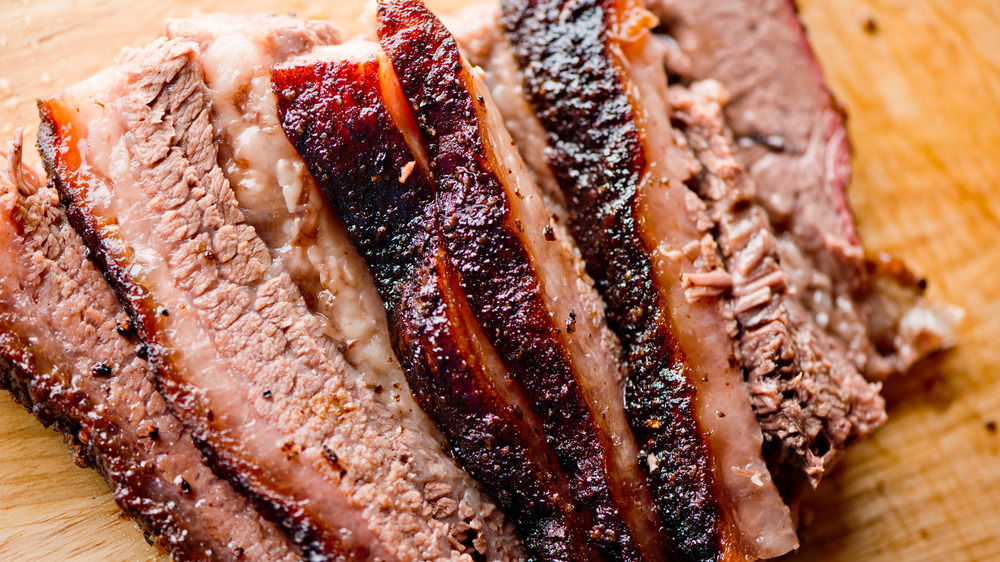 Shutterstock
The humble beef brisket is a bit like the Owen Wilson of the meat world. This hunky ragamuffin is a list-topper and a real crowd-pleaser, which is probably why you see it so often at weddings, funerals, and the occasional Wes Anderson flick. That being said, brisket, the cut of meat that comes from a bovine's chest, can be chewy and tough to swallow if it's not cooked right (see: Zoolander 2), but if you've got the patience to cook brisket slow and low, you'll have a showstopper in your kitchen.
Because you want all those fibrous tissues holding your brisket together to dissolve gradually, brisket is often done in a slow cooker or a smoker (via Real Simple). But Ree Drummond, otherwise known as The Pioneer Woman, likes to cook her brisket in the oven, braising it with its own juices and a few special ingredients. And since Drummond is raising five kids on a ranch in Pawhuska, Oklahoma, we tend to give her the benefit of the doubt when it comes to the right way to cook beef for a crowd (via The Pioneer Woman).
Give your brisket time and smoke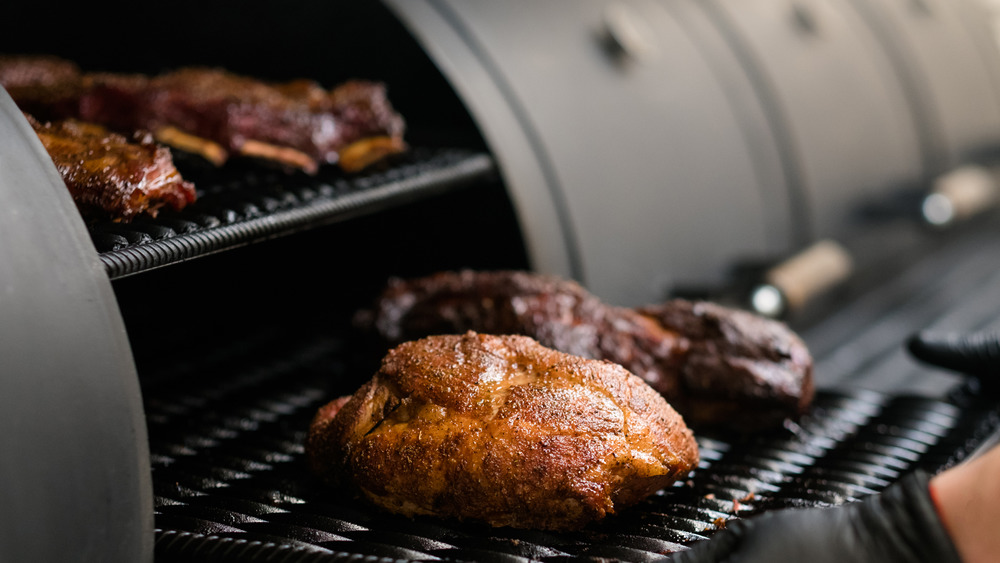 Shutterstock
Drummond recommends marinating your beef brisket for 24 for 48 hours in a combination of lemon juice, soy sauce, beef consomme, and garlic, plus one ingredient that sounds like Hansel's next ad campaign: Liquid Smoke. "It gives a slight hickory flavor to the meat," Drummond says. In other words, a great way to buy that just-out-of-the-smoker taste, without buying an entire smoker. (If you don't have any liquid smoke on hand, BBC Good Food suggests a spice rub with a bit of Spanish smoked paprika, which would create the same effect as Drummond's liquid smoke.)
Once that bad boy is prepped for the oven, get ready to hurry up and wait. Not giving your brisket enough time to become fork-tender, developing those rich flavors and melt-in-your-mouth texture, is one of the common mistakes people make when cooking this particular cut of beef. The Pioneer Woman recommends about 40 minutes cook time per pound, but adds that if it's not totally tender after that, just give it another hour. If you found Owen Wilson tough in his early years, for example, but grew to love him over time, you know exactly what we're talking about.