These Frozen Pizzas At Costco Are A Total Steal
Whether it's after a late night, a long day at work, or a day when you haven't stopped rushing around, there are some times when you simply just don't feel like cooking. That's when quick and convenient frozen food can come in handy, and Costo has you covered this week in the frozen pizza department. The wholesale supermarket is now selling Sabatasso's frozen pizza singles for three dollars off, making them a total steal at just $6.99 per box (via Instagram).
Each box comes with 12 pizza singles, evenly split between six pepperoni and six four-cheese toppings. They are microwavable and can be ready to eat in just a few minutes, making them the perfect snack for hungry kids or even a quick and easy appetizer for adults. 
Many Costco customers were excited to purchase these easy and delicious singles, and they took to social media to celebrate the find, which was originally posted by user @costcobuys. Instagram user @fergie_ferg99 said: "This is better than the pizza they sell at Costco food counter," while @0ctavius commented, "These are awesome for a quick lunch between team meetings or after working late." Instagrammer @sauvignonblancpapiii advised, "Great late night munchies snack after a few IPAs."
Both kids and adults love Costco's frozen pizza singles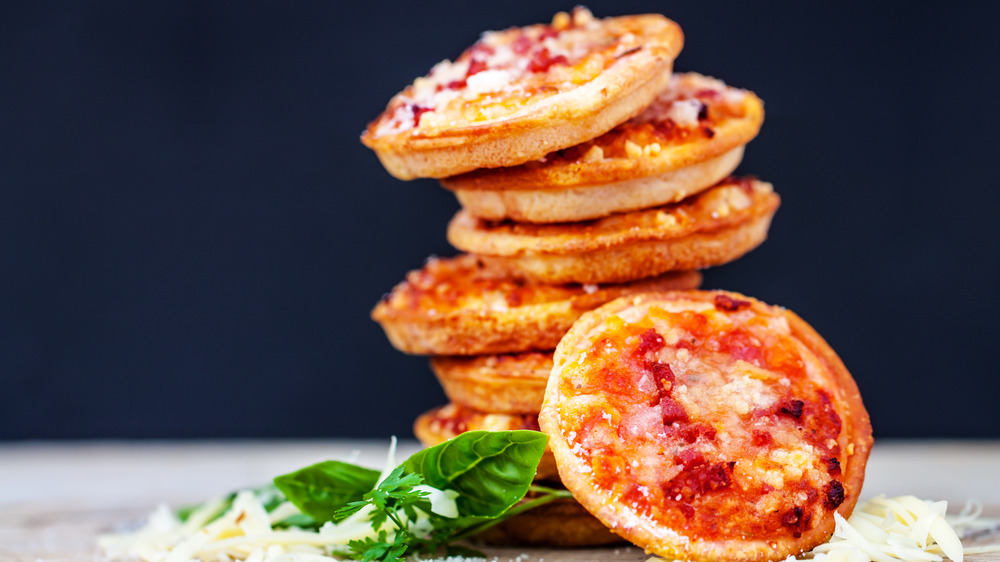 Shutterstock
But it's not just adults who were excited about the pizza deal — it seems many of their children will be delighted to find these pizza singles in their freezer at home, too. "OMG!!! These are kid-tested!!! Really good according to my kids," user @travelwiththerice wrote. "My daughter and her friends LOVE these!!" @bethbeerman3 agreed.
Many people recommended putting the pizzas in an air fryer for an even better flavor. Per Taste of Home, air fryers work like little countertop convection ovens, crisping up your food in mere minutes. Other social media users offered their own tips for jazzing up the slices. Instagram user @evonnecai recommended: "I love breaking apart a slice of Costco precooked bacon and adding it as a topping before baking. Super easy and adds a ton of flavor!" "Adding your own sauce/Ingredients is the move for these," @derbinov_alex concurred.
So if you want to stock up on quick, easy, and delicious dinners, you can't go wrong keeping these pizza singles in your freezer. But hurry, because the sale only lasts until January 31st, and at these prices, they are likely to be gone in no time.