Trader Joe's Peanut Satay Noodles Have People Divided
Many people flock to Trader Joe's for their friendly customer service, great deals, and popular products that can't be found anywhere else. Trader Joe's is the home to many packaged food items that customers love, from their Joe-Joe's cookies to their Joe's O's cereal. They have just expanded their packaged offerings even further with their new Peanut Satay Thai Noodles, which are selling for just $2.49 per container. 
The Trader Joe's-centric Instagram account @traderjoesobsessed posted about the new find, writing, "NEW PEANUT SATAY THAI NOODLES ($2.49) !! This would be a game-changer for an easy meal with some yummy protein topped with some green onions! My sister just tried it and said the Thai peanut flavor profile is amazing with a little kick but wished there were more noodles. Have you tried it??" The low price and tasty peanut flavor have some people raving about the noodles online. "My fav noodles!!!!" Instagram user @brie_grazing_boards declared. User @stephvaneee agreed: "This looks so good!"
However, not every Trader Joe's customer was as delighted with the noodles as these users were. Many shoppers were disappointed to find these peanut products were actually not vegetarian-friendly.
Why some Trader Joe's customers were disappointed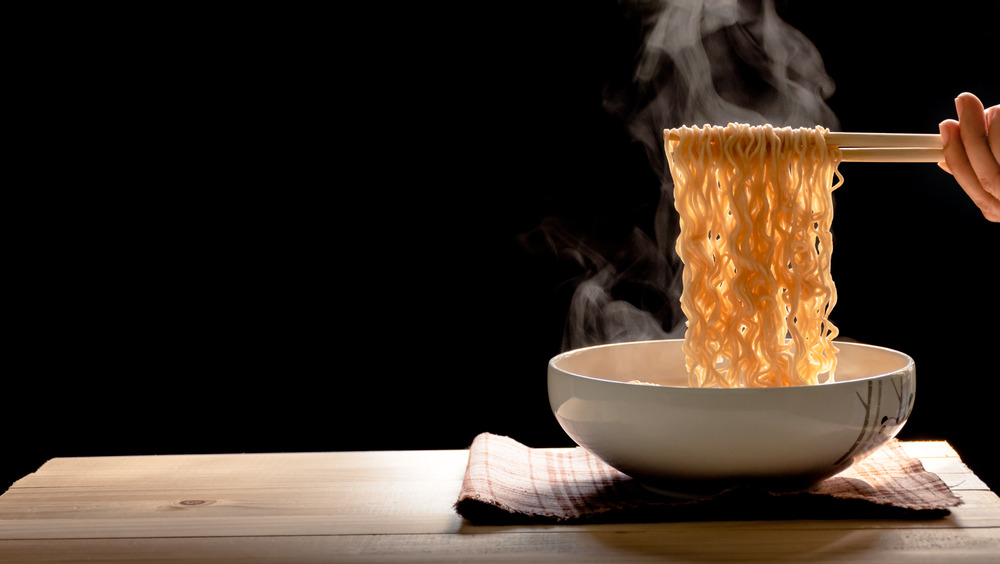 Shutterstock
Trader Joe's Peanut Satay Thai Noodles contain an anchovy-based fish sauce, making it inedible for people who want to avoid consuming animal products. Social media user @joriecwik expressed her disappointment on Instagram, posting, "Fish sauce! Darn it!" "Ugh anchovies," user @sasatasasata concurred, while @gfheaux remarked, "ima need this in a gluten free/vegan version @traderjoes."
The fish sauce also contributes to the very high amount of sodium in the noodles. Many shoppers were shocked to find there were 670 milligrams of sodium, which is almost 30 percent of the recommended daily value, in a single container. As Instagram user @skii10__ pointed out, "That is MADDDDDDD SODIUM." It is certainly not the healthiest packaged food item at Trader Joe's. Each container also contains 520 calories, 14 grams of fat, 13 grams of sugar, and a whopping 84 grams of carbs.
While these noodles might be pleasing to some people's taste buds, they are certainly not hitting a high note with every Trader Joe's customer. Vegetarians, vegans, and people who need to watch their sodium are all steering clear of this product, and given the nutrition facts, it's probably best for everyone else to only consume these processed noodles in moderation.