Arby's Joined Sea Shanty TikTok To Diss McDonald's Filet-O-Fish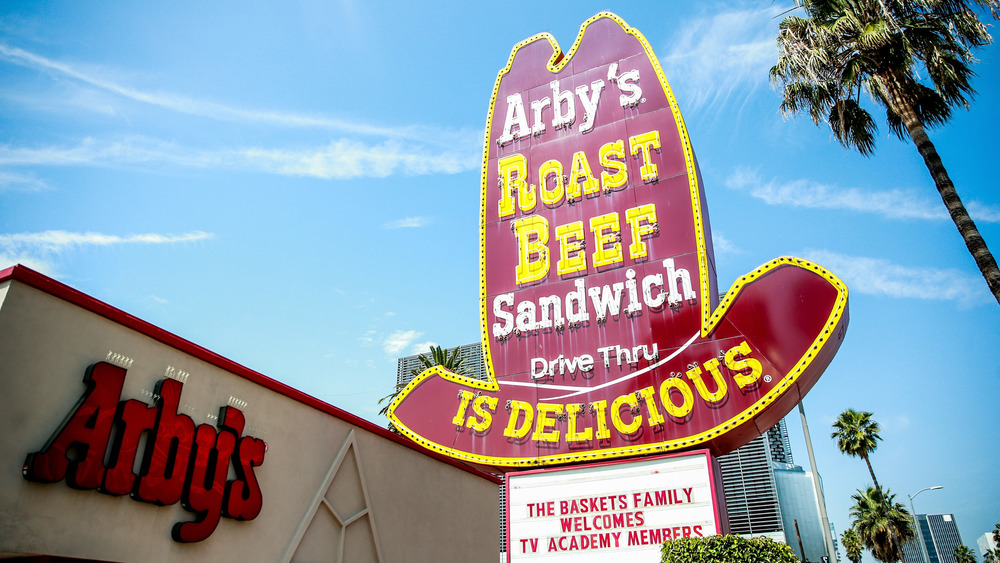 Rich Fury/Getty Images
Recently, Arby's took to TikTok to put down the ever-dunked-on McDonald's. The video begins with a ship swaying on the sea before comparing the Filet-O-Fish offered by McDonald's to their own Crispy Fish Sandwich. Over this, a shanty to the tune of "Drunken Sailor" is sung: "What should we do with a shrunken sandwich, looking square and boring? / Fish aren't shaped like that – don't try to eat it! / If they wanted weird, they sure succeeded. / Filet-O-Fish has been defeated. / Arby's is the new king!" As of this writing, the video boasts over 253.5K likes.
The idea, as Arby's CMO Patrick Schwing explained in a press release, was (as always) to use the latest viral trend to further popularize their latest limited-time offer (via PR Week): "When we saw sea shanties trending on TikTok, it created the perfect intersection of engaging content and the timely promotion of one of our guests' favorite seasonal sandwiches." This latest trend, as CNET reports, seems to have started when Nathan Evans uploaded a rendition of "Wellerman," a 19th-century whaling song, to TikTok in December. Since then, sea shanties have experienced an explosion in popularity.
As for why, no one quite knows. Citing research on how choral singing may improve mental health, CNET suggests that the harmonies and steady beat are the right kind of relaxation after 2020. Or, with everyone isolated, maybe we all feel like sailors lost at sea. But Arby's clearly tapped into something.
Arby's fish-themed flagship has returned
Brand Eating reported on the return of the Crispy Fish Sandwich in January 2020, noting that it resurfaces annually. The sandwich, as described on Arby's website, consists of fried Alaskan Pollock with tartar sauce and iceberg lettuce in a sesame bun. Its current run is accompanied by the King's Hawaiian Fish Deluxe, which is basically a Crispy Fish with the addition of tomatoes, lettuce, and a special bun.
However, the focus of the piece seems to prepare the way for a new Arby's tradition, the annual trolling of McDonald's Filet-O-Fish, as seen in the commercial Arby's aired in 2020 to announce a deal and diss the Filet-O-Fish (via YouTube). Deborah von Kutzleben, Arby's vice president of advertising content, and core menu, stated, "We felt that it was time to take a different approach to really have people question Filet-O-Fish – and whether or not it is the best – and take a moment to try ours" (via USA Today). 
While opinions about the quality of the Crispy Fish differ, not everyone agrees with von Kutzleben's appraisal. In 2019, Business Insider ranked it firmly in last place on a list of 7 fried-fish sandwiches while the Filet-O-Fish ranked 4th. Uproxx didn't even recognize the Crispy Fish on their 2020 top 10 list in 2020, unlike the 7th placed Filet-O-Fish. So while Arby's may be the king of derisive sea shanties, their claim to the crown of having the meat of the sea is still hotly contested.