Everything You Need To Know About The Food Network's Easter Basket Challenge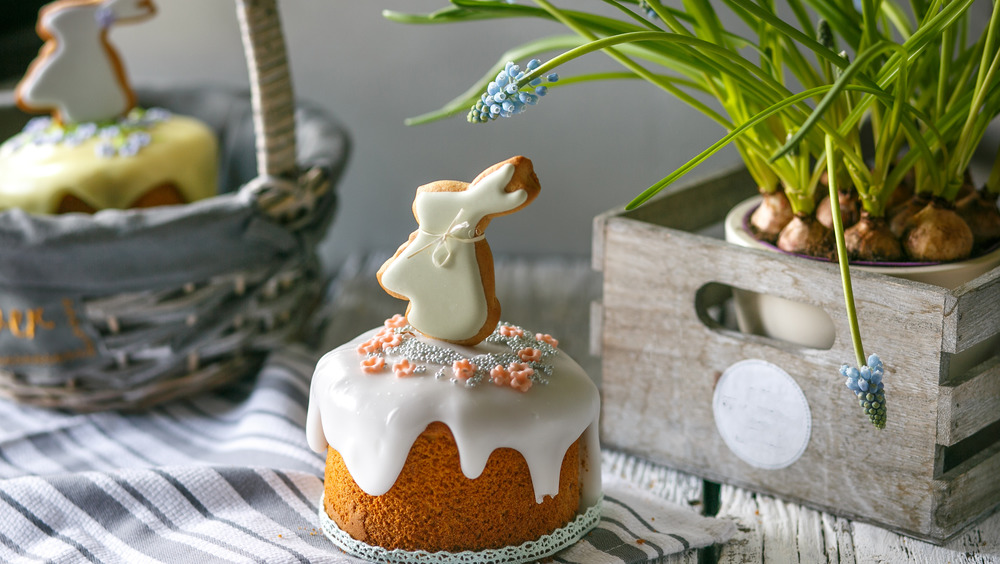 Shutterstock
If you're someone who loves holiday-themed cooking shows, then your day is about to get a lot better. In a flurry of new shows coming to the Food Network, the channel is adding an Easter-themed show, Easter Basket Challenge, and it's set to debut on March 1 at 10 p.m. (via Food Network). The host of the show is slated to be Sunny Anderson of The Kitchen with Jordan Andino and Claudia Sandoval as the judges of the five one-hour episodes, according to a press release.
In the show, seven contestants must bake their way through the Easter-themed challenges to create show-stopping confections. "Whether the bakers are making Easter bonnets for a holiday fashion challenge or creating edible masterpieces from a playful game of Bunny Pong, Easter Basket Challenge is a joyfully entertaining competition that families will love," said Food Network President Courtney White in the press release. "With Sunny Anderson's inviting personality, there is nobody better at transporting viewers into this festive world featuring Easter-themed delights." Needless to say, viewers cannot wait to see what incredible creations the bakers will present to the judges.
The winner will get a Bunny Money prize
Don't let the kitschy name fool you. There isn't a baker on the show who wouldn't want to win the Bunny Money prize of $25,000. Each episode, one competitor is eliminated until three finalists compete for the big bucks, which will be presented in a golden egg of course, according to Food Network. But before they can get there, they have to jump through the first challenge.
In the first episode, the bakers are asked to make "jelly bean-inspired pop art pastry tarts and oversized sweets worthy of inclusion in an art museum," according to the press release. There will undoubtedly be some jaw-dropping creations that baking show fans will definitely want to see for themselves. By the finale, the bakers must construct a panoramic Easter egg that stands at least three feet tall.
So mark your calendar for the television debut. If you are lucky enough to have a Discovery+ subscription, you can binge all of the episodes on March 1st, otherwise, you'll have to wait to see who makes it through to the next round each week. Until then, you can stay up to date by following the #EasterBasketChallenge on each of the social media platforms that the Food Network posts to such as Facebook and Instagram.