Pizza Hut Has Good News For Fans Of Detroit-Style Pizza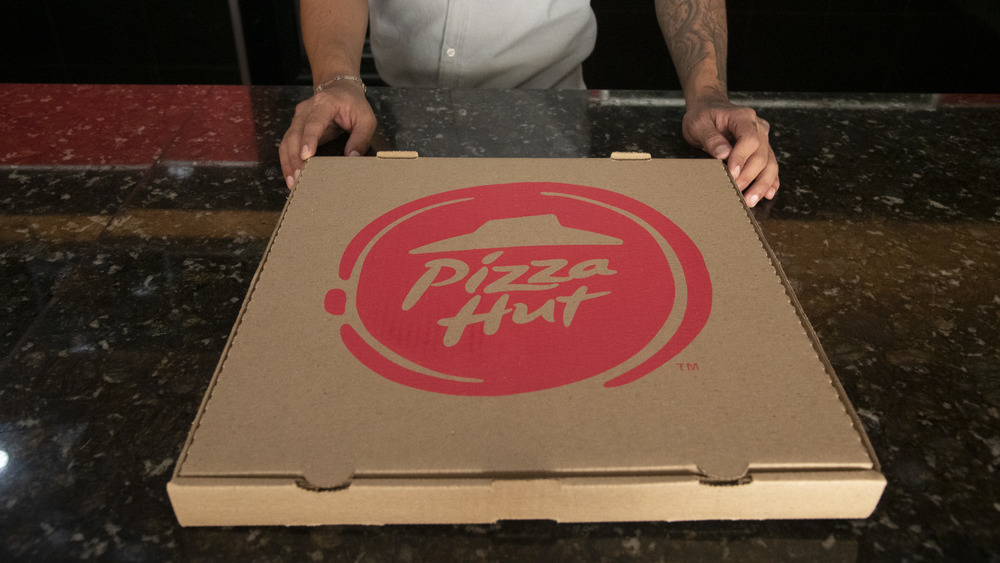 Carlos Becerra/Getty Images
Pizza Hut continues to welcome 2021 with new menu additions. A couple of weeks after CNN reported on its pizza-less stuffed crust, the brand has announced it will begin to offer Detroit-style pizzas as well. "Countless hours were spent testing and perfecting every detail here to create our take on Detroit-Style pizza," David Graves, Pizza Hut's chief brand officer, explained in the company's press release. The press release states that Detroit-style pizza went through over 500 iterations before corporate was pleased enough to take it to Pizza Huts nationwide. 
The result is four Detroit-style recipes from which to pick. These include the Detroit Double Pepperoni, which boasts 32 regular pepperoni slices and 48 Crispy Cupped Pepperoni ones, the Double Cheesy with two layers of cheese, the Meaty Deluxe and its bacon, Italian sausage, and Crispy Cupped Pepperoni, and the Supremo, which carries Italian sausage, red onions, and green bell peppers. These only allow for a maximum of three toppings, Pizza Hut explains, to ensure thorough cooking.
Prices start at $10.99, but vary with location. However, we can not let ourselves grow too attached to the thick cheesed newcomer. The Detroit-style pizza is currently set as a limited time offer, according to a footnote lurking at the announcement's bottom. Still, as Food & Wine speculates, if the pizzas wow during their short run, they'll probably return. After all, it would be a strange waste of time for a company to make 500 prototypes for a pizza that won't stick around.
Detroit-style pizza is the industry's latest fad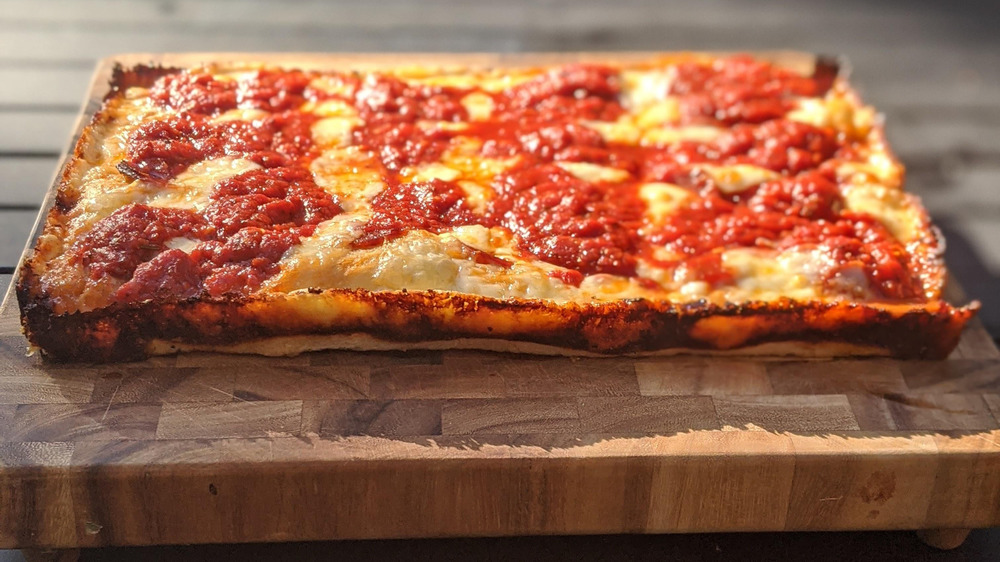 Shutterstock
Many self-professed pizza lovers may be ignorant of Detroit-style pizza, which is often eclipsed by the debate between Chicago and New York ones. However, as David Graves of Pizza Hut told CNBC during a preview of the product, "Detroit style pizza is the fastest-growing trend in pizza: it's no longer a Midwest-only thing."
During a 2012 interview with Detroit Style Pizza Co. operator Shawn Randazzo, Pizza Marketplace described what made this pizza a distinct meal: "Detroit-style pizza is characterized by its square shape, deep-dish crust, edge-to-edge toppings and sauce on top. This type of pizza is nicknamed 'upside down' or 'red top' pizza because the signature red sauce is ladled on after baking." Randazzo, though, insisted that the pizza was even more different than that, exclaiming, "The dough is completely different. You don't ball it up, press it out and bake it... It's completely different from traditional pizza. It has a wow factor."
In recent years, it certainly has been wowing, as Eater reports, tracing its newfound popularity to 2011 when the pizza was introduced to Austin and the term "Detroit-style" was officially used. Before, it was simply how pizza was made in the area. Pizza Hut's decision to feature a series of Detroit-style pies, however, marks the end of the transformation from a local pizza technique to a corporately recognized concept branded nationwide.