This Simple Ingredient Swap Makes Borscht Vegan Friendly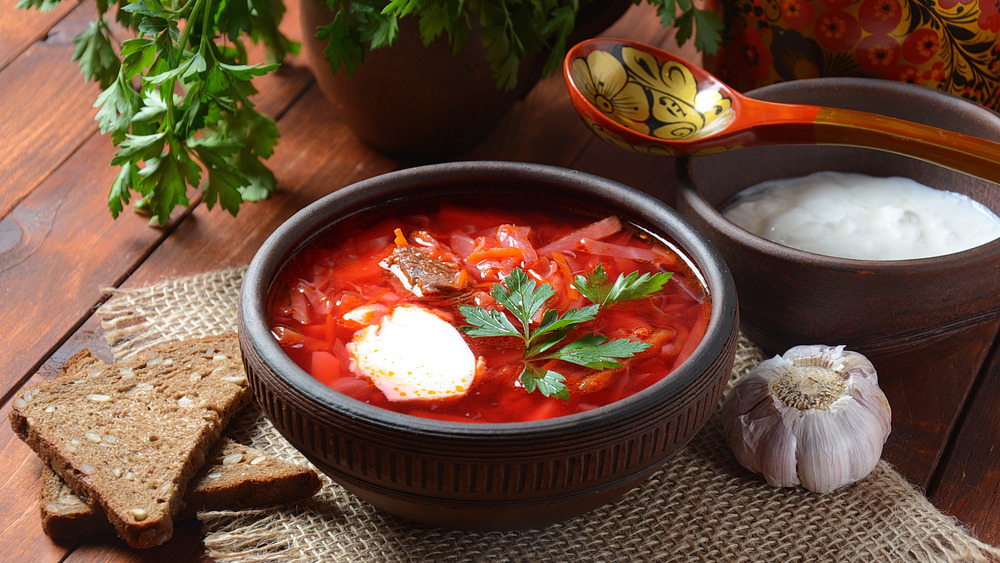 Shutterstock
If you're here, it's probably because you already know what borscht is and you like it. Otherwise, it might be hard to make sense of a soup almost entirely made of beets. According to a poll by Fox News, beets are America's second most hated vegetable. A sizeable 26 percent of the 2,000 people surveyed said they disliked beets, second in line only to turnips. But borscht is a staple of Eastern European cuisine — and eaten widely in Ukraine, Russia and Poland (via Britannica). It's a deep red color, earthy and sweet flavor, and can be a winter comfort for months when there hasn't been a vegetable in sight.
Classic borscht is usually made with celery, carrots and onion, some sort of meat broth, and — of course — plenty of beets. This Serious Eats version, for example, incorporates three pounds of short ribs and pork belly, plus marrow bones and ham hock into a complex meaty broth that they then combine with the beets, plus kielbasa, cabbage, potatoes and other veggies. It's a complicated undertaking, and one that's bound to leave out the meat-free among us. A number of other recipes, including one from Bon Appetit that claims to be the "greatest recipe of all time" for borscht, aren't shy with the meat.
Meat-free, animal-product-free borscht for everyone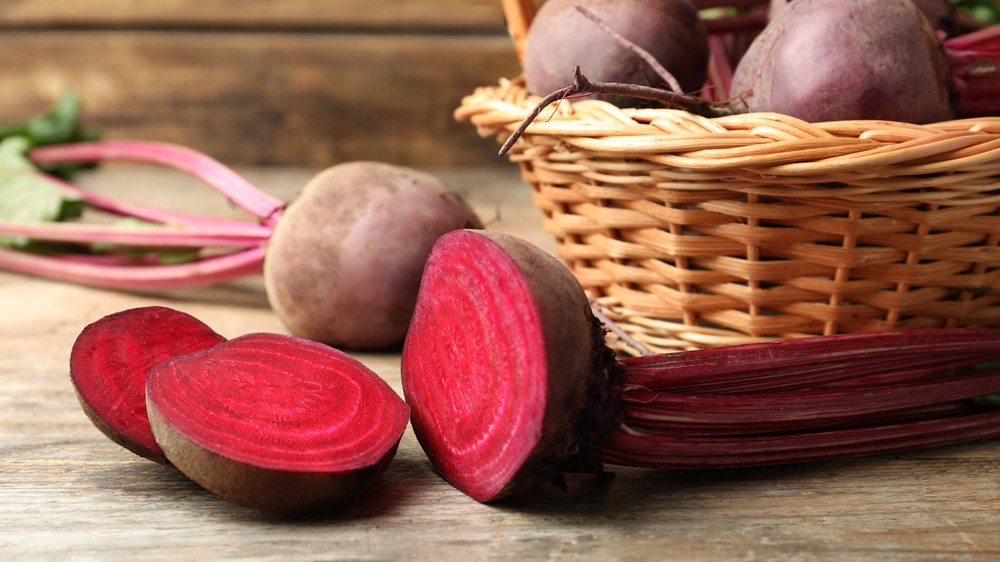 Shutterstock
For vegetarians and vegans — never fear! There's always a swap to be made, and borscht is no exception. In fact, many borscht recipes that don't bill themselves as vegan or vegetarian are already so, from Food & Wine's to the Kitchn's. Many of them, including the New York Times' vegetarian red borscht, use apple cider vinegar and caraway seeds to boost the flavor, but the most common go-to swap is pretty self explanatory. My Darling Vegan and other borscht recipes simply switch out beef broth for vegetable broth, providing a similar deep, concentrated flavor.
The Kitchn's take on borscht actually uses porcini mushrooms to add extra umami in the absence of meat-flavoring. As they said, however, "This one has no claims of authenticity; we just think it's great." Another common non-vegan component of classic borscht is the creme fraiche or sour cream that's dolloped on top. Vegans, of course, may choose to omit this. My Darling Vegan opts to swap in cashew sour cream, which can be made with cashews, apple cider vinegar, lemon and water (via Cookie + Kate).