This Is Why You Recognize The Song In The Corona Seltzer Commercial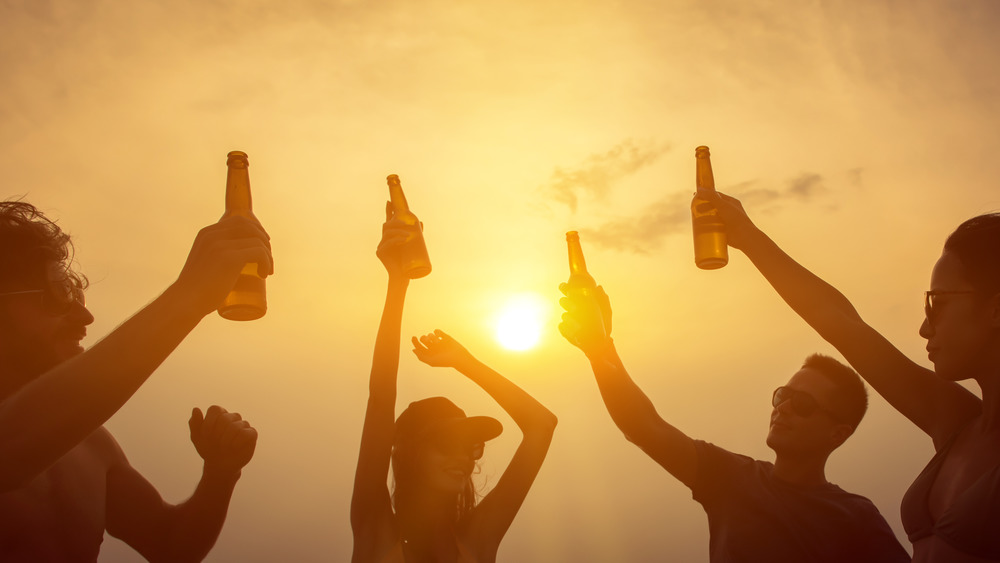 Shutterstock
The song playing in the background of the new Corona Seltzer commercial has a familiar, jazzy beat that probably has you tapping your feet or nodding your head along with it. The catchy, upbeat tune also might have you saying: "Where do I know this song from?" Most recently, you probably recognize it from one of Cardi B's recent hits. The rapper, along with Bad Bunny & J Balvin, sampled the track for the hit song "I Like It," where it charted on Billboard's Top 100 for 51 weeks in 2018. However, the tune has been sampled, covered, and yes, even put into commercials, for over 50 years.
The original song was performed by Puerto Rican bandleader and pianist Pete Rodriguez and written by Tony Pabon and Manny Rodriguez. It was the title track for Rodriguez's fifth album, "I Like It Like That (A Mi Me Gusta Así)," released in 1967 for Alegre Records, according to Latin Jazz Network. Born in the Bronx, Rodriguez was part of New York City's burgeoning Latin boogaloo music scene, mixing traditional Latin beats with R&B and doo-wop to create timeless dance hits like "I Like It Like That." The song was an immediate success in the boogaloo scene, and it soon became "one of the most iconic dance hits in the history of Latin American music," per Latin Jazz Network.
The song "I Like It Like That" has hit the charts numerous times since its release in the 1960's
Since the song's initial release, it has been covered a number of times. Latin supergroup, The Blackout All-Stars, recorded a cover of the single for the film I Like It Like That in 1994, according to Entertainment Weekly. In 1996, the cover was used in another commercial, this time promoting burgers for Burger King, where it hit no. 25 on the Billboard Hot 100 list. The following year, Tito Nieves released a solo version of the song, inspiring a flurry of remixes that eventually brought the song to the top of the charts on the Latin Digital Song Sales in 2011, according to Billboard. 
In 2016, the song even made its theater debut. It appeared in the off-Broadway musical titled, I Like It Like That, which featured Nieves and a seven-piece band performing a "historical musical journey" of New York City in the 1970s. So the next time Corona Seltzer's new ad comes on the TV, you'll be able to sing along, knowing full well that you probably recognize it from any number of the popular covers, samples, or musicals it has been featured in over the past half a century.