Trader Joe's Mushroom And Black Truffle Flatbread Is A Total Steal
Truffles are like "the diamonds of gastronomy," according to the co-owner of the truffle distribution company Done4N Francesca Sparvoli (via CNBC). The unique fungi pack an exquisite musky, earthy, and slightly garlicky flavor into every dish, which makes them a coveted ingredient for many fancy meals. However, they are also rare, difficult to grow, and very costly and time-consuming to find. They also cannot be stored, because they tend to lose around five percent of their weight every day. This means that "in less than 36 hours, we go from underground to on a restaurant table," Vittorio Giordano, vice president of Urbani Truffle USA, Inc., told CNBC. 
All of this typically adds up to one hefty price tag. Per USA Today, truffles can sell for thousands of dollars a pound. But you wouldn't know that from Trader Joe's Mushroom and Black Truffle Flatbread. This rich, cheesy, flavorful flatbread may taste expensive, but it is on sale at Trader Joe's for under $5.
Trader Joe's fans raved about the flatbread on social media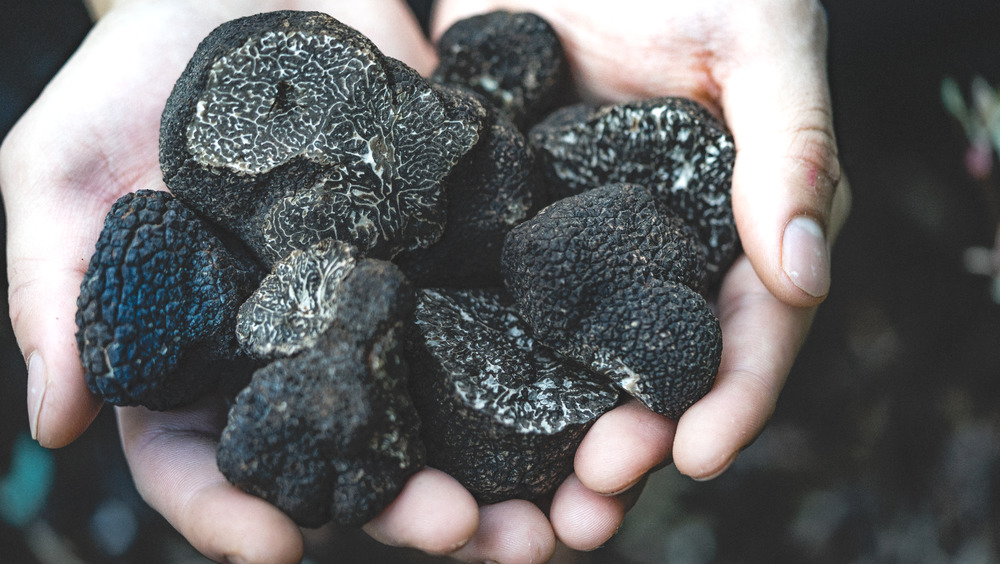 Shutterstock
Instagram user @traderjoesobsessed posted this fancy find to their page, writing, "I was in the mood for some pizza tonight so I air fried this yummy Mushroom & Black Truffle Pizza ($4.49) for 9-10 mins at 350 degrees and sprinkled some more truffle powder seasoning...Make sure not to overcook it as it's thin and can burn easily...It was perfect with a nice cold beer." Their followers were excited to hear about this delicious steal. "Our freezer is always stocked with this pizza. One of our very favorites," follower @ mrsp328 remarked. Even hardcore carnivores might approve, as demonstrated by @kaity1968, who wrote: "We LOVE this!! My husband is a SERIOUS meat eater and he loves this."
Some shoppers recommended pairing this with other Trader Joe's products, like @nicolemoss_fwtfl, who said, "I dipped this into @traderjoes kale and cashew pesto." User @deadtechzach wrote "I like to put a little garlic powder on mine before I throw it in the oven. This is probably Top 5 TJ's for me."
So even if you don't typically treat yourself to expensive meals, you can feel like you've splurged on a fancy dish thanks to Trader Joe's. This flatbread may taste like it was prepared at an expensive restaurant but fits into almost any budget.