McDonald's Is Giving Away Free Spicy Nuggets. Here's How To Get Yours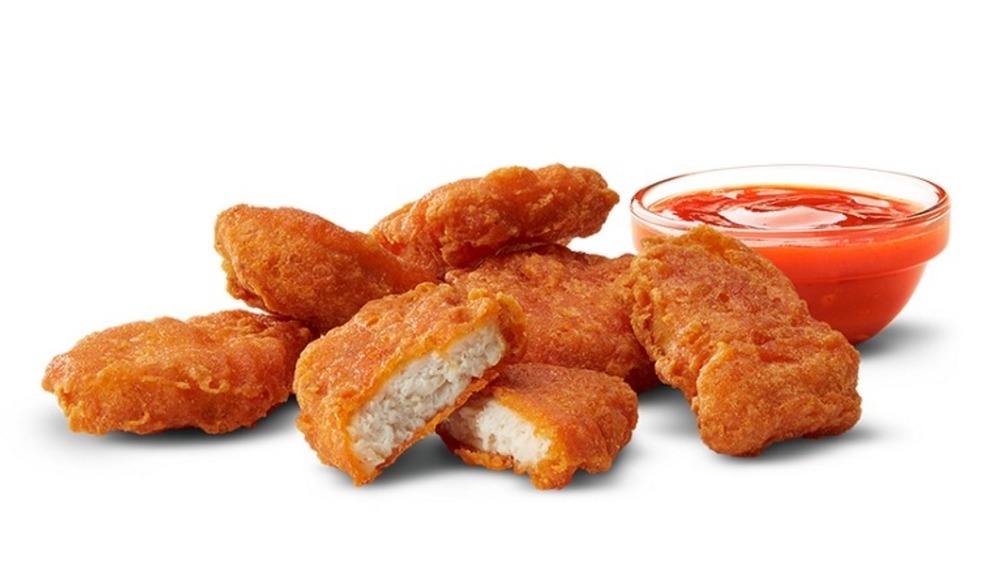 McDonald's
If there's one thing that's better than an order of McDonald's Spicy Chicken McNuggets, it's a free order of McDonald's Spicy Chicken McNuggets! ICYMI, McDonald's announced earlier this year they were bringing back their popular Spicy Chicken McNuggets after having a successful limited run in September 2020. According to McDonald's website, there were "tens of thousands of tweets" devoted to the beloved nugs of piquant poultry. Now those nugs will be available again, but only for a limited time — Golden Arches, why must you tease us so?
DoorDash has even more good news for Spicy Chicken McNugget fans. From February 2nd through February 6th, customers can get a free six-piece Spicy Chicken McNuggets on their "McDelivery" from participating McDonald's with a DoorDash order of $20 or more. To cash in on the nugget deal, you just need to use the promo code "SPICY" at checkout. As for the fine print, there's a limit of one free order per person, prices may be higher than at restaurants, and the offer only lasts as long as supplies last. If you are looking to really spice things up, there's even a special sauce you can order.
McDonald's Reintroduces their Mighty Hot Sauce
Last Fall, McDonald's rocked its sauce scene by introducing Mighty Hot Sauce, the first new sauce since 2017 welcomed the return of the cult-favorite Szechuan Sauce. According to McDonald's, Mighty Hot Sauce is their hottest dipping sauce, which combines crushed red pepper, cayenne pepper, garlic, and a "hint of sweetness." The sauce will now be available in conjunction with their McDonald's Spicy Chicken McNuggets for a limited time, so if you're looking to hit the Mighty Hot Sauce, now's the time to do it.
According to McDonald's website, there are currently six standard dipping sauces available: Tangy Barbecue Sauce, Spicy Buffalo, Creamy Ranch Sauce, Honey Mustard Sauce, Honey, and Sweet 'N Sour Sauce, but other sauces have come and gone before. Today, sauces like 1988's Green Chili Salsa and 2015's Hot Mustard are nothing but a distant, dipping memory (via Delish). But, if there's anything recent times have proved, it's that crowdsourcing can produce results. So, if there's an awesome sauce you're passionate about, it might just be the right time to start a saucy, social dialogue.