You Can Now Eat Robert Irvine's Seafood Dishes At Home. Here's How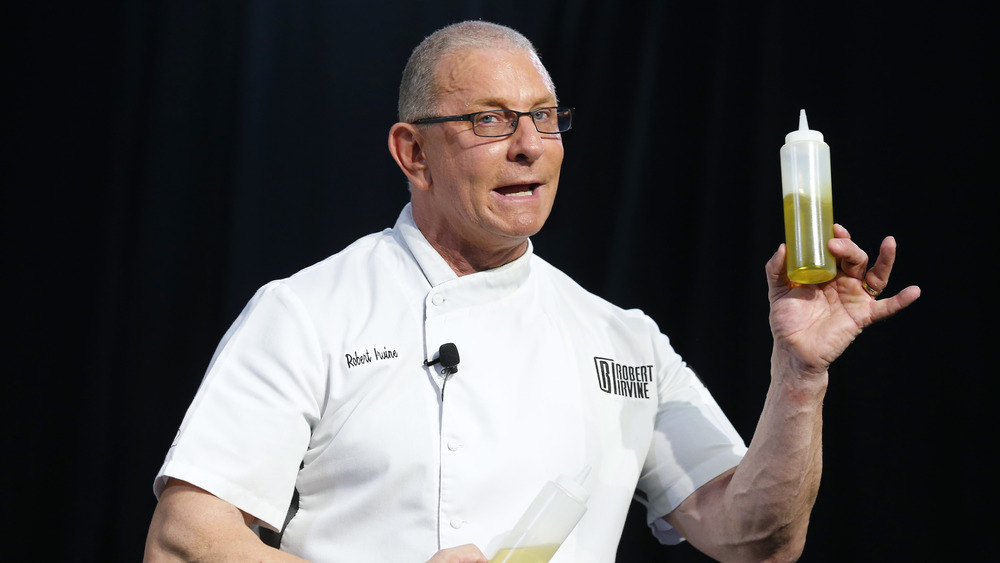 John Lamparski/Getty Images
Robert Irvine is known on the Food Network for his tear-jerking restaurant revamps and tough-love moments on Restaurant Impossible — not to mention those truly gigantic biceps. The television personality and chef has created a number of ventures that align with his food and fitness mentality, too (via Robert Irvine Foods). And now, he's promoting the seafood offerings from his product line, Signature by Robert Irvine, which will be available for purchase at another major American grocery chain.
The line of seafood items, according to a video Irvine tweeted, include crab cakes, shrimp scampi, almandine cod, rustic maple barbecue salmon, and tequila chili lime salmon. The items aren't new, but they'll be available at Meijer, a superstore chain with locations mostly in the Midwest (via Meijer). A portion of the proceeds from the sales of this "better for you" product line will go to the Robert Irvine foundation, which supports U.S. military families and first responders, according to Irvine's tweet.
What are people saying about these products?
Despite Signature by Robert Irvine's claims of "restaurant quality" foods, reviews online make us wonder if this label refers to some of the struggling restaurants he has revamped on his show. On the Sam's Club page for the frozen almandine crusted cod, one reviewer wrote, "Tasteless, chewy, and stringy fish. The sauce was too salty." Others seemed more enthusiastic, but overall the product had earned 2.6 stars at the time of this article being published. His scallops with bacon cream sauce fared a little bit better in the limited ratings on the Sam's Club site, but two of them mentioned sand in the scallops.
The true test of his products will come with time, but what's more certain is Irvine's commitment to the U.S. military. According to the Robert Irvine Foundation website — the organization where a portion of his product proceeds will go — funding is distributed specifically to "resiliency and health and wellness programs, in addition to financial support of top rated and thoroughly vetted veterans service and first responder organizations."