The Bizarre Joke Andrew Zimmern Played On A Producer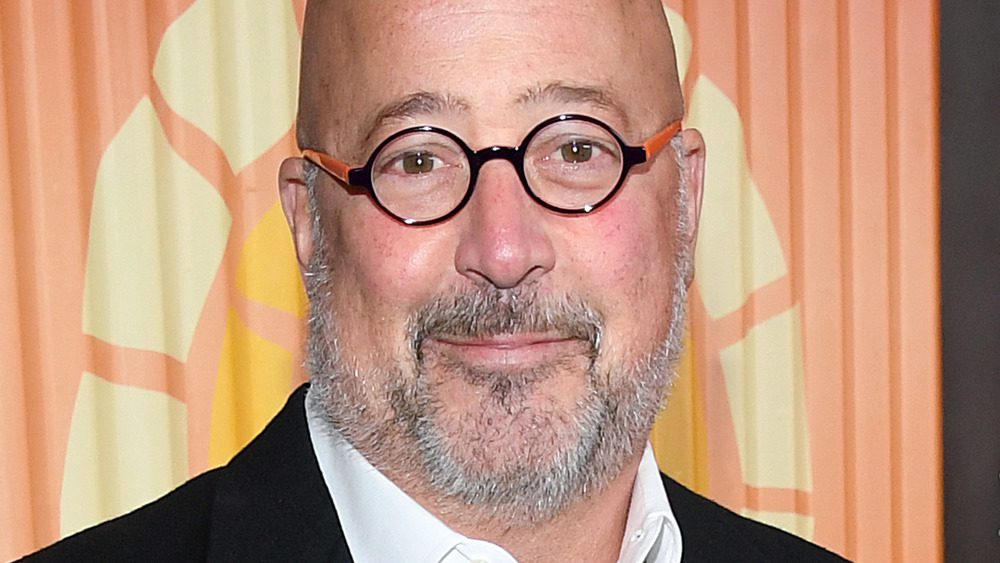 Kevin Mazur/Getty Images
Renowned chef Andrew Zimmern is always willing to put in the effort. According to his official website, the versatile chef and host of Bizarre Foods and What's Eating America is extremely passionate about diving into different cultures and encouraging more diversity with the help of delicious dishes. That means Zimmern is no stranger to exploring the relatively unknown or bizarre things around us. It's safe to say the chef doesn't take himself too seriously. Zimmern once spoke to the Travel Channel about the most unusual things he's tried in his life. He said, "I have eaten dinosaur, 3,000-year-old butter and the foods of tomorrow, such as Soylent and other laboratory creations. It's a weird and diverse food world." Butter from thousands of years ago? Whoa!
Well, Andrew Zimmern is almost always up for trying the most absurd things if he's intrigued. He did that recently with one of his television producers, with a fun on-set prank. Here's the truly bizarre joke Zimmern played on his producer.
Andrew Zimmern left a special gift for his producer
Recently, the chef took his producer's advice rather seriously and got rid of his beard before an important shoot. The producer, Patrick Weiland, wrote about the incident on social media to explain the brilliance of the practical joke (via Twitter). He tweeted, "Yesterday I suggested a rather famous chef trim his pandemic beard for a shoot. This morning he nailed it to my office wall." He added that he reckons that Zimmern looks amazing after his transformation. The clean-shaven look Zimmern has in a recent episode of "Andrew Zimmern Cooks" is quite a change from his thick salt-and-pepper pandemic beard (via YouTube). 
One Twitter commenter approved of this move and wrote, "I had been wondering how long that beard was gonna last. Stay warm." Another commenter agreed and joked, "Oh, just in time for the coldest weather of the season!"
Andrew Zimmern really did take his producer's advice — but not without his own cheeky response. It's the type of behavior you'd expect from Zimmern, who appreciates a close-knit TV set. Zimmern told Mashed last year, "People always think of whoever the face of the show is, but it is as much about the writers and editors and casting producers, and on, and on, and on. It's as much about them as it is about me."