The Shady Reason Amazon Has To Pay Its Drivers $61 Million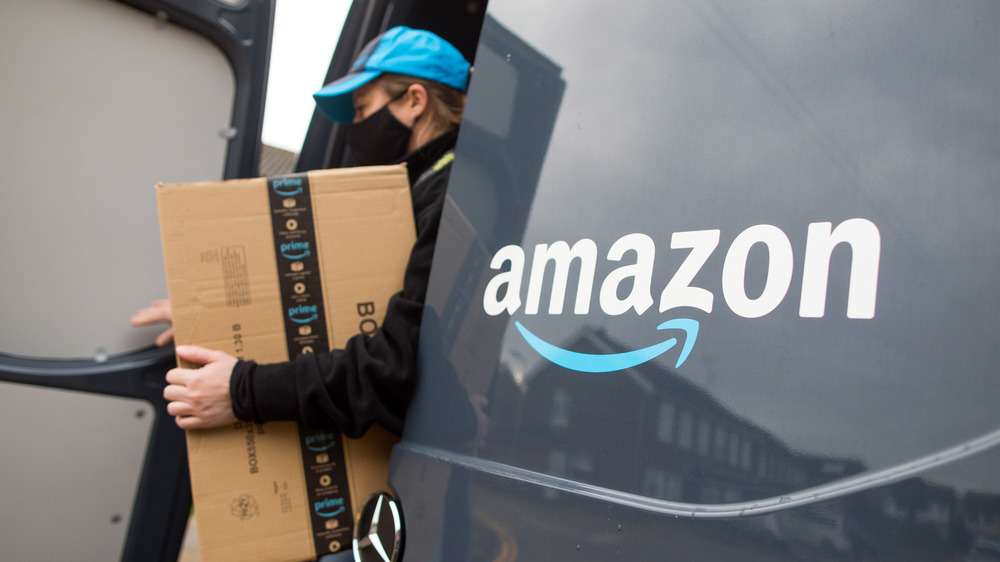 Bloomberg/Getty Images
This really happened. The Los Angeles Times confirmed it. An Amazon Flex driver based in Virginia began to suspect that Amazon was pocketing his tips. So, on a two-hour shift, he ordered and delivered a pack of paper towels to himself, tipping himself $15.90. For the same shift, Amazon only paid him its guaranteed base pay. When he complained, the company adjusted his pay rates accordingly, but offered no further explanation.
It wasn't a one-off incident for Amazon. At least not according to the Federal Trade Commission (FTC), which began investigating the company in 2019. As per the FTC's complaint, "Amazon secretly used nearly a third of customer tips to subsidize its own pay to drivers" for a two-and-a-half-year period between 2016-2019. The Flex drivers affected weren't on permanent contracts. Rather, they picked up and worked shifts independently, paying for gas out of pocket, to deliver packets to customers' doorsteps. Amazon, per the FTC, recruited such drivers under false pretenses, promising them a base pay between $18-$25 an hour plus 100 percent of their tips.
Insidiously, and despite numerous and documented driver complaints, the company only stopped pocketing tips after it found out the FTC was investigating. Now, the FTC will begin paying drivers back with Amazon's money. As per the FTC's press release, the company will pay the government a staggering $61.7 million corresponding to "the full amount that Amazon allegedly withheld from drivers." In turn, the FTC will use the money to compensate the drivers.
Amazon leaves an internal paper trail admitting to tip-pocketing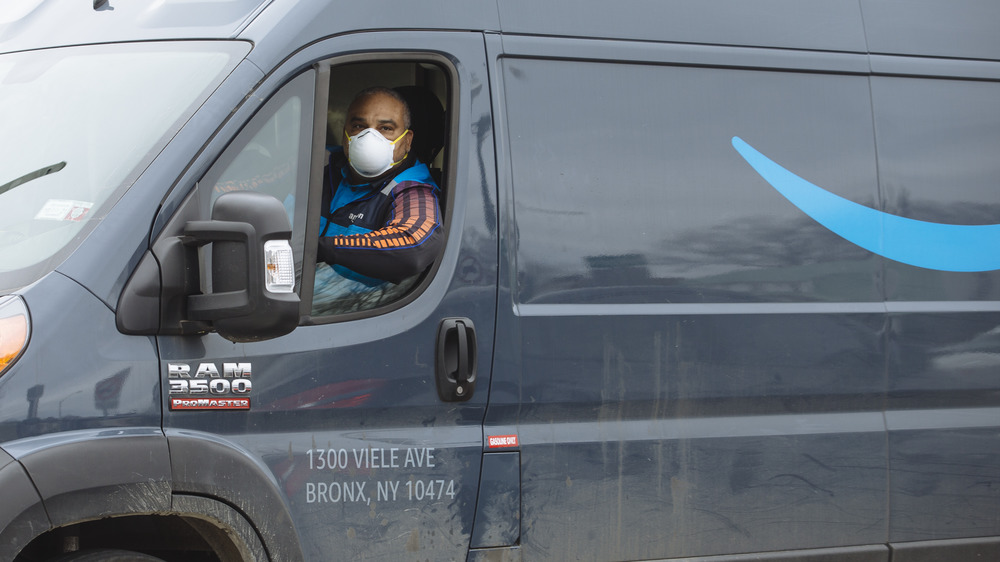 Bloomberg/Getty Images
Whether or not Amazon's explanations about how they would pay drivers were (un)intentionally misleading, its intentions to pocket its drivers' tips were not. The FTC's investigation claims that in late 2016, the company began introducing internal "base rates" for specific locations around the country. They set such rates based on algorithms "using data it collected about average tips in the area." But as per the FTC, the algorithmically-set rates were "often" lower than the $18-$25 an hour that Amazon promised the drivers. To hide the fact that the company was either completely or partially pocketing customers' tips to make up for their lower "base rates," Amazon began displaying Flex drivers' income "as the combined total of its base rate and any customer tip."
Despite coughing up $61.7 million, Amazon has denied guilt in the incident. "While we disagree that the historical way we reported pay to drivers was unclear, we added additional clarity in 2019 and are pleased to put this matter behind us," Amazon spokesperson Rena Lunak told NBC. But Lunak's statements fly in the face of internal company emails, unearthed by the FTC during its investigations. These warned that the company's tip-pocketing practice was both "a huge PR risk for Amazon" and "an Amazon reputation tinderbox."