Trader Joe's Shoppers Are Obsessed With This Lemony Pasta Sauce
Trader Joe's has just unleashed another must-have item that fans are excited for. The Trader Joe's fan account @TraderJoesList spotted the Trader Joe's Limone Alfredo Sauce on the shelves of their local store on Thursday, February 4. Within a day, the post received more than 16,000 likes. The caption read, "IT'S BACK [...] For all you pasta lovers (pretty much everyone) the favorite zesty lemon pasta sauce is back to squeeze your tastebuds with citrus and cream! Enjoy it on pasta with chicken, shrimp or veggies! Will you be adding this to your #traderjoeslist?" Needless to say, Trader Joe's shoppers are obsessing over this new development.
The flavored Alfredo sauce is a product of Italy and comes in a 15-ounce jar for just $3.49, making it a total steal. While the obvious option would be to warm this up with fresh pasta, some customers are putting it on chicken, lasagna, and even green beans. Not to mention, it'd make a pretty great dipping sauce for things like breadsticks.
How Trader Joe's fans are using their lemony pasta sauce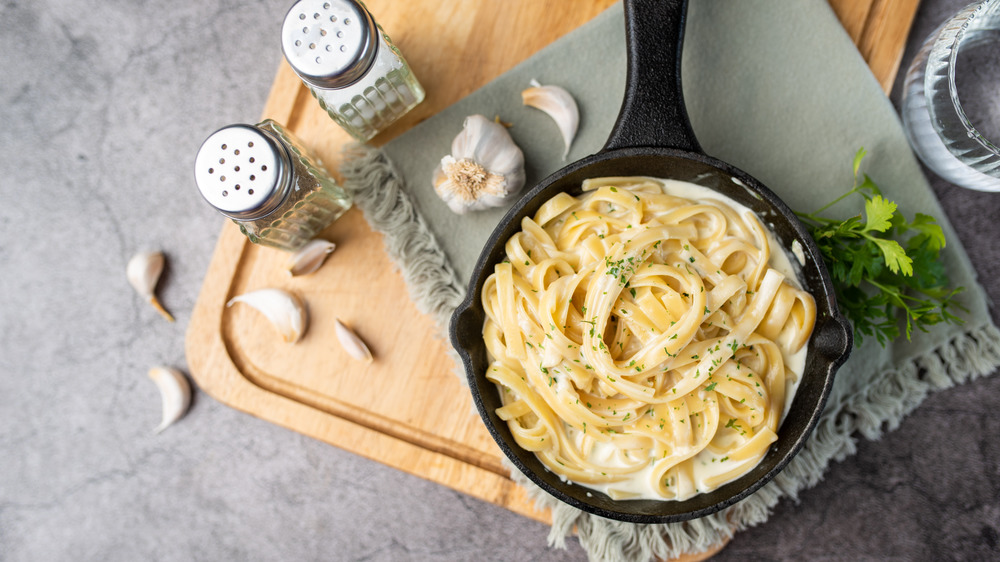 Shutterstock
According to Trader Joe's, their lemony pasta sauce is "mixed with whole milk, whipping cream, butter, and real Parmigiano Reggiano." Trader Joe's shoppers and fans of the @TraderJoesList account were quick to comment on the post with how badly they want to try the returned product and how they'll use it. One person wrote, "omg I can't wait to try this!!!!!" Another said, "I bought it yesterday. I can't wait to try it!" Someone else commented, "Finally opened a TJ'S in my town. Of course, I had to buy it!" But there were more comments about how customers served it up.
One comment read, "yes!!!! Just posted a chicken limone recipe on my insta page yesterday !!!! Using all TJ ingredients including the hearts of palm noodles!!!" Another read, "got this over the weekend and made pasta with it last night. It's so delicious!" Another person who had already tried the Limone Alfredo sauce said, "I bought this to go with the lemon ravioli." Finally, one family wrote, "my kids loved this sauce on the gnocchi." The Trader Joe's site even offers up a Linguine Limone Alfredo with Shrimp recipe if you need inspiration. So, however you plan to enjoy this latest release, chances are you'll love it. You might even want to go ahead and pick up two jars to have on hand when you see it in your store.